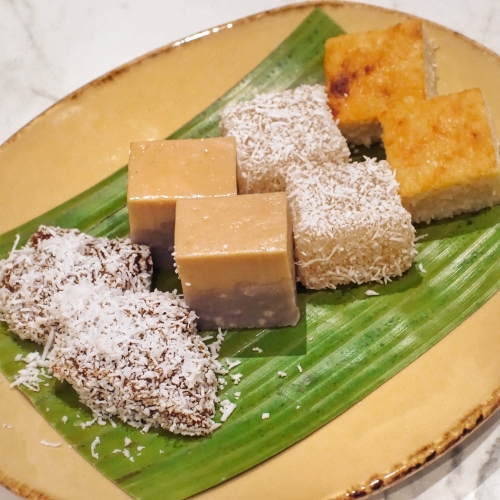 Rempapa is Chef Damien D'Silva's Return to His Element, with a bang
Most discerning food lovers would be familiar with chef Damien D'Silva, a national treasure who has been propagating the beauty of Peranakan cuisine in Singapore through multiple successful restaurants and on national TV. That's why his new restaurant, Rempapa, was opened to much hype.
It's a much-anticipated return after Kin, his previous restaurant, closed earlier this year. Rempapa is tucked away in a rather inconspicuous part of Paya Lebar Quarters, handsomely dressed to make you feel right at home.
True to Chef Damien's style, the cosy restaurant makes you feel right at home without the unnecessary flair and superfluous formality of your typical celebrity chef restaurant. That's when you know you're getting the most genuine dishes loyal to his Peranakan roots.
Homely Peranakan Comfort
Out of the extensive repertoire built through his prolific career, the most iconic dish is undoubtedly the Buah Keluak Fried Rice ($28) which he has garnered acclaim for since his Folklore days.
Rempapa's rendition was a smoky and flavourful plate of fried rice that left the wok finding itself dyed in a deep sexy brown-black and given a subtle kiss of Buah Keluak's multi-faceted depth, setting it apart from your regular fried rice.
Another dish we quickly lasered in when looking through Rempapa's menu was the Lamb Rendang ($38), an intriguing variation of this quintessential Peranakan dish using a less-conventional protein.
As expected, the sauce was brimming with richness and gratifying spice notes — basically textbook Rendang. Alas, the lamb meat itself was skewed a bit dry, which chef Damien attributed to their experimenting with different cuts to find the perfect one, so we're confident it'll be better on future visits.
Contrastingly, the piquant Baca Assam ($38), was a home run with every aspect executed splendidly. Starting with the beef cheek that bestowed the palate with a delectable tender bite, then the Assam sauce hit with all its spirited twang and complexity to really round everything off.
Any restaurant with Chef Damien at the helm will definitely have Peranakan food as the star but Rempapa also pays homage to many heritage foods that have become scant in Singapore over the years.
One such dish is the Chi Pao Kai ($15), made by deep-frying chunks of chicken wrapped in paper parchment. This pretty much matched the gold standard set by Union Paper Wrapped Chicken, one of the last stalls left in Singapore selling it — outrageously juicy and unapologetically flavoursome with a nice dose of sweetness.
On the other hand, Rempapa's Hakka Fried Pork ($18) didn't really offer much with its lacklustre crunch. Sure, it's still crunchy but compared to some of the other melt-in-mouth versions that crackled monstrously, this paled in comparison.
Kueh End with Desserts
Granted, while dishes like rendang and Assam are easily some of the most iconic in the Peranakan culinary canon, there's one that is truly synonymous with Peranakan cuisine —Kueh.
Needless to say, we were obviously eagerly anticipating the end of the meal when we would finally be served Rempapa's signature Kueh Platter ($15/12pcs).
Each of the 6 shone in its own way but the Kueh Bingka left me absolutely besotted. That gently luscious and chewy texture, the irresistibly heady aroma of coconut and tapioca, the coating of brown sugar — everything just worked together with the utmost elegance.
Along that same line of chewy texture, Rempapa also came out with a rather splendid version of the Kueh Kosui that had the most enjoyable glutinous chew.
On the other spectrum of Kueh, you can also load your Rempapa Kueh Platter with the savoury Kueh Ku which marries the umami punch of fried shallots with your traditional Ang Ku Kueh mung bean filling.
Rempapa
Address: 2 Paya Lebar Rd, #01-01/02/03 Park Place Residences at PLQ, Singapore 409053
Hours: (Daily) 10:30am–10:30pm