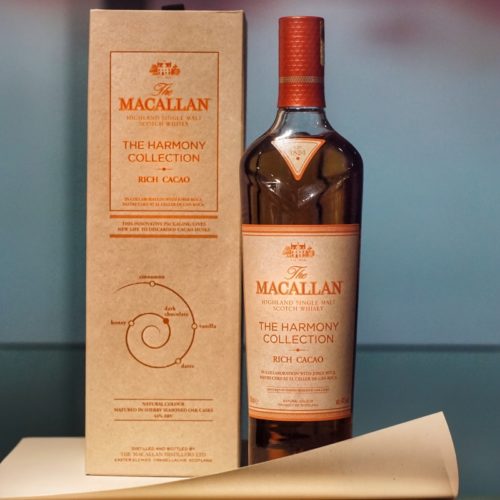 A New The Macallan Experience with Osteria BBR & Janice Wong
The Macallan Experience in Singapore starts with you being introduced to a quaint study within Raffles Hotel, which leads you to believe it's only affixed with bookshelves, ornaments, and not much else. But moments later, one of the bookshelves magically swung open to usher us into a dining area inside.
Everyone finds themselves on the plush seats at the communal table in the middle of the room — properly segregated per safe distancing rules, of course — and a man suavely clad in a navy 3-piece suit gives a warm welcome to all. That's Randall, host to The Macallan Experience that night.
On the agenda that night — a special course menu crafted in collaboration with Osteria BBR by Alain Ducasse and celebrity dessert chef Janice Wong. A carefully wrought itinerary to travel through the epochs of Macallan's double cask expressions, from 12 to 18 years.
But the main agenda of The Macallan Experience with Osteria BBR? An exciting unveiling of The Macallan Harmony Collection RIch Cacao.
Leveraging on chef Janice's dessert-crafting nous, they've not only created an intricate dessert to finish off the meal, but she even specially created these unique bonbons to pair with the new Macallan expression.
The Macallan Experience with Osteria BBR
Osteria BBR's Italian personality is given centre stage right out the gate of The Macallan Experience, with the vibrant tartness of Amalfi lemons married with Marinated Sea Bream in a refreshing and delicate starter.
A heady Seared Langoustine is second, rounded up with an ensemble of pumpkin and bagna cauda. Strong flavours that go well with the pairing of Macallan Double Cask 15 years, a smooth, balanced, and easy to drink archetypal Speyside whiskey.
Hot on its tail is another seafood-focused dish in the form of a Cappellini Di Gragnano glistening with the bright amber sheen of Maine lobster and citrus sauce.
Even though the sauce was delightful and the lobster was fresh and bouncy, the slightly-chewy pasta was a small blemish in an otherwise solid dish.
Finally, we're at the climax of The Macallan Experience's Osteria BBR menu — a John Stone 28-day-dry-aged Beef Tenderloin cleanly cut through to flaunt its alluringly pink centre.
Osteria BBR utilised just a kiss of spice from pepper jus and red chicory marinade to allow that depth of richness to shine through brightly, without the flavours obscuring the beef's natural flavour profile.
Intoxicating Macallan Tipples to go with the Janice Wong Show
At the coda of The Macallan Experience, the other collaborator steps up to eloquently address us on the nuances of her gorgeous Rich Cacao Dimension, Janice Wong's pairing with The Macallan Harmony Collection Rich Cacao.
An elaborate cacao-shaped husk is melted through by a warm drizzle to expose a motley of vivid florals, befitting the exquisite floral notes of the Colombian single-origin. The only blemish was a slightly soggy almond sponge due to the drizzle but the chocolate's elegant profile easily papers over that flaw.
Needless to say, the real star of The Macallan Experience this time round was The Macallan Harmony Collection RIch Cacao, hot out of the distillery casks.
A luxurious nose with notes of spice and vanilla and a wonderful body tinged with oak, vanilla, and honey were deftly rounded off with a lingering chocolate finish. A complex and unique dram any whisky lover would enjoy.
The Macallan Experience Singapore
Website | Instagram | Facebook
Address: 328 North Bridge Road, #01-07 to #01-10 Raffles Arcade, Singapore 188719
Hours: By reservations only
*This was an invited tasting.