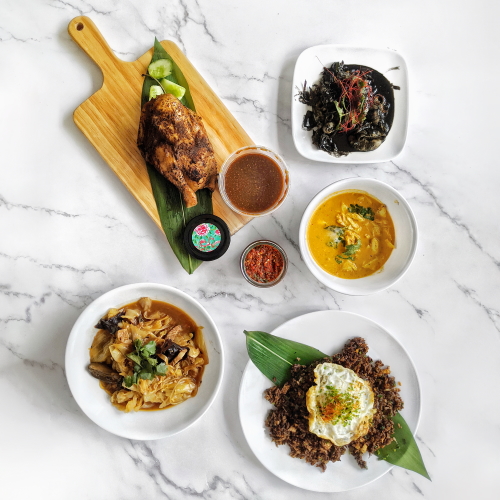 Candlenut at COMO Dempsey is the only michelin starred peranakan restaurant in singapore.
Peranakan cuisine is something many know but haven't tried. Probably even less know Singapore is home to the world's first Michelin star Peranakan restaurant.
Candlenut is high on my list, having made one of my favourite collab burgers. Hence I took advantage of their circuit breaker menu where every dish was $20 (prices back to normal).
My Star of the Meal, Kueh Salat
Wew. I haven't had enough to compare, but this kueh salat ($25/200g, $45/400g, $80/800g) thoroughly met my lofty expectations.
That pandan custard felt like dreamy satin which fondled the palate with its heavenly aroma. Concurrently, the mellow saltiness of the sticky but airy glutinous rice provided a sublime counterpoint.
Akin to an elegantly crafted concerto without a trace of excessiveness, and allowed one to revel in the articulately orchestrated mix of flavours and textures. I could practically hear "Blue Danube" reverberating in my mouth.
Candlenut has a fresh take on a storied heritage
The most apt display of Candlenut's culinary inspiration was this assam sotong ($24). The sauce was impossibly nuanced and boasted of delicate sour notes of Assam whilst lightly washed with gentle brininess.
That sauce brimmed with a depth of flavour as deep as its shade of ocean abyss — perfectly slathered onto the springy and soft baby squid
With a robust and rich prawn stock, this was a chap chye ($20) unlike any other. Perfectly cooked components gave it a nice mix of textures. That crisp soft leafy crunch bolstered by strands of bouncy tang hoon — lovely.
A stimulatingly fragrant mix of gentle bitterness and umami from the buah keluak underscored this buah keluak fried rice ($24). The sunnyside up was too perfect but I didn't regret poking into the yolk, which saw a silkiness coated onto each perfectly separated grain of moist rice.
Fresh crab swam in this velvety and heart-meltingly sweet blue swimmer crab curry ($32). Perfumed with intoxicating coconut milk, it also carried a controlled heat which complemented the succulent crustacean chunks.
A nice tamarind rub on the skin gave this ayam sioh abakar ($20/half, $32/full) some beautiful umami. Dipping it in the sauce accentuated the juicy meat's sweetness with a bold piquancy that brought out the flavours more strinkingly.
Chef Malcolm Lee is obviously a chef proud of his heritage cuisine, but also one with the creative nous to push tradition into new territory. Overall, a phenomenal blend of heritage and culinary innovation worth the detour to Dempsey.
Candlenut
Website | Instagram | Facebook
Address: 17a Dempsey Rd, Singapore 249676
Getting There: No nearest MRT
Hours: (Daily) 12pm-3pm, 6pm-10pm
Price Range: Approximately $40-$100 per pax