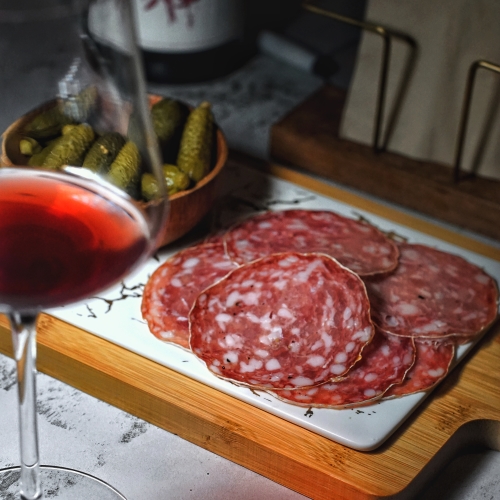 Juice's Intimate Loft Hosts Singapore's Best Casual, Unpretentious Wine Bar Experience
You feel like you're at a house party. The vivid tint of technicolour lights, the communal table where strangers strike up rapports across invisible dividers between their seats, the small, cosy balcony lushly populated with greens and rattan — JUICE is a wine bar that feels wonderfully homely.
This intimacy is calculated. It's the same crew behind Foxtail who constructed JUICE, designing it to assimilate you into wine bar culture, sans the usual snobbish posturing. All the while evoking the same boisterous energy that permeates the other beloved rooftop hangout.
Compared even to the stalwarts in the casual wine bar scene, they execute "unpretentious" so damn effortlessly without leaning too strongly into that label. It's not about channelling rowdy havoc as much as making wine easily accessible, while still elegant.
The entrance is surreptitiously hidden at the top of a flight of unassuming stairs beside the bustling Dumpling Darlings, intensely pelted by stark white fluorescent. But as you peer in through the door at the top, the stygian stylings of the loft quickly create a sleek bubble of immersion.
Inside, a scatter of couches, a plant-laden spiral staircase, and a motley of whimsical trinkets and art pieces all lend to a guilelessness. In a way, it feels like an elevated, matured version of Foxtail.
The space is left in a state where it feels like JUICE's owners invited you into their abode, nakedly exposed like the lounging of a mid-twenties creative who frequently gets lost in the wistful croonings of Frank Ocean's "Blonde" while pensively sipping from a glass of Pinot Grigio.
Amidst JUICE's snug setting though, is an exemplary dedication to hospitality, divorced of froufrou but still nevertheless immaculate. The owners speak to you like friends — albeit impassioned aficionado friends who crave to show you the best the wine scene has to offer, without being off-putting.
Max, Pardon my Wineyness
Lest you wander into another run-of-the-mill "wine bar" and shell out some $16 for an aggressively average house pour, JUICE offers by-the-glass wines for $16, nett. Clearly, there are limitations for glass pours but the quality of the selection might surprise you.
After passing on my bothersome request for a "funky red, rich with minerals", owner Max expeditiously trotted to the cellar hidden away at JUICE's mezzanine to retrieve a bottle of Mourvèdre, hailing from a chateau in the South of France.
One shallow testing pour later, I was already infatuated with its nose and begged for a full serving, whereby I meticulously rocked and swirled the glass, before thoroughly massaging my palate with its smooth body.
Starting off with a subdued effervescence, it lets up into a dignified depth that somehow remains bewilderingly light even with sultry whiffs of minerals and echoes of tannins. Deeply satisfied, my next sought to be something safer and more full-bodied.
The Cabernet Sauvignon that followed was less adventurous but still magnificently fruity and tinged with a trailing sweetness that would go well with something punchy and savoury.
It might just be two drinks, but they were quite a reliable representation of JUICE's range as a wine bar for both esoteric and orthodox stylings. It also speaks to their ability to pick out the right bottle for less-experienced Vivino-checking peasants, such as myself.
Food for Thought
Food menus at a bar, particularly a wine bar, can be an awkward facet to design. As you'd expect from a self-labelled house party, the food here is simple but satisfying.
JUICE's food menu mainly keeps to tried-and-tested charcuterie accoutrements such as cold cuts and cheese. Even though without bells and whistles, JUICE's attention to provenance for these snacks is deceptively measured.
For example, the Saucisson ($10). Max insists on procuring the Lyonnaise production of the dry-aged sausage. And the taste is telling — these slender discs of artisan cured meat are immaculate partners to the wines, especially medium-bodied reds.
Despite the delicate make of these meat morsels, they retain a pleasant elastic bounce and chew, underscored by a meaty tenderness and scores of fats. Fat-rich and umami, but refrains from being overwhelmingly salty — genuinely one of the highlights of my JUICE wine bar experience.
Alas, what if the decorum of sampling charcuterie with every sip of wine comes unnatural to you? JUICE has another winning formula — wine and pizza. A fond reminder of those long-gone halcyon nights of college dorm life.
With JUICE's insistence on quality, it's no surprise their Pizza stash comes from NY-style Sonny's Pizza right across the road. Without fail, the gratifyingly flavoursome Pepperoni ($25/12-inch), my favourite in Singapore, hits the spot with its greasy decadence. Best chased with adult grape juice.
In name, JUICE is a wine bar but in practice, it's more akin to a warm invitation to a friend's house for wine — it's more genuine, less transactional.
That makes for a delightful night that hazily passes by with the clinking of glasses and nibbling on sumptuous charcuterie while gazing down on the hectic blur of Circular Road, as if you were the main character in an indie film.
Like at Foxtail, the crew demonstrates a propensity for packaging sharp expertise within plush layers of vim and conviviality. JUICE isn't a stuck-up wine bar, merely a collective of Singapore's friendly neighbourhood vinos whose only directive is your enjoyment.
Good wine, delectable snacks, and chic aesthetics are just a side perk.
Make your reservations here.
Juice Wine Bar
Address: 86b Circular Rd, Singapore 049438
Hours: (Mon–Sat) 6pm Onwards