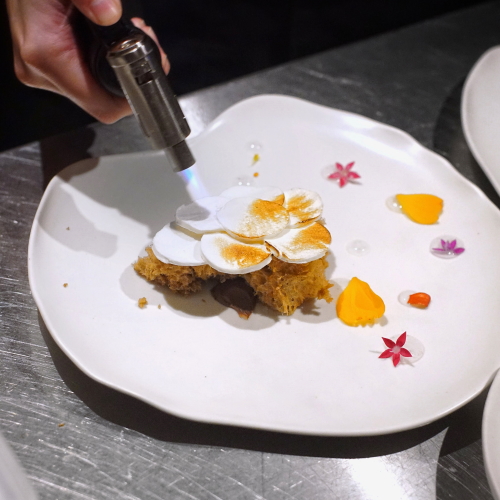 Sparks fly at 50fifty as Janice Wong Joins Hands with Sidedoor Power Couple
Tucked away on the second floor of Intercontinental Hotel at Robertson Quay is a quaint little space that is centred around a bar, with little glow and glamour to announce itself besides a line of waist-height blue drapes with a lone "50Fifty" imprinted in the middle.
This is Janice Wong's newest concept, a wonderland where desserts meet cocktails, like a candy shop for adults amongst a congregation of luxe steakhouses and omakase joints.
Behind the 50Fifty bar for February are the power couple behind innovative home dining concept Sidedoor, award-winning bartender Bannie Kang and chef extraordinaire Tryson Quek, of MU: and Anti:dote fame.
This Six-Hands spectacle is one filled with creative dishes, paired with expertly crafted Macallan cocktail pairings and plenty of intimate tomfooleries.
With 6 courses ($138) set to roll out and 4 tipples to elevate the dishes, it's the ultimate test of the power couple's chemistry and knowing their history — it's gonna be exciting.
Smooth Gentle Start
Starting us off slow was a crisp and grassy Irish Oyster, which 50Fifty aptly named Algae, where a layer of refreshing kombu, cucumber, and frost blanketed a fresh briny oyster waiting to be sucked out.
It is accompanied by a similarly green-accented glass of Clean Water which Bannie Kang fashions out of Macallan Sherry Oak, Guava, Osmanthus, and Sencha for an elegant and easy-to-drink profile that complemented the grassy and briny oyster ensemble.
Flavours are given a slight jolt in intensity on our next dish at 50Fifty, a nibble of Ugly Duckling consisting of Confit Duck Rillette, Duck Liver, and Maple. Defying expectations as suggested by the name, this was an intricate and beautiful mouthful carrying a soft savoury punch.
We were given glasses of White Meat, a Pina Colada spin coloured in pink, to wash down the slight residue of unctuousness and leave our palates ready for the next course.
The Cow on Field was 50Fifty starting to crank up on flavours with a luscious steak tartare spruced up enchantingly with kale, grain, and a delicate tart kiss of yuzu from a special sorbet from Janice Wong.
This dish was also complete with the best concoction of the night, the Green Land, a well-layered medley of Naked Malt, Fernet Hunter, Curry Leaf, Watermelon and a tasteful pepper spice note to finish.
Then Heavy Flavours Kicked in
After draining my cup, I sat there waiting in anticipation for the next dish as Tryson quietly stirs up a thick viscous liquid on the counter.
Thick, murky, and coloured in an appetising hue of brown, the Chicken Broth was the surprise stand out of the meal. It might look like just soup but it was 50Fifty's stupendously rich and hearty elevation of the quintessential restaurant soup.
What really hit the umami out of the ballpark was the inclusion of dried porcini, adding that much more oomph to this unassuming bowl of soup.
There was a slight intermission in tipples before we reached the desserts, so 50Fifty quickly segued into another flavour bomb in the Fatty Fish.
A dish all about textures, this was blissfully soft and slightly creamy while being accentuated by the robustness of caramel butter and a saline twang of fermented tea — it all came together for one massive savoury overload.
Only a Janice Wong Concept with Desserts
Now, it was time for Tryson and Bannie to take a backseat while the beautiful creations of Janice Wong take the centre stage at 50Fifty, starting with the Drunken Island.
You couldn't ask for a better curtain-raiser for this Sidedoor collab at 50Fifty, as we were presented with an arresting arrangement with a coherent gamut of flavours built upon a sponge base, using Whisky Creme Anglaise, Ginger, Chocolate, Sea Salt Caramel, and a vibrant whiff of bergamot. Balanced and easy — the perfect end to a flavour-packed dinner.
Bannie Kang then designed the Double Red, a fruity riff on the Boulevardier using a Macallan Double Cask, Strawberries, Campari, Amaro, and Sherry. This was a tamer take on the classic but the magic was when melded with a bite of the Sea Salt Caramel ice cream in the dessert.
We thought that was all but then we were given a cute post-dinner nibble of a Yuzu Chocolate Bon Bon which was a supremely sprightly and spirit-lifting palate freshener to cap off the 50Fifty experience.
Bannie Kang and Tryson Quek will be in residence until the end of February, make your reservations here.
50Fifty Bar x Sidedoor
Address: 1 Nanson Road, #02-07B, InterContinental Singapore, Robertson Quay, Singapore 238909
Hours: (Wed–Sun) 4pm–10:30pm
*This was an invited tasting.