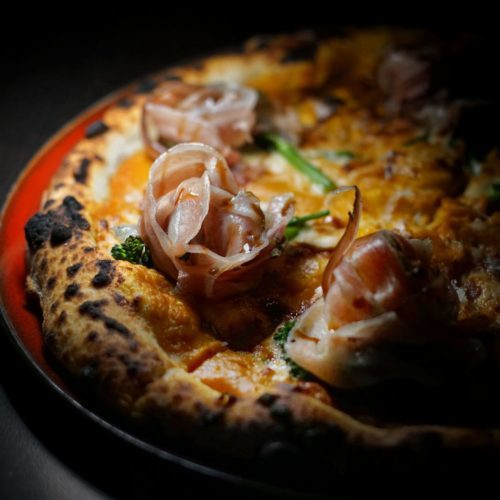 Pizza lovers shouldn't sleep on Amo's stunning creations
Amo was conceived by Beppe De Vito, owner of the Il Lido Group and Michelin-starred chef at Braci, in 2017. The chic, dimly-lit Italian joint sits along Hong Kong Street and has earned a reputation for its stunning doughy creations.
The rationale is simple — those saucy slices of dough are so versatile as a medium for creativity, any sensible permutation of toppings could satisfy almost anyone. Following that line of thought, Amo injects plenty of imagination and soundly backs it with their deft pizza crafting.
Putting the Pizza in Pizzazz
Pumpkin sauce bases are a rare sight on pizzeria menus. Amo's pumpkin pizza ($28) however, was an intricate construction, out to seduce with its vivaciously sweet pumpkin base. Mounds of smoked mozzarella and pancetta layered strikingly atop the base with complementary umami. Thin twigs of spicy broccolini then provided just the slightest sizzle for attenuation.
The flavours are tantalising but the real star is Amo's fabulously light and fluffy dough, accented with a gentle chew. Faint crackles embellished the smoky charred extremities for a bit of oomph.
Another essential order is their truffle pizza ($35). This baby hits with a heavenly surge of truffle aroma so potent, that it sensually lingered throughout the night. Slathering a creamy mushroom-infused mascarpone base onto the dough provided a perfect earthiness that melded seamlessly into the heady truffle. Simply the taste of luxury.
Pasta la Vista, Baby
For supplements to the great pizzas, Amo also churns out some great homemade pasta, like this Beef Shank Fettucine ($28). Substituting the typical citrus of lemon for orange was a genius stroke. The playfully piquant orange perfume complemented the flavourful and complex beef ragu, whilst the mushrooms provided an earthy gravitas to balance the richness.
For a simpler ensemble, the Squid Ink Tagliolini ($29) delivers so much with minimal clutter. Awash with seafood brine, the jet-black sauce slickly coated onto the flat, narrow surface of the bouncy pasta. Its overall profile was a focused intensity of umami, only punctuated with the tender and juicy bite of cuttlefish for textural interplay.
It's impossible to leave Amo without falling in love with comforting Italian fare, enlivened by quirky touches. It was evident as I glanced at multiple pairs of couples in the courtyard, each amorously eye-locked and lost in the ambience. Amore is in the air.
Amo
Website | Instagram | Facebook
Address: 33 Hongkong St, Singapore 059672
Hours: (Tues-Sun) 12–2:30pm, 6–10:30pm