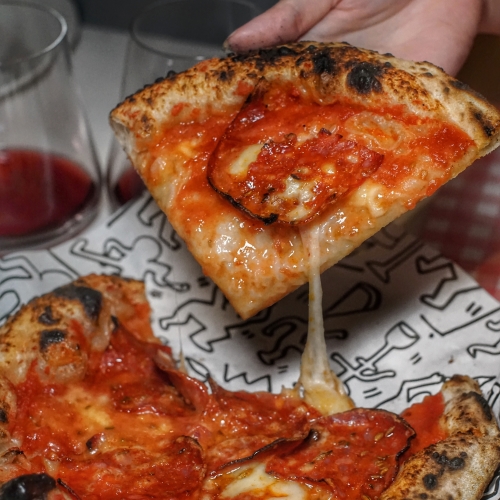 Creative Pies at Cicheti's Wild Child Pizzette showcase an Ingenious method to their madness
Possibly one of the most anticipated openings of the year for Pizza lovers — Wild Child Pizzette is the newest concept by Cicheti, Singapore's favourite casual Italian dining maestros.
Pushing apart the sliding doors and stepping in, you'd be greeted by a clean, laidback getup set to a twitch of lively youthful energy. Wild Child Pizzette is just that — an unpretentious pizzeria for Pizza lovers that pushes the envelope for pizza craftsmanship, while still respecting heritage.
It's the poster wild child and an apt representation of our blossoming artisan Pizza scene, with genre-bending new entrants including The Drunken Farmer and Small's putting wacky contemporary twists on the Italian classic.
If you make your way to the back of the diner, you'd find your eyes drawn to the dazzling lifeblood of the establishment. Majestic rousing flames dancing about atop a mound of ash and timbre — it's an authentic wood oven procured from the holy land of Pizzas, Naples itself.
It's with the bona fide Neapolitan beaut's midas touch that Wild Child Pizzette churns out the most tantalising 10-inched, leopard-spotted discs of saucy beauty, using dough yielded from a time-honoured 60-hour process.
Promising Preludes to the Pies
With our backs toward the waves of heat from the oven, it felt appropriate that the first dish to be brought in was this refreshing Roasted Cauliflower ($14). Perched atop some sprightly labneh and mint, the cauliflower was punctuated with scorch marks that melded into the fragrant throes of the pistachio crumble.
Wild Child' Pizzettes local inspiration though, was most apparent when this Kurobuta Pork Belly ($18) landed on our tables. While roasted pork belly is as classic a dish as any in Italy, the stupendous crackle emanated from chomping down on the biscuit-esque skin reminded me of Siew Yoke.
Piling onto the hedonistic bliss of these babies, just add a dab of their Crack Oil, an addictive chilli oil that's loaded with potent umami that pairs immaculately with just about anything.
Another display of fusion ingenuity came in the form of the Bikini ($18.50), Wild Child Pizzette's take on the tapas classic that substitutes the wafer-like bread with tangy slow-fermented pizza dough, with sensual slivers of cheese that accentuated the chewy crisp and luscious beef cheek marmalade adding a gratifying oomph.
Pristine Dough at WildChild Pizzette
Fried Pizza is a rather rare sight within Singapore's Italian scene so it was an exhilarating find while flipping through the menu. Simply put, Wild Child Pizzette's Crispy Fried Margherita ($21) is the best fritta I've had so far.
Not only did it sport that iconic gentle crisp and soft chewy bite, the grease regularly found coated on fried dough was mostly scant. Bolstered by velvety stracciatella, rich San Marzano tomatoes, and aged parmigiana, this was a riot of textures and flavours.
As a follow-up, we were handed the unique Cavolo Nero ($18.50) kale pizza that's blanketed in a sea of charred kale and pickled onions. Using a rather unorthodox but gratifyingly punchy combo of bagna cauda and garlic confit, it crescendos into an earthy intensity that thoroughly satisfies the palate.
A truly rambunctious medley of earthy umami uncharacteristic of traditional pies. It's also gracefully spruced up with a finessed touch of citrus and acidity, with some help from the vibrant streaks of pickled onion and a drizzle of lemon.
In comparison with the many pizzerias of Singapore, this is perhaps one of the most consistently fluffy and delectably chewy doughs that had just the perfect hint of intoxicating smoke.
While all items were paired with alcoholic tipples fastidiously curated by Wild Child Pizzette's sommelier, the pairing for this was particularly impressive. Nothing chases the gratuitous earthy hit quite like the vivacity and unrefined funk of the Akishika Shuzo Motoshibori.
It's made through the most traditional of sake-brewing methods, yielding a crisp mix of acidity and florals — its stupendous chemistry with the heady profile of the Cavolo Nero left my taste buds absolutely besotted.
Needless to say, it's not a genuine Pizza experience without a crimson-hued, salami-laden pie. Spiniata Calabrese ($19) is WIld Child Pizzette's take on tradition with an enchanting juxtaposition of modern-meets-heritage in its unique twist.
While the visual weight was all monopolised by the pristine crisp on the curled-up salami slices, the palate's space was mostly dominated by the playful wisps of Asian-influenced heat from the Sichuan chilli honey. A no-holds-barred and unadulterated decadence that's supremely easy to enjoy.
The sweet sweet end at Wild Child Pizzette
Capping off the meal at Wild Child Pizzette was this homely Pecan Tart ($13). Delightfully rich bourbon pecan fragrance wafted elegantly through the mouth while the creamy adult-tinged whisky gelato added just the adequate kick to round up the flavours.
Nothing too cloying, nothing with too much pizzazz, just the right comforting dose of sweetness as a curtain-raiser.
I have to say, as someone who hadn't been all too impressed with Cicheti's pizzas in the past, I was genuinely impressed by the masterful but creative craftsmanship on show. Is it one of Singapore's best Pizza restaurants? Yes, I think it is.
Wild Child Pizzette by Cicheti
Website | Instagram | Facebook
Address: 50 Circular Rd, Singapore 049405
Hours: (Mon–Sat) 12pm-–2:30pm, 5:30pm–-10:30pm
*This was an invited tasting.