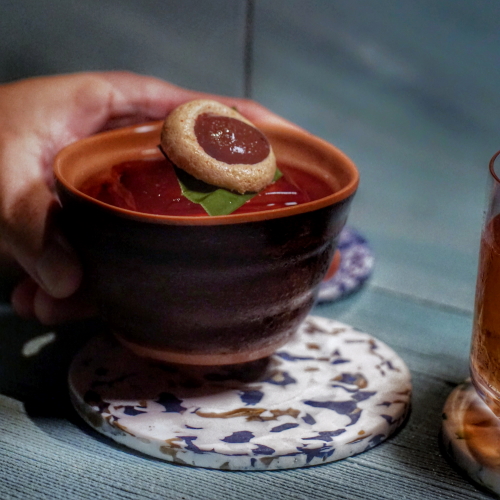 Native's newest bar Analogue Initiative Is A Textbook for Sustainability
If you're a frequent bar hopper in Singapore, you'd know of the experimental cocktail maestros Native who were ranked 18th on 2021's World 50 Best Bars rankings. Most of us were excited to hear of their swanky new bar concept named Analogue Initiative at CHIJMES which opened last year.
(Edit: Analogue has recently clinched No. 37 on Asia's 50 Best Bars 2022!)
Masterminded by Native's founder, Vijay Mudaliar, this new space puts a strong emphasis on sustainability that is eloquently embodied by the eye-catching 3D printed counter fashioned out of 1,600kg of recycled plastics.
The behemoth dominates most of the bar space with its trippy curves and contours that hearken to the waves. The soothing turquoise gradients and meandering lines meander through, in dips and waves, to enclose the bar area like a spaceship bridge.
And maybe that's what it's supposed to feel like because Analogue Initiative's vision is an innovative forward-looking —almost futuristic— peek into the sustainability zeitgeist of the food industry in the coming decades.
When I say they emphasise sustainability, I mean it — Analogue Initiative, though a bar in name, also painstakingly wrought out an intricate food menu from their ethos and conviction to sustainability.
That's a very endearing trait for any bar — having respect for sustainability and fleshing out a robust food programme that isn't just an afterthought. A match made in heaven when coupled with their penchant for a profound playfulness in creating fun elixirs.
a Plant-Based Masterclass
After waxing lyrical about their strong focus on their food programme, it's only right that I do a dive into Analogue Initiative's bar bites — mostly plant-based, no less.
Analogue Initiative's piece de resistance is undoubtedly the Jackfruit Tacos ($26), perfectly embodying the essence of the bar's sustainability creed. Jackfruit rendang was pure a stroke of genius that shrewdly replicated the beloved saucy, meaty texture of tacos.
Not only that, but it also imbued a unique native flair using graceful kisses of lemongrass and coconut milk. All-around complex while satisfying nibbles given a bit of acidic depth and bitterness, with the flavours bookended by crisp lettuce and crunchy taco shells.
If there was one persuasive bar snack to assuage any on the fence on meatless innovation, Analogue Initiative's plant-based Nuggetz ($18) do a convincing job especially after being coated in an addictive curry crack sauce, specially made in-house.
When we say addictive — we mean deathly addictive, in a chimeric McDonald's meets Japanese sweet curry kinda monstrosity. Not to mention Analogue Initiative's ersatz bar bites perfectly mimicked the nugget texture.
However, if you want sometime heartier, then go for their stunning replicas of Poutine (S$18). Made with chad potatoes, mushroom miso, vegan cheese and chives, this umami party has no brakes — it's an unadulterated indulgence that might just edge the classic poutine form for me.
On the other hand, Analogue Initiative's take on Mushroom Ceviche ($16) was far from being a facsimile of the Peruvian classic.
Nonetheless, it had its own legs to stand on since this unique dish was a bewitching medley of sleek textures and intoxicating Asian flavours from the king oyster mushrooms, nori, and sesame snow.
Innovative New Concoctions
If you've been to Native, then it's natural to expect the most intricately brainstormed concoctions at Analogue Initiative too. You won't leave disappointed if you're seeking dauntless and novel creativity, as the dearth of Cocktails (S$25) will satisfy any itch.
After sampling every drink from their array of original creations, the extremely palatable Carob ($25) left the deepest etch in my memory.
Almost like a spiked chocolate mint, this tipple was fresh, crisp, and creamy while sporting a beautifully comforting touch of pumpkin fragrance. It's almost like basking in the warm tangerine hues of the setting sun in the crisp autumn breeze.
Fans of Negronis would be keen on Analogue Initiative's Spaceman ($25), a novel revamp of the classic Italian tipple where it's spruced up with bold touches of Peanut Butter and Kyoho Grapes.
Whilst the Kyoho Grapes weren't immediately apparent, the peanut butter does bleed into the negroni body with its robust nutty punch — though also leaving a slight nutty astringency that some might not appreciate.
On the other end of the spectrum, the Smokey Jerky ($25) offered a pleasant sweetness with its endearing blend of Whisky, Paoloa Cortado, Maple, and Smoked Paprika.
A reliable, straightforward tipple that featured a delectable sliver of mushroom jerky.
For a more playful and nostalgic concoction on Analogue Initiative's slew of drinks, the Buckwheat ($25) was a layered blend of Whisky, Matcha Distillate, and Gula Melaka that had a familiar Asian sensitivity.
It's capped with an endearing cherry on top, in the form of a miniature Adzuki "Potong" popsicle.
Scanning through the menu for a savoury but unsure what would suit your palate the most? Consider a wacky, esoteric adventure of Gin, Blue Spirulina, Verjus, Wakame, Clarified Kiwi, and Lime Distillate.
The Spirulina's ($25) ingredient list by itself should be able to entice the most dauntless thrill-seeking imbibers.
Hankering for a rim lickin' good time at Analogue Initiative? The Cactus ($25) will leave you making out with the embedded Tajin rim, which created a striking interplay with the heady profile of Mezcal, Prickly Pear, Pink Dragonfruit, Aloe Vera, Pasilla Reduction, and Lime Oils.
We suggest ending the night at Analogue Initiative with the Custard Apple ($25), a supremely easy to down creation that was strikingly reminiscent of kombucha — crispy and refreshing.
This was a pleasantly fruity amalgamation of Custard Apple, Lemongrass, Vegan Honey and a stone-fruit-forward "The Plum I Suppose" from artisan spirit-crafters, Empirical Spirits.
Similarly, it's a delight to sip on the Guava's ($25) freshening troupe of Rum, Pink Guava, Lime Oil, Mint, and Xylitol — tangy and spirited with a deft minty punch, all rounded up with a vibrant sweetness of Xylitol, a sugar substitute, which tastes a lot cleaner than the trite white granules.
Analogue Twists
One charming detail about their name is the fact that "analogue" is a representation of things that are comparable to each other. Most of the "analogue" concepts are exhibited through smart substitution of plant-based proteins and swapping out ingredients for their more sustainable counterparts.
However, the aptest part of the menu to embody the "analogue" concept is the Classics ($25) section where they revisit and present customers with a playful reimagination of timeless tipples.
As much as I abhor Bloody Marys ($25), this rendition smartly incorporated capsicum distillate and mushroom soy reduction into tomato juice, making this tipple feisty but smooth and balanced while sporting an enthralling depth of richness. Quite possibly one of the best Bloody Marys you can find in Singapore.
Conversely, Analogue Initiative's accessibility as a bar is also shown in their comprehensive Non-Alcoholic ($16) menu. Fret not, alcoholics, for the "analogue" factor can also be seen in action here, with a juxtaposition of their Spiked ($25) alter-egos available if desired.
The Passionfruit at its base is a mixture of passionfruit, chamomile, and coconut. When mixed with Diplomatico Rum though, it gives birth to a zesty lovechild of Pina Coladas where rum molasses and spices mingled vivaciously with the passionfruit and coconut.
Analogue Initiative is the future — not just of the bar scene but also F&B as a whole. In this age of eco-anxiety where consumers are transitioning into more mindful alternatives, Analogue is one of the shining beacons that show you can do so much with alternatives, both for drinks and food.
Make your reservations here.
Analogue Initiative Bar
Website | Instagram | Facebook
Address: 30 Victoria St, #01-31 Chijmes, Singapore 187996
Hours: (Tue–Sun) 5pm–10:30pm