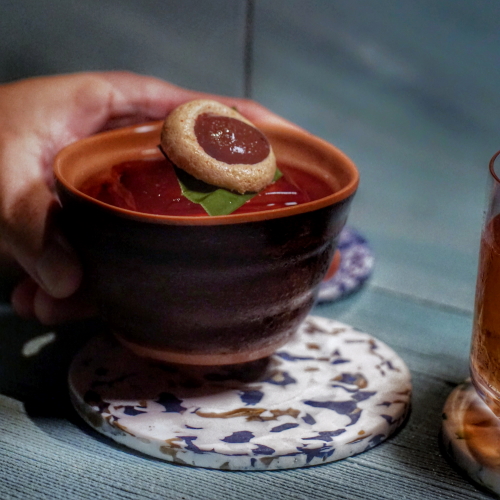 Native's newest bar Analogue Initiative champions experimental flavours and sustainability
If you're a frequent bar hopper in Singapore, you'd know of Native Bar, the trailblazing experimental cocktail maestros who were ranked 18th on 2021's World 50 Best Bars rankings. Then you'd also be excited to hear they've opened a new bar concept, Analogue Initiative at CHIJMES.
Masterminded by Native's founder, Vijay Mudaliar the new space puts a strong emphasis on sustainability particularly with the eye-catching centrepiece of a 3D printed table fashioned out of 1,600kg recycled plastics.
The behemoth dominates most of the bar space with its trippy curves and contours that hearken to the waves with its soothing turquoise gradients and meandering lines — quite the impressive centrepiece.
When we say they emphasise sustainability, we mean it — Analogue Initiative, even though a bar in name, also placed a strong focus on its food menu. They pull out all the stops to ensure the ethos of sustainability shine through on their bar grub too.
That's a very endearing trait for any bar — both the respect for sustainability and fleshing out a robust food programme. Coupled with their penchant for a profound playfulness in creating fun elixirs, you'd be in for a blast here.
Analogue Initiative excels in bar bites
After waxing lyrical about their strong focus on their food programme, it's only right that I do a dive into Analogue Initiative's bar bites — mostly plant-based, no less.
While most people have been raving about their Jackfruit Tacos ($18) we ordered what intrigued us the most — their take on the classic Nuggetz ($14) which are plant-based nuggets that come with an addictive curry crack sauce, specially made in-house.
When we say addictive — we mean deathly addictive, in a chimeric McDonald's meets Japanese sweet curry kinda monstrosity. Not to mention Analogue Initiative's ersatz bar bites perfectly mimicked the nugget texture.
However, if you want sometime heartier, then go for their stunning replicas of Poutine (S$18). Made with chad potatoes, mushroom miso, vegan cheese and chives, this umami party has no brakes — it's an unadulterated indulgence that might just edge the classic poutine form for me.
Innovative Drinks Menu
If you've been to Native, then it's only natural you expect the most intricately brainstormed concoctions at Analogue Initiative too, even if it's a new bar. Let me say — you won't leave disappointed if you're seeking dauntless and novel creativity, as the dearth of Cocktails (S$23) will satisfy any itch
Say you're a fan of nergronis, then you should follow in our footsteps and start the night off with the heady hit of the Spaceman. In a mongrel-esque twist on the classic Italian tipple, Analogue Initiative spruces it up with bold touches of Peanut Butter and Kyoho Grapes.
Whilst the Kyoho Grapes weren't immediately apparent, the peanut butter does bleed into the gratifying negroni body with its robust nutty punch — though also leaving a slight nutty astringency that some might not appreciate.
On the other end of the spectrum, the Smokey Jerky offered a much more palatable sweetness with its endearing blend of whisky, paoloa cortado, maple and smoked paprika. A reliable, straightforward tipple that featured a delectable sliver of mushroom jerky.
For a more playful and nostalgic concoction on Analogue Initiative's slew of drinks, the Buckwheat was a layered blend of whisky, matcha distillate, and gula melaka that had familiar Asian sensitivity — capped with the cherry on top of the adzuki miniature "potong".
Scanning through the menu for a savoury but unsure what would suit your palate the most? Consider a wacky, esoteric adventure of gin, blue spirulina, verjus, wakame, clarified kiwi, and lime distillate.
The Spirulina's ingredient list by itself should be able to entice the most dauntless thrill-imbibers.
Hankering for a rim likin' good time at Analogue Initiative? The Cactus will leave you making out with the embedded tajin rim, which create a striking interplay with the heady profile of mezcal, prickly pear, pink dragonfruit, aloe vera, pasilla reduction, and lime oils.
We suggest ending the night at Analogue Initiative with the Custard Apple, a supremely easy to down creation that was strikingly reminiscent of kombucha — crispy and refreshing.
This was a pleasantly fruity amalgamation of custard apple, lemongrass, vegan honey and a stone-fruit-forward "The Plum I Suppose" from artisan spirit-crafters, Empirical Spirits.
If there was a drink that best embodies the Native sibling's, this was it — a compellingly and palatably packaged combo of smart experimentation and dedication to sustainability.
Analogue Initiative Bar
Address: 30 Victoria St, #01-31 Chijmes, Singapore 187996
Hours: (Tue–Sun) 5pm–10:30pm