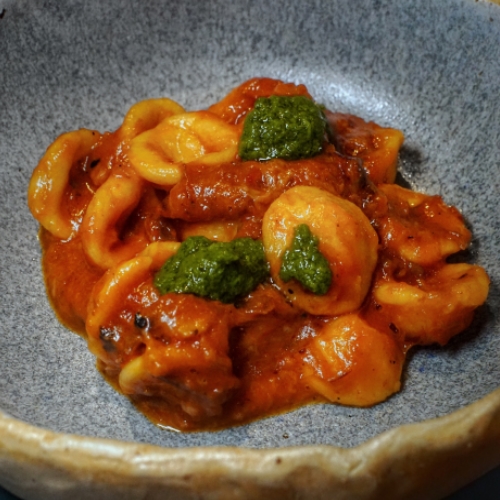 Handmade Pasta Bliss at Forma, Helmed By Renowned Home Chef of Ben Fatto 95
There is a certain romanticism to handmaking pasta. The push and pull when you knead the dough. The tactile euphoria of tracing your fingers over supple rolled-out sheets. The limitless satisfaction of moulding them into intricate shapes. And there's perhaps no individual more familiar with the art of handmade pasta in Singapore than the man handmaking the pasta at the new Forma in Joo Chiat.
Chef Yum Hwa is a legendary name amongst gourmands and those familiar with the home dining scene. Prior to the conception of Forma, you could only find the seasoned Sfoglino at Ben Fatto 95, one of the most sought-after home dining experiences in Singapore.
Tapping on his expertise, the Cicheti group joined forces with Chef Yum Hwa to bring his exquisite pasta workmanship to the masses. Here, his rustic flour-dusted surfaces are strategically located in a glass-panelled room by the entrance to allow passersby a peek of the maestro in his element.
Forma is stylish but also dressed simply, as you'd expect from a Cicheti-style Italian restaurant. It's all about the hospitality, the food, and the star power of Chef Yum Hwa here.
The restaurant is an intimate affair to work to the Pastaios' pace of hand-crafting pasta. Yes, Forma's pasta is done by hand without reliance on machinery, to capture the truest essence of the iconic Italian staple.
These limitations are perfectly reasonable — handmade pasta is truly a rigorously time-consuming uptake. There is a handful of seats inside while the rest of the cover is spread amongst an array of tables outside, moodily lit up by overhanging bulbs strewn across the ceiling.
Forma is only open for dinner as of now but the alfresco allure is strong, especially since it's situated in a quaint corner of Joo Chiat. You'd have all the fresh night breeze and little distractions from your pasta-laden soiree.
Uncomplicated Prologue
Despite pasta being the headliner of Forma, the restaurant is tuned towards the style of a traditional trattoria. So, expect a holistic menu that encompasses a range of bites beyond just the starring pasta dishes.
The antipasti are kept simple and produce-focused — as Italian tradition dictates. But rest assured, provenance is respected so expect to see region names and terms like "DOP" scattered throughout the menu.
A good bite to kick off the meal would be the Gnocco Fritto ($14). Humble parcels of fried lard-enriched dough are the focus here, spruced up with unctuous lardo and then given an elegant attenuating touch from pink peppercorn.
But what really tickled my fancy from Forma's array of appetisers were the voluptuous salted cod balls, Polpette di Baccalà ($21).
These spheres come with a creamy medley of salted cod flakes and mashed potato concealed within a crunchy orange crust. A satisfying bite that explodes with richness while well-layered textures and a soft kiss of lemon balances it off.
Going for something a bit more interesting would mean the Prosciutto di San Daniele e Melone ($24). Their take on the classic ham-fruit pairing was refreshing as Philibon Melon sweetness and balsamic twang added a different dimension to the thin slices of prosciutto.
I won't deny the allure of other homely antipasti that the Forma kitchen churns out, led by former Caffe Cicheti chef Dylan Cheong. But ultimately, these were the prologue to the main event — the best handmade pasta you'll find in Singapore.
Finally, a Taste of Ben Fatto 95!
As an amateur pasta home cook, my quest for pasta in Singapore generally consisted of disappointment. Yet, the cult following amassed through Chef Yum Hwa's home kitchen always felt surreal to me but alas, tables were hard to come by.
So it's natural that many in the public relished this chance to savour some of his fastidious crafts at Forma. Out of all seven pasta dishes, the best course of action is to start off strongly with the Tortellini in Brodo ($34).
Uncomplicated elegance was the crux of this dish. Make no mistake, the focus was solely on the Tortellini and not the shimmering stock. Delicate bundles of dough that collapsed into a decadent mess of Mortadella, Prosciutto and Parmigiano Reggiano — a heavenly overload of umami.
With consideration for the heavy ensemble in the Tortellini, the chicken brodo was kept light and comforting. This formed a beautiful contrast between the robustness of the fillings and the crispness of the brodo.
Another dish that was deceptively inelaborate came in the form of the Linguine al Limone ($29) which utilised an unassuming trio of pasta, lemon, and cheese.
As with all stripped-down pasta, the simplicity is what makes it so dangerously hard to execute. And that's something Forma did immaculately — plush creamy emulsification with tastefully sprightly spiffs of fresh Amalfi lemon perfume. It's dishes like these where the kitchen's finesse really shine through.
Forma's pasta highlight was, indubitably, the Orecchiette al Sugo d'Agnello ($36). Most understand the dogma that handmade pasta texture is better but that is doubly true for Orecchiette — especially when prepared using a time-tested shaping method native to the city of Bari.
To start off, the red Lamb Sugo sauce base was tinged with a wealth of lamb shank and anchovy intensity. But the texture was the show stopper — Forma's Orrechiette were wonderfully chewy and answered to nibbles with delightful recoils, while hollow crevices built up silky, soupy deposits that flowed out to the rhythm of the jaw.
Honourable Mentions
Beyond this trinity, the rest of the fabulous seven skewed slightly more towards familiarity. The oxtail ragu of the Pappardelle e Coda alla Vaccinara ($36) is comforting of course but more stomach real estate should be saved for the unusual suspects.
Anyone adamant about rich red sauce should also consider the Busiate con Pesto alla Trapanese ($28) for its wholesome spate of tomato and basil, along with a furtive almond earthiness.
The helical Busiate might be second for texture at Forma, only behind the orecchiette, owing to a blissful elasticity underscored by a stellar hollowness in its core.
Even amidst Forma's versatility with sauces, the Struncatura Ammollicata ($32) is perched near the top of my rankings — that's despite its reputation as "peasant food".
Austerity in components somehow magically translated into a lavish abundance in flavour amidst intoxicating anchovies funk and olive salinity, finished with chillis and toasted breadcrumbs.
Don't Neglect Forma's Mains
It's inarguable that handmade pasta from Singapore's most respected pasta home cook is the impetus for the booked-out status for Forma's opening month. That said, it'll be a mistake to overlook their mains.
Even after being thoroughly bewitched by the Orrechiette, Forma's Merluzzo alla Scafata ($42) pan-seared cod still forced my eyes to widen slightly. Textbook pan-seared cod texture —tender silky flesh and gently crackling skin— met the velvety smooth mouthfeel of vermouth-butter sauce.
The sauce was exuberantly rich and brightened by vegetal sweetness, while it all also goes down smoothly almost as if loaded with collagen.
Steak lovers will also be partial to the 55 days dry-aged Australian beef used in the luscious Tomahawk Steak (Market Price), skillfully grilled to a gorgeous pink. Comparable to most steaks you'd find at respectable restaurants but nothing mind-blowing — the accompanying trio of sauces was a nice touch though, especially the sweet and earthy Porcini gremolata.
A Sweet End to the Meal
Italian cuisine is graced by so many classic desserts, that you won't be sure what to expect at each restaurant. Forma chose to steer clear of the trite Tiramisu and angled for more items such as Biscotti ($18) and Cannoli ($17).
While tarts are more closely associated with French cuisine, Forma showcased a rather captivating cousin of the Lemon Meringue Tart. The Crostata al Limone di Amalfi ($16) brimmed with the graceful zest that Amalfi lemons are renowned for while a mound of "marshmallow" added a chewy accompanying texture that was reminiscent of torched meringue.
Forma is one of the most anticipated restaurant openings of this year and it's evident why — Ben Fatto 95's handmade pasta excellence is deservedly revered by many in Singapore.
With that kind of pedigree and Chef Yum Hwa's articulation in conveying his vision to a larger kitchen team, it's only inevitable that this new Italian restaurant will become a mainstay in the scene.
Make your reservations here.
Forma
Website | Facebook | Instagram
Address: 128 Tembeling Rd, Singapore 423638
Hours: (Fri–Sat) 12pm–2:30pm, (Tues–Sat) 6pm–10:30pm last order
*This was an invited tasting (and a subsequent self-funded trip)