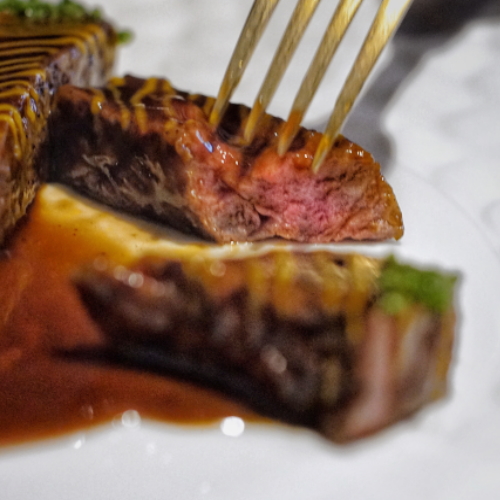 Restaurant Euphoria is like a Tasteful Tour Through Works of Culinary Art
I stopped outside a pair of hefty wooden doors along Tanjong Pagar — rustic, brown, and not all that enticing. I had arrived for my lunch tasting menu at Restaurant Euphoria, recently christened No. 41 on Asia's 50 Best Restaurants. Expectations were running high. My heart was swelling with anticipation.
My hands reached out to propel the doors forward and I took my first step in, eyes on the floor as my gaze was greeted by a small pebbled pathway leading into a tranquil little garden.
I turned my attention skyward and my eyes were led inward by waves and dips of sleek metallic overhanging installations snaking towards the heart of Restaurant Euphoria.
Where the golden roof road ends, foliage begins, lushly enclosing a radiantly lit skylight to form an inverted oasis hanging serenely over the dining room.
The sophistication, intricacy, and dainty florals actually perfectly embody Restaurant Euphoria, as well as Chef Jason Tan's ethos, who's a talented chef formerly of Michelin-starred Corner House.
Everything is immersively tied in, as you begin on a spectacular journey dubbed "Gastro-Botanico 2.0" — a cutting-edge mode of French cooking with a finessed that feels like Chef Jason guiding you on a tour through his casa, a tasteful and sophisticated museum.
Intricate SNacks to Whet The Palate
I was quickly diverted to a corner of the restaurant —not directly under the skylight but with trickles of its glow still reaching me— and one of the primly dressed service staff swiftly elucidated on the concept. My choice for the day was the 4-course Joy of Euphoria Lunch at S$138.
Soon after, a rather peculiar onion-shaped vessel made its way onto the table. I quizzically looked at it before curiously lifting the conical lid to reveal a treasure trove of rotund pastries.
These were were a Restaurant Euphoria special of Mochishire — sumptuous blends of mochi and Yorkshire pudding imbued with cheesy pep, that's made outrageously sumptuous with a spread of lively tomato "gazpacho". We've arrived at the entrance of the museum with an opulent gate greeting us.
Still reeling from the immaculate sense of euphoria that the restaurant's Mochishire induced in us, the staff then graced our table with a spread of intricate amuse-bouche, like a delicate flower garden lined around the exterior.
Our attention was promptly monopolised by the Feuille de brick, Celeriac, and Baerii Caviar snack that showcased a medley of flavourful celeriac, caviar, and florals atop some airy French pastry.
While Restaurant Euphoria generally dabbles in French cuisine magic, delicate Japanese elements are also commonly littered throughout the courses like in this Hamachi, Yuzu Kosho, and Tobiko on Rice Crackers.
Light crunch and a controlled burst of flavour made this an absolutely delightful snack to perk up the appetite for the main course.
We then popped these tidbits made with Sudachi, White Balsamic, and Kohlrabi that just massaged our palate with the sprightliest zest — and we were ready for the main courses.
Every Dish a Painting at Restaurant Euphoria
There are a few ways you can design a fine dining menu but I am besotted with Restaurant Euphoria's finesse in balancing facets of flavour, like bringing you through a gallery of artworks as you enter Chef Jason's mansion.
It's not a stretch to say that the Hokkaido Scallop dish is just that — a piece of art. A picture-perfect dish with the spotlight on blissfully soft and plump scallops, stuffed with Watermelon Radish to endow it with an immaculate crispness.
What really added dimension was the pool of uni sauce peppered with Oscietra prestige caviar for a pop of flavour. To my surprise, the sauce was not as overwhelming as expected and gave just the right amount of controlled richness to complement the scallop.
After we licked every smidgen of orange off the plate, the servers then presented us with a New Zealand Blue Cod looking impossibly crispy scale-side-up, achieved through a precise shallow fry to bestow the scales with an airy crackle. This was the commandeering statue, anchored in the middle of the artworks, tying everything together with a sense of gravity.
The flesh itself retained that tender, soft flesh, from chef Jason's ingenious preparation method. In line with Restaurant Euphoria's dedication to Gastro Botanico, the cod's clean profile is then accentuated with a gratuitously earthy hit courtesy of an array of maitake mushrooms, smoky prawns and a robust vine jaune and legumes emulsion.
A4 Toriyama Wagyu (+S$38) was the choice to round off the savoury mains and there's no better ending than luscious beef cooked to a perfect tender pink, so much so that it melted in the mouth. This was without almost like Monet painting come to life, as vibrant, surreal flavours floated in tandem with vivid shades of florals in the Demi-Glace.
The driving force behind the dish was Restaurant Euphoria's trademark Legumes Demi-Glace, one of Chef Jason Tan's personal "mother sauces". With deep roasted vegetables utilised in the demi-glace, the sweetness and intensity were amped up manifold with a certain depth you won't find in your run-of-the-mill demi-glaces.
However, you won't be disappointed even if you don't top up and get the Wagyu Beef Cheek dish off Restaurant Euphoria's regular lunch courses. Confession time — I might prefer this over the more luxe cut of beef since it's hard to find beef cheek rendered this tender.
At the side is also a rather peculiar accompaniment that's a foie gras terrine that tasted surprisingly like a burger patty but with a stronger punch. Quite an intriguing side though I would have preferred an attenuating touch instead.
Best Restaurant Dessert I've Had
Restaurant Euphoria's magnum opus though was perhaps the best dessert course out of all the restaurants I've been to. This Almond —Saffron, Yoghurt, Isomalt, Orange, and Thai Basil— was a magical multi-faceted whirlwind like a tesselated abstract painting.
You're greeted by tanginess and citric fruity notes, then hit with an esoteric Thai Basil perfume, with layers of diverse textures working together in sync. A creative dish that's still incredibly palatable.
If there's one thing that's indicative of Restaurant Euphoria and chef Jason Tan's French roots, it's the Alice in Wonderland petit fours. These simple and more conventional French pastries are a good, uncomplicated way to close the curtains on the meal. These are the simple, classical pieces that give the gallery a sense of classical legitimacy.
I speedily took my snaps after being advised by the staff so I could indulge in the Macadamia "Caramleia 36%" in its full glory before it melted. Delightful crust, silky insides, and a robust flavour — a sinful snack.
The Rosemary Olive Oil Madeleine was perhaps the most mundane out of Restaurant Euphoria's ensemble but it was light, fluffy, and fragrant so no real complaints here.
A Horlick "Dinosaur" sphere was also included for a straightforward crunch and nostalgic local flavour but not very noteworthy.
Ultimately, my pick of the petit fours was the Canele de Bourdeaux. Sure it sounds boring but the pristine execution gave it the most delectable crust that a textbook case for a Canele.
Opened a little over a year and already snagging Asia's No. 41, I can only see Restaurant Euphoria continuing its meteoric rise if Chef Jason can maintain the current trajectory. A star from a weirdly-tire-shaped man could very easily be on the horizon for a well-curated, well-guided, and vivid tour through all these moving pieces of art.
Restaurant Euphoria
Website | Instagram | Facebook
Address: 76 Tras St, Singapore 079015
Hours: (Wed–Sat) 12pm–2:30pm, (Tue–Sat) 6pm–11pm