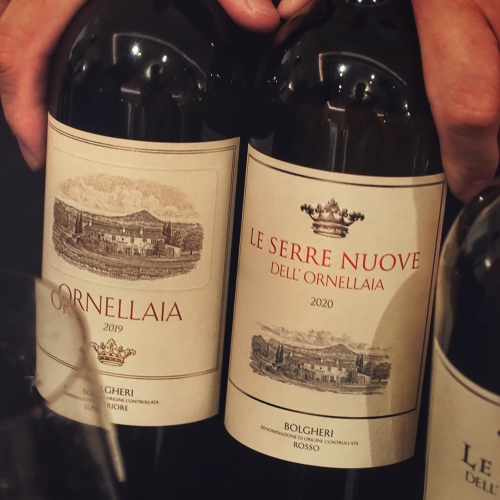 A Lavish Wine Soiree Showcasing Gems of Tuscany Curated by Angra Wine & Spirit Singapore
Despite being less familiar with my wines than spirits and cocktails, I couldn't pass up on an invitation to appreciate this collection of Gems of Tuscany curated by Angra Wine & Spirit, one of Singapore's eminent wine importers. Alcohol is alcohol, after all — my eternal best friend.
To some, wine might appear a medium that exudes an air of elitism, one quick to thicken into an opaque veil, almost impossible to pierce. Yet, beneath all that esotericism and punctiliousness, is a beautiful, misunderstood libation that's nurtured one of the most exceptionally impassioned communities in the world.
As the wine Gods would have it, it was as smooth and delightful as it could be for a wine novice and didn't feel at all like I was an outsider leading an incursion. Everything was contained in a bustling function room within Raffles Hotel, where 12 esteemed wineries from the Italian region of Tuscany are set up and primed to explain their fermented gems.
Those more discerning will be able to pick out a few familiar names —like my more wine-attuned friend did— such as Ornellaia, Sassicaia, and Bibi Graetz. It wasn't merely a motley crew but more of a who's who, including those amongst the most prominent associates of the "Super Tuscan" style of wine.
The walk-around event is free and easy, leaving you to explore the booths with no pressure and no expectations — just chat with the friendly sommeliers and winemakers who are itching to pour you a glass. It's quick to get into the mood as you go around the room, getting wined and dined by the convivial, sleekly dressed folks overseeing every table.
What is "Super Tuscan" Wine?
An instinctive question would be: "what is Super Tuscan wine, exactly ?" Traditionally, winemakers abide by strict decorum and laws on provenance in Europe and Italy. While the prevailing native grape varieties in the Tuscan region of Central Italy included Sangiovese and Chianti, the "Super Tuscan" movement saw some wineries deviate from the established standards.
Certain wineries, in search of greater freedom and quality, started incorporating non-indigenous grapes such as Merlots and Cabernet Sauvignons. That's what's on display at Gems of Tuscany — nonconformist, yet still exquisite, labels that caught the eye of the folks at Angra Wine & Spirits, who'd been charmed enough to bring them into Singapore.
Glistening Gems of Tuscany
My wine soiree started off splendidly with a visit to the Bibi Graetz table where I was swiftly dazzled by the acclaimed 100% Sangiovese Colore 2020 ($448) — a delightful mix of bright fruity notes with refined acidity, very sophisticated but pricey.
Then, fate serendipitously brought me to one of my favourites of the day, the Siepi 2020 ($185) from Mazzei, one of the most illustrious in the region.
This equal-part Sangiovese and Merlot blend quickly captured my attention, coming on strong with dry and woody top notes, underscored by light spice and a deep, sexy acidity. Quite the appropriately robust and complex wine to kickstart things.
One winery, in particular, really caught my fancy as I thoroughly enjoyed all three of the labels they have up on show from Ornellaia.
Of the three, its flagship Ornellaia 2020 ($373) was the undisputed showstopper, peacocking a tremendously complex profile that's magnificently structured. This silky sipper is still considered in its nascency already performing extraordinarily even before it's stored in the cellar.
Its compatriot, the Le Volte 2020 ($68), missed some of its more majestic depth but performs just as stupendously considering its much lower price point, delivering an equally smooth but crisper and more fruit-forward profile while maintaining the same sense of balance.
With such a strong showing, and an erudite sommelier presenting the wines, Ornellaia had to be the most memorable winery showcase that Angra Wine & Spirit hosted for the event.
Alas, after a few more rounds and nearing the end of the session, I wandered upon one gem of Tuscany that glistened the brightest to me. It was the mesmerising crown jewel Biserno 2020 ($283) at Tenuta di Biserno — a resplendent medley of Cabernet Franc, Merlot, Cabernet Sauvignon, and Petit Verdot that boasted multi-faceted elegance.
It hides a staggering depth that starts off with a deluge of distinguished ripe fruits, before bouts of rounded acidity and suave muskiness sneaked in. Above all, the finish was simply divine, beginning with ephemeral tannins which gracefully faded out, avoiding harsh dryness but still lingering with a pronounced mint-like freshness. This is a congenial wine that will be easily approached by most.
In the end, I sauntered out of the room in a state of euphoria while feverously tapping on a phone screen already crammed full of tasting notes. I must confess, this lavish Tuscan wine soiree by Angra Wine & Spirit might have brought me one step closer to the inevitable plunge into this wine-flooded rabbit hole.
This was a one-day-only event that has passed but you can still get one of these Gems of Tuscany for your wine collection from Angra Wine & Spirit's site here.
*This was an invited tasting, prices are derived from the pricelist provided to media.