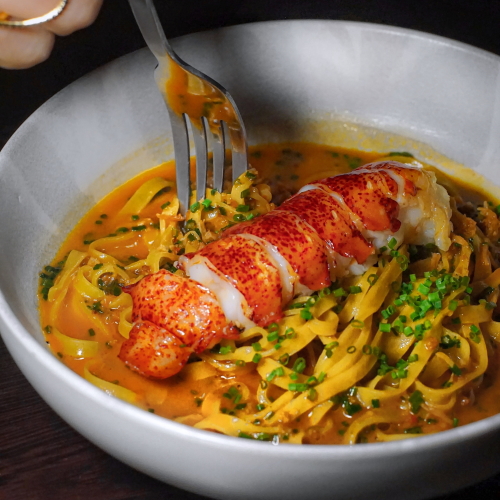 RVLT Brings a Fun Wine Revolution filled with Disco Balls, Neon Lights and Nuggies
Wine. Neon lights. Disco balls. Possibly sounds like a logically incoherent jumble of fixtures, that is until a visit to RVLT's buzzing Carpenter Street hideout assuages any doubts.
That inescapable red glow of its wine sign can be noticed from afar, juxtaposed against unkempt scrawled alphabets of "RVLT", calling out to your thirst for excitement as your feet instinctively march themselves towards the bar's door.
You'd find yourself stepping into a free-spirited shindig where wine is the focus but all the pretensions are thrown out the window. Just to the left are four unassuming wooden planks perched on a wall, crowded with a myriad of bottles, bearing a myriad of the most eye-catching labels.
This is the core of RVLT (read "Revolution") — they are one of the trailblazers of the vogueish natural wine bar concept that had exploded into Singapore's restaurant scene in recent times.
And these OGs are here to entertain, to entrance, to give you a mighty fun time you wouldn't normally associate with a wine bar. Patrons chatter away excitedly, vivid red light floods the space, and specks of vibrant colours float about to the rhythm of a glistening disco ball.
Indecision Worth Wining About
"Hello, how can I help you?" Echoed a friendly voice as we were left staring at the wall of potential intoxicants, bewildered. A sommelier with no suit, no tie, just clad in RVLT's signature black T-shirt.
It's not my first rodeo here, or with natural wine, but I was still overwhelmed by the pains of indecision so it was a delight for the sommelier to deftly narrow in on what shall go into our glasses for the night.
Being as drawn to effervescence and funkiness as I am, it wasn't a surprise to find myself reaching towards the Abbazia San Giorgio Orange ($118) amongst the motley of bottles on RVLT's shelves.
The Italian Orange was dangerously easy to sip on as it carried itself with an elegant fruity body that's soft and balanced, popping with a slight splash of effervescence. A touch of gentle dryness and the most subtle hint of salinity then finished it off with the most charmingly subtle complexity.
My previous visits to RVLT also ended up with some intriguing finds like this Astro Bunny Pét-Nat ($105) from Master of Wine Tim Wildman.
Essentially proto-sparkling wine, it excited with a funky fizziness and mild yeastiness. With its sharp and spirited fruit notes — most predominantly grapefruit — it danced around like a cider but with more complexity.
Playful and Creative
When it comes to RVLT's current menu, the Chicken Nuggets ($20) probably garner the most curiosity. Am I really shelling out $20 for six-piece nuggies? Yes, yes I am.
Good nuggets not of the pre-made variety are rare and worth their weight in gold, unlike the dross the golden arches churn out of questionable gunk. Texturally, these nuggets felt like a juicy crossbreed of nuggets and Karaage.
RVLT's creation comes with the unmistakable nugget crust texture but cracks open to reveal a heftier, more tender mouthfeel similar to a Karaage. Unadulterated satisfaction when jazzed up with the fermented chilli dip's twangy heat.
On the other spectrum is a more intricate nibble that wouldn't look out of place at a fine dining establishment — the Uni Buttersquash Caviar Toast ($18).
Every nook, cranny, and contour of the transparent Dashi crystal toast was simply eye-arresting, while its majestic crown of uni and caviar really showed RVLT's hidden talent for presenting bougie bar snacks.
Like the rest of their arsenal though, this opulent toast was an efficacious bite of gratuity, as the sweet-briny richness of the uni butter squash concoction blended immaculately with the punchy profile of the caviar, while the wager-thin crackle of the Dashi toast reverberated in your head cavity.
A Secret Pasta Sanctuary
RVLT actually does one thing suspiciously well — they seem to have a knack for unique fusion pasta. Like prior visits, it's impossible to spend a night at the bar without ordering one of their signature pasta.
This time around, the kitchen impresses with a most decadent Lobster Pasta ($42), featuring a cast of hand-cut fettuccine and lobster tail confit bathed in a deluge of tangerine-hued sauce, imbued with a punchy kiss of XO.
It's easy to dismiss fusion pasta as soulless gimmicks but RVLT shows why pasta does not need to be constrained entirely to Nonna's tenets as the ribbons of fettuccine come slicked in the salacious umami of the briny sauce.
Moreover, cuts into any section of the lobster tail would yield you the most pristinely cooked crustacean flesh — tender and teases your teeth with the soft bounce lobster is beloved for.
The Unforgettable Classics OF Wine RVLT
RVLT had long revised their menu but it's still an arduous journey for me to forget the wine bar's timeless classic, the love of my life, the sandwich that was promised, et al — their Patty Melt ($30).
This beaut featured a very simple but effective ensemble of dreamily rich Gribiche sauce, a Westholme Wagyu patty bursting with umami and ketchup adding a feisty sweet tanginess. Enveloping them all are buttery milk bread buns that shattered thunderously. Music to the ears.
All facets of flavour weaved in and out of the palate deftly, until eventually harmonising into a rousing crescendo. A must-try sandwich that I've bid farewell to too many times, with how often RVLT brings it back to the menu, just for fleeting moments.
Prior to RVLT's newest lobster pasta, the wine bar had already impressed me repeatedly with their past. The Uni Butter Sauce Fettucine ($32) came with a dreamily rich sauce that slickly coated onto the toothsome strands of pasta.
Unexpectedly, Uni flavour was subtle and it tasted more of seafood brininess. The umami profile was every bit as intoxicating as the wine I was sipping on. Paired with those plump and crunchy shrimps, it satisfied thoroughly.
If you're looking for an enthralling wine bar that has good food to pair with, keep RVLT in mind. Even with the loss of some favourites like the Patty Melt, they are still going strong on my fourth visit — with many more to come.
Make your reservations here,
RVLT Wine Bar
Website | Facebook | Instagram
Address: 38 Carpenter St, #01-01, Singapore 059917
Hours: (Mon–Fri) 4pm–10:30pm, (Sat) 1pm-10:30pm