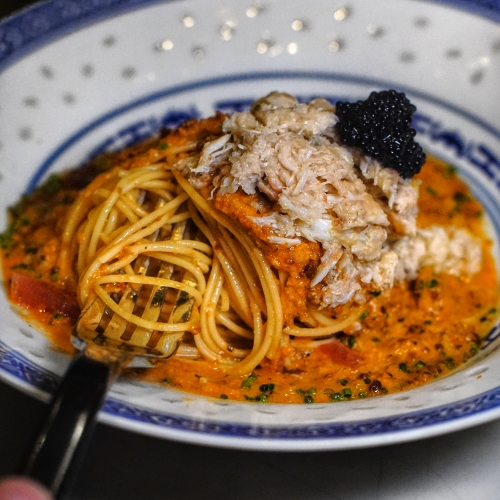 Here Hides Chef Dylan Ong's Love Letter to Mod-Sin Cuisine, Made for the Masses
Love inexorably always leads to woe. "The one that got away" is direly overused, yet this persisting ideal still somehow consistently inflicts deeply profound hurt. Love demands dauntlessness — that's something that Chef Dylan Ong's beloved concept, The Masses, perfectly encapsulates.
Growing up in a hawker family, Chef Dylan has an intimate relationship with the splendour of local cuisine. Even if it wasn't an immediate limerence with the idea of running his own F&B business, he always had it in his blood, attuned early to the sights and the sounds of our hawker centres and wet markets.
The Masses is, in a way, an articulate distillation of this culinary maverick's love story with cooking. It is the finale in a long pursuit of his culinary dream but there are no compromises — he relishes the chance to showcase the treasured tastes of earlier halcyon days and not let this be "the one that got away".
Understandably, Mod-Sin isn't quite the avant-garde pursuit it was two decades ago but Chef Dylan has nonetheless carved out his own niche after leaving his debut project, Saveur. Being classically trained, his cooking exhibits fleeting moments of familiarity with both the classical French canon and local delicacies.
In the past 6 years of operation, The Masses had eventually come to be associated with an unusually distinct Asian-Franco approach to fusion, one that's focused on hyperlocal elements.
All that magic comes spilling out at one unchanging location, nestled in a shophouse along Beach Road. It has built itself a strong case to be recognised as one of the most iconic establishments in Bugis, always bustling during service with loyal crowds.
More importantly, it feels like he's made a lovenest of his own with his lifelong partner, cooking. The clashing incandescence of its neon-flooded interior, high-octane rock music, risque pop culture references, and bodacious ornaments with tie-ins to Asian culture — this is The Masses at its idiosyncratic best.
Consistently Imaginative
Since that duck confit served with hor fun on my first ever visit to The Masses, I'd identified it as a place with a strong quirky flair. On my first return in a long time, played out on a copy of Menu 14.0, I was again impressed with how the Chicken Liver Pate ($14.90) was paired with spring onion pancake.
It was ofally decadent, boasting funky top notes of the liver pate that was married to the sharp fragrance of the spring onion pancake, before pickled blueberries and honey dates introduced a soft twinge of sweet and acidic contrast that complemented the pate.
Subsequently, the kueh pie tee also inadvertently makes a cameo, which isn't surprising considering its versatility and prevalence in local fusion settings. While not stupendous, the Crabmeat Kueh Pie Tee ($12.90) was a decent twist that didn't stray too far from its roots.
The Masses stuff it with jicama and XO sauce for a rich, saucy base while also plumping up the entire ensemble with shreds of luscious crab meat — satisfyingly solid while being a tasteful and instinctive modernisation of a classic.
Or Bet on the classics?
But don't let the ingenuity fool you since, in my opinion, The Masses is just as adept at elegant, straight classics too. One great example is the unassuming Bread ($4.90/2pcs) which can be ordered as a mix of Homemade Sourdough or Petit Brioche.
Both confectionery options are decently done and well-toasted, though the petit brioche was slightly dry at parts, but the standout was actually the impossibly rich Umami Butter ($3.90) that tasted like a kombu lover's heaven. While inelaborate, the well-crafted condiment proved the sound foundations in the background.
In the same vein, The Masses' ultra-signature C&C&C&C&C Pasta (S$18.90/$25.90) isn't a dish laden with esoteric elements or inspirations. Nonetheless, it's a sublime handling of a myriad of iconically sinful ingredients.
Cool, al dente strands of Capellini enrobed with silky and sumptuous lobster bisque, a kiss of confit lemon acidity peeks through, and then the lavish crown of luscious crab meat and caviar bestows further decadence — a burst of mild briney sweetness and some enlivening textures, to tie it all together.
Fresh vegetal produce bolstered by a rich classic sauce? Ignoring how textbook that may sound, The Masses' Purple Cabbage ($19.90) claims a spot as one of my all-time favourite veggie dishes, despite my usual abhorrence of them. This is a creation that best demonstrates how Chef Dylan is capable of putting his own Midas touch on the tritest of dishes.
Grounded in simplicity, the luxuriously buttery Beurre Blanc was what gave it that je ne sai quois, through the confluence of euphorically nostalgic Asian elements such as dashi and prawn head oil imbuing their distinct sweet-umami nuances. The cherry on top? Every leafy sheet boasted of a tender, meaty bite and was chased by faint slivers of smoke from grilling.
Compared to some more highbrow restaurants in Singapore, The Masses isn't as astoundingly experimental or trailblazing — but it was never meant to be. It's one man's love letter to local flavours that are close to his heart, physically condensed into one quaint restaurant at Bugis.
It doesn't chase for stars or accolades. That's also what gives it its exceptional edge — satisfying food, faithfully made to fit a profoundly personal vision at The Masses, meant for the masses.
Make your reservations here.
The Masses
Website | Facebook | Instagram
Address: 85 Beach Road #01-02, Singapore 189694
Hours: (Mon–Sat) 12pm–3pm, 5:30pm–9:30pm, (Sat) 12pm–3pm, 5:30pm–9pm