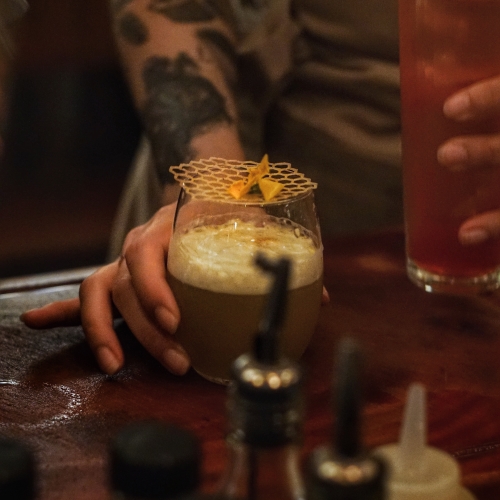 Night Hawk perfects the profound Art of new Age Speakeasy comfort
I'd just passed Papi's Tacos, then Five Oars Coffee, but my speakeasy stop for the night still eluded me. A sharp left towards Tras Street led me to a brusquely exposed brick wall, embedded with an enigmatic red door, accompanied by a cryptic avian insignia that I presumed translated to "Night Hawk is right here".

Behind the door, lurked plush lounge chairs, refulgent ribbed metal surfaces, and a busily twitching flap display board, all accentuated by shades of rusty orange and a modest sprinkle of reserved teals.
Even with an omission of see-through glass parameters, one can appreciate an erudite channelling of Edward Hopper's 1942 magnum opus within Night Hawk's design and palette decisions. The space is sleek and modish, laden with a deceptive warmth to compensate for the sordid loneliness of life in a big city.
That is the beauty of Night Hawk and the beauty of 'urban alienation'. At its heart, it passingly acknowledges the vapidity of modern life and offers a welcomed escape from a frigid embrace soddened with adult-acquired loneliness.
The cocktail bar focuses on a sense of affable warmth, touting an oxymoronic speciality of "futuristic nostalgia" — desired in a gradually distant metropolis, to feel comfort even amidst the dissonant pace of adulting and an unknown future.
Futuristic Nostalgia
As gibberish as "futuristic nostalgia" sounds, Night Hawk's mixological tenets are self-explanatory and easily appreciated as classic cocktails imbued with an edgy touch.
An efficacious demonstration would be the Kick Artist Fix ($25), an buttery, braggadocious medley of rye, rum, maple, and fortified wine left with just a rumour of old-fashioned sensibilities.
The dramatically scarlet Crimson Solace ($25) on the other hand, was more in-line with and indicative of Night Hawk's uncanny ability to contort classics, imbuing palatable comfort into an intrepid modification.
Despite a queer ensemble of peated scotch, sweet potato, beetroot, orange, and chocolate, the drink imposes a plush zest very much reminiscent of whisky sours, and a little touch of sweet potato lagging behind. A luxurious solace, indeed.
One drink to perfectly encompasses the "futurism" in their mixology, was aptly named Savour the Future ($25), underscored by an inventive approach to the archetypal savoury cocktails.
This is Night Hawk's method of astutely blending miso's unique flavour traits into a concoction that beguilingly straddles the savoury charm of bloody marys and dirty martinis. And yes, there's real caviar on the garnish.
Night Hawk doesn't do pomp, it doesn't do avant-garde either, and it surely doesn't do mechanical perfection. Instead, it's a bar unabashed in its geniality as a confidential space for hazy after-hours within the dreary CBD.
It's a surreptitious refuge where the regular classics are eschewed for something that can grant a vibrant pop of colour to the greys of this sprawling concrete jungle. It's like a lighthouse for the weary in in the vast colourless emptiness.
Night Hawk
Website | Facebook | Instagram
Address: 43 Tg Pagar Rd, #01-02, Singapore 088464
Hours: (Tues–Sat) 5:30pm–12am