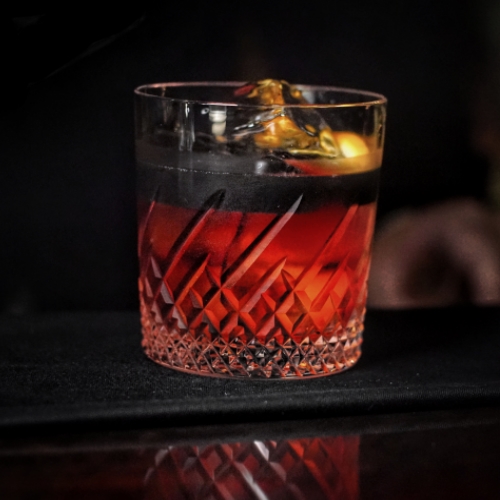 The Bar Kakure Experience underscores Precision and Balance in Classic Cocktails
I hesitantly stepped into the lush wood-accented waiting area of Ki-Sho, an upmarket Japanese Omakase restaurant, in search of "The Bar Kakure" dressed in my casual ensemble of t-shirt and pants. Doubts rushed in as I started wondering whether I had unwittingly bumbled my way into the wrong building on this side of Orchard Road.

Greeted by a friendly besuited host at the steps of the lobby, I made unassured mumbles about looking for the bar and, thankfully, I was then warmly ushered up to the second floor via the central stairs.
Trudging up to the second story though, presented more uncertainty as it was dead silent. But following my chaperone's lead, it was revealed to me that the bar was shrewdly concealed behind a wooden panel with the words "Kakure" faintly scratched onto it.
Kakure is actually the furtive second-storey operation of Ki-Sho, operating out of an alcove obscured behind the walls, like a Prohibition-era speakeasy. Inside, the lights are dimmed and old-timey Jazz fills the room with an immersive air of luxury.
The bar space is supremely intimate and unencumbered by ornate fittings, built simply around a sleek onyx glass bartop with files of spirits lined up at the windowsill, while a lone dapper Japanese man stood at the centre of the stately counter.
The Art of Classics
That man is Kazuhiro Chii who, while not a household name to youngsters like me, is one of the veteran statesmen who has had a profoundly long and sound career, spanning over twenty-six years bartending at respected establishments in both Japan and Singapore.
Watching Chii-San work his station at Kakure is like appreciating a graceful ballet — his motions are sharp, concise, and mellifluous. His poise is proper, stoic, and dignified. And his understanding of classic Japanese-style bartending is refined and erudite.
Perhaps one of the best testaments to the notion that "the Japanese didn't create it, but they surely perfected it," Chii-San's precise choreography of wrist twirls and concentrated shakes produced moments of beauty.
As a barometer, the Martini ($28) is one of the most telling classics since it's a tipple where dilution and ratios are ruthless. Even not being a big Martini aficionado, Kakure's rendition is one of the rare few where my palate didn't feel like it was being abused by prickly heated needles.
This handsome spirit-forward tipple announced itself with that familiar balmy dry Vermouth sting but also resolved itself in a rounded fashion, leaving its mark with an endearing dryness softened by a graceful trail of floral nuances.
As a staunch Negroni devotee, it was natural to have Kakure's Negroni "Diablo" ($28) appended to my personal Negroni directory. As an original creation, it doesn't follow the punctilious routine of combining the holy trinity in one stir.
Instead, a blanket of blackened "Diablo" Hayman Gin is meticulously rested atop the Vermouth and Campari amalgam for dramatic effect. It wasn't just sharp and vogueish in appearance though — this Negroni riff was also exquisitely balanced.
The palate was greeted with an intrepid medley of citrus and grape sweetness, then gliding into an aromatic mid-body, before it finished with aplomb as it stained the gullet with a deep, dry finish.
Kakure is the only cocktail bar in Singapore, sans Shin Gi Tai, where I'd been feted by such a blissfully articulate and smooth transition between Negroni layers — Chii-san's finesse shines through in the fine details.
For a one-man show, Kakure's merit as a bar is entwined with its helmsman. In this case, Chii-san runs a tight ship and perfectly showcases the essence of a no-frills and craft-focused Japanese bar. While I might not have heard of the name Kazuhiro Chii erstwhile, it's a name that I shan't be forgetting any time soon.
Make your reservations at The Bar KAKURE here.
The Bar KAKURE
Website | Facebook | Instagram
Address: 29 Scotts Rd, Singapore 228224
Hours: (Mon–Sat) 6pm–1am