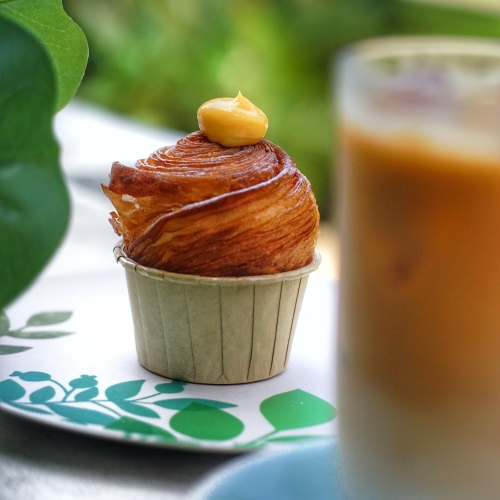 Cafe Brera at Reunion — Iconic Artisan Bakery Opens sit-down cafe at National Museum of Singapore
There aren't many bakeries as iconic in the local cafe scene as Bakery Brera, a stalwart fixture at Farrer Road that operates out of a compact shophouse unit, almost like a polished "HDB-downstairs bakery", strikingly diminutive for an establishment of its stature and popularity.
The trusted homegrown artisan bakery had already amassed quite a loyal cult following but it was during the pandemic when it truly exploded, as swarms of sweet-toothed Singaporeans started to fight over their Cruffins and Burnt Cheesecakes.
Many have been wondering when, or if, Bakery Brera would ever find a bigger sit-down cafe space to base itself. 2023 is finally the year that dream materialises because Cafe Brera at Reunion had recently soft-launched for business.
Comfortably snuggled in a corner of an addendum to the National Museum of Singapore, the cafe perpetuates much of that same homely, rustic charm that characterised the hole-in-the-wall original. There's a degree of refinement to the decor, partly due to its more culturally-significant venue but the vintage reds, outmoded browns, and flora glass decals feel intimately faithful as extensions of its original identity.
More importantly, this isn't just another garden-variety new branch that tries to imitate the original but is sadly plagued by a sordid lack of soul. Cafe Brera at Reunion is actually remarkably distinct, as a collaborative project with the National Museum — hence more familiar moments of heritage are highlighted.
Rustic Charm, Elevated
It's almost treasonous to head to Brera's new cafe and not order its Cruffin, lionised by a legion of viennoiserie aficionados, so I decided to mark my long-overdue reunion with a new Calamansi Curd Cruffin ($5.50).
The texture was just as I remembered it —buttery, flaky, with a light chew— and a damn solid pastry treat. More importantly, I'd found fault on a few previous visits with filling portion insufficiencies, and the Cruffin I was served oozed with silky curd.
As far as flavour permutations go, this might be one of my favourites from the bakery, ever. Sporting a profile reminiscent of the Kopitiam classic lime juice, it's zesty, it's vivacious, it's sweet — very well-balanced, especially against the buttery richness of its pastry cage.
But a bigger surprise came in the form of a pleasantly well-crafted Iced Latte ($6.50). Most new cafe ventures tend to run into difficulties with calibrating a balanced cuppa but what about Cafe Brera at Reunion? Their Brazilian-Colombian espresso blend was well pulled, with a strong richness and depth without straying overtly punchy or acidic, which is usually par for the course in Singapore cafes. A solid effort, honestly.
As for where the heritage and cafe elements kick in, Cafe Brera at Reunion isn't just a bakery like its flagship outlet. The menu here is extended to not just beverages but bigger plates — and they are not the dishes you expect.
The interesting food menu goes into truly nostalgic favourites, amongst which you can find the likes of Curry Chicken ($11.80) and sandwiches stuffed with local favourites such as Steamed Otah Otah ($9.80) or Satay Chicken ($9.80).
While I didn't have the stomach space to venture into this section, one of the kind staff offered a sample bowl of the Pulut Hitam ($4) and I have to say, sure it's not astounding, but oh boy does it hit the spot. Rich, hearty, silky and coconut rich — this is the simple taste of childhood that the average Singaporean tastebud can't object to.
Here's the thing — is Cafe Brera at Reunion on par with some of the sleeker new openings in Singapore in terms of glamour? Evidently not. However, if there's a place that many pastry lovers would trust for no-frills, well-made treats, it has to be the Farrer Road veteran.
Time will tell if that consistency and quality will carry over to the National Museum outpost indefinitely but it's the early days and it's promising. And that's only talking about their bread and butter — there's also plenty of room to grow into their newly extended food menu, and a myriad of comforting regional classics for them to incorporate into their operations.
Make your online purchases here.
Cafe Brera at Reunion
Website | Facebook | Instagram
Address: 93 Stamford Road, #01-06, National Museum of Singapore, Singapore 178897
Hours: (Mon–Sun) 9am–5pm