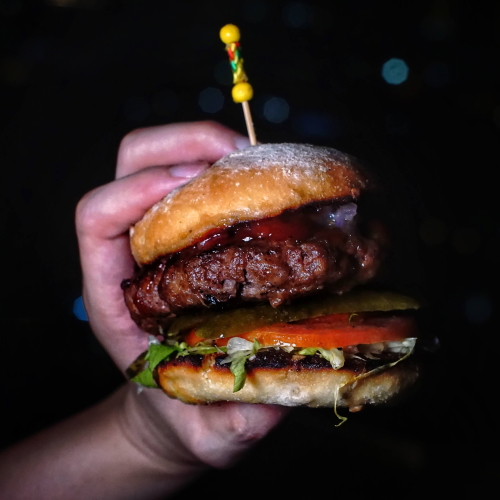 Philippines Sensation Raging Bull Burgers Pops Up in Singapore
Shake Shack, Five Guys, In-N-Out Burger — iconic names that stirred up plenty of furor amongst Singaporeans. It's simple, burgers are a universal language and any acclaimed brand will draw plenty of attention. While not quite in the same ballpark, a Philippines favourite has also landed in Singapore, as Raging Bull Burgers stars in a pop-up atop Hotel Jen.
Skipping all the tiresome processes of PCR tests and booking VTL flights, you can get a bite of one Philippines' most popular buns here on our island from until 31 Aug 2022.
Temporarily situated at [email protected], you can enjoy your Raging Bull Burgers with a view, lounging under red parasols while having an unobstructed view of the magnificent Singapore skyline at this vantage point towering over Orchard Road.
The choice of location also lends itself to giving Singapore burger lovers a bona fide and decadent experience, as the chefs work on Raging Bull Burger's signatures over live, raging flames thanks to the open-air arrangement of this pop-up.
Smokiest Burgers in Singapore
As a self-professed burger aficionado, I have had many bites of juicy, saucy burgers but there's one thing that really makes a marked difference here — the smoke from the chargrill.
While your run-of-the-mill electric grill can excite the patties enough for plenty of rich juices to leak out, the braggadocious dose of smoke on their Mighty Beast ($18) was something else.
The ensemble was simple and fuss-free — you have Angus Patty, Beer Mustard, Cheddar Cheese, an array of greens, and their secret Raging Bull Sauce — but everything in the burger gelled together immaculately for a riot of flavours with that divine smokiness marauding at the forefront of the assault.
Pushing the luxury factor even higher is the Raging Wagyu ($20) that comes with an Australian Wagyu Patty. Comparatively, the smoke was toned down for the Wagyu's inherent richness to have more space to shine but the smoke on the simple Mighty Beast might just edge it here.
For anyone with a natural disposition towards burgers that don't follow the classic juiced-up patty format, Raging Bull Burgers also provide a Naked Fish ($16), a surprising creation that feels reminiscent of Baja Fish Tacos.
Spirited acidity from a salsa enlivened the crisp and moist filet, while a herby zest from tartar combined together with the salsa for a profile that feels hauntingly seemingly to the Mexicans' take on fish but with less vivacity and more focus on the fish.
On the other hand, while the Kickin' Chicken ($13) rocked a succulent, juicy chicken thigh patty courtesy of Raging Bull Burgers' grills, it didn't quite hit the highs of the beef in terms of flavour and smoke. Solid but nothing quite memorable.
Don't Come Just for the Burgers
Contrary to what their speciality in burgers might suggest, don't leave Raging Bull Burgers' Singapore pop-up without indulging in the supporting cast of fries and tipples.
Really, the Messy Fries ($13) has the dirty, saucy fun its name hints at, and more. Given a liberal spread of cheddar and BBQ sauce and tender chunks of pulled pork, it's almost like having another burger in fry form.
It's also a waste to not take advantage of Hotel Jen's scenic rooftop pool vibes with some alcoholic tipples in tow — especially when Raging Bull Burgers are collaborating with renowned cocktail maestros Origin Bar for their drinks program.
Food and alcohol pairing is something that can be quite iffy but also a spectacular experience when done right. For their signature Mighty Beast, the eponymous Mighty Beast ($15) comes with a piquant but potent mix of rum with kisses of vinegar and chocolate that both complements and cuts through the colossal flavours of the beast.
But my heart is, of course, firmly entranced by their Kissass Negroni ($15) which completely lived up to the billing. This had that swagger element in spades, while it came packed with ass-kicking kick too, and everything is given depth and complexity from bitters.
All in all, while I won't crown these the best burgers in Singapore —it's just a pop-up after all— Raging Bull Burgers' grills truly conjures the smokiest patties that we struggle to find rivals for. With the added benefits of a great view and delightful drinks, what's not to love?
Make your reservations here.
Raging Bull Burgers Singapore Pop-up At Hotel Jen Orchard
Website | Instagram | Facebook
Address: 277 Orchard Road #10-01 Singapore, Singapore 238858
Hours: (Mon–Sun) 8am–10pm