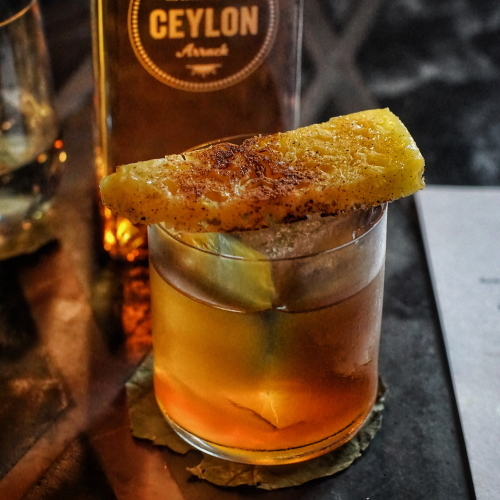 A Two-Storey Journey Through Inspired Local Flavours At Native Bar
Bartenders work tirelessly to perfect their craft in creating the most pristine timeless classics such as Negronis. There is a certain beauty to mixology, it's like an art. When someone achieves that virtuosity, doors then open for stirring voyages deep into experimentation. And that ethos is what Native, a quaint cocktail bar along Amoy Street, perfectly encapsulates.
It's an open secret that Native is my favourite cocktail bar in Singapore and they are the benchmark for what to expect in mould-breaking mixology.
There's really nothing glitzy about this cocktail on Amoy Street, at least not compared to some of the snazzy speakeasies found throughout Singapore. It's simple, cosy, and intimate but the lasting endearment comes from the staff's grit and conviction in regional ingredients and flavours.
6 years ago, bossman Vijay set up Native with a vision to showcase the potential of hyperlocal flavours. 6 years later, he has brought the bar to meteoric heights, remaining a constant fixture in the front half of the World's 50 Best Bars rankings.
Adding onto the already rock-solid foundation of the bar is a new restaurant concept. It has settled comfortably into the first floor of Native's shophouse unit, helping push Singapore's newfound romance with local flavours and sustainability — this time through food and simple drink pairings.
Compared to the muted earth tones of the second storey bar, the restaurant comes with more pizzazz, featuring a stately counter tesselated with turquoise and bronze tiles, shimmering slightly under the warm lights — hearkening to the 3D-printed counter of Analogue, a sibling concept.
A Tale of Two Storeys: STirring Art of Mixology Upstairs
A lot can be said about experimental flavours in cocktails. Even avid fans of avant-garde and envelop-pushing ideas can be bewildered by certain contrived ideas that simply don't have much merit past their novelty value.
For Native, the bar has a strict vision to adhere to even during the cocktail development phase — that is the paramount consideration of balance. Here, even the wackiest ideas need to be refined for the common palate.
We start off with an easy refreshing sake welcome drink served in dainty koi cups to whet the palate for the show that's about to start. Then they laid out pieces of dehydrated leaves, smartly repurposed to use as coasters as a way to cut down on wastage.
A shining embodiment of Native's philosophy is their Pineapple Arrack ($25), a cocktail utilising unconventional Arrack but the end product was supremely balanced. Undoubtedly my favourite off their menu.
Pineapple's tropical vivacity is commonly pegged to easy drinks like Pina Coladas but here, it perfectly complemented the potent kick from the Arrack and spices, which hit in perfect unison.
Following that is another inventive take on the most iconic local flavours — kaya toast. Native condenses that nostalgic goodness and distils it into a single cocktail of Sarapan ($25), greeting your nose with the nostalgic scents of Singapore's toast shops.
Like indulging in the quintessential Singaporean breakfast, your palate is slowly massaged by a welcoming dose of pandan aroma, before subtle savoury touches of butter join in and heady coffee jolts you up. It's complex but all facets were articulately placed without any hints of discombobulation.
Another show of finesse at Native is how the bar combined Jackfruit Rum, Laksa Leaves, Goat's Milk, Candlenut, and Gula Melaka. All into one deceptively easy to drink concoction, charmingly christened Peranakan ($25).
An intriguing amalgamation of some of the most strikingly flavoured ingredients in Peranakan cuisine. While notes of these ingredients can be discerned, it was an impossibly harmonious blend of myriad strong characters — fragrant and balanced with a slight touch of acidity to round it off.
With how prominently coconut is featured in regional cuisine, it's not a surprise to find a drink where every component contains coconut and is served in a coconut husk — the Tree of Life ($25).
Expect a whole smorgasbord of coconut built on a coconut-based Ceylon Arrack, including Coconut Milk, Coconut Wine and Coconut Water. A delight to sip as you are intoxicated by the potent, full-bodied aroma of coconut while a refreshing hint of effervescence injects some levity.
A Tale of Two Storeys: Quirky Culinary Comfort Downstairs
After you have enough alcohol flowing through your blood, carefully stagger downstairs for a different culinary experience on Native's first floor. Similarly cosy and intimate but glammed up by its intricate turquoise centrepiece.
Running the show in the kitchen is Chef MJ, who previously cut her teeth at Nouri, and you can see faint echoes of her resume on Native Restaurant's menu. It's populated by playful ideas that are fleshed out while retaining a sense of familiarity,
The Petai-So Clams ($29) are bossman Vijay's recommendation from Native's food menu. They blast motley of Petai Miso, venus clams, rice stems, and Thai wine within a claypot vessel for a boisterous riot of smoke and heat.
Akin to a comforting Asian rendition of Vongole, the shellfish was loaded with gentle smoke and umami, while tinged with Asian aromatics and a vibrant wine sharpness.
Instead of the ubiquitous sourdough, crunchy You Tiao is substituted as a vessel to mop up the sauce instead. A small change that adds a furtively endearing homeliness.
Spins of the golden arches' classics are in vogue in Singapore and, like sibling bar Analogue's riff on McNuggets, Native's Moringa "Crack" Fries ($12) are quite the moving tribute to the seaweed fries.
Instead of strong seaweed umami, the dusting imparted a subtle seaweed brininess instead. Made for the perfect foil to the Moringa Aioli which was, as the name suggested, addictively umami and moreishly nutty.
Tipples on the first floor are designed to be simpler, intently crafted as supplements to food. But truthfully, standouts like the Keluak Martini ($25) easily rivalled the creations served at Native's main cocktail-focused bar.
Despite my intense abhorrence of Espresso Martinis, the freakishly dark and deep espresso miraculously paired with the chocolatey notes of Buah Keluak. As it is, you get hard-hitting instant gratification but sips of the cinnamon dust magically softened the acidity to balance the cocktail.
Not satisfied with just challenging one drink I detest, I decided to challenge my favourite bar on my least favourite drink by a whole mile too, the Bloody Mary. And Native nailed it.
It's not a Bloody Mary per se, since the Ah Moy's Mary ($25) is a clear rendition that uses clarified tomatoes. However, it's given a heady heaping of umami from soy sauce, shittake and garlic before their homemade chilli creeps up to complete the gamut with a furtively intensifying sizzle.
To me, Native is the one bar in Singapore that can't do wrong and their new restaurant just solidifies that bias. Even through multiple revisits, they continue to reinvent and stupefy me with finessed innovation and ideas. They are the proof of concept that the sky is the limit for our beloved regional flavours.
Make your reservations here.
Native Bar
Website | Instagram | Facebook
Address: 52a Amoy St, Level 2, Singapore 069878
Hours: (Mon–Sat) 6pm–12am
Native Restaurant
Address: 52a Amoy St, Level 1, Singapore 069878
Hours: (Mon–Sat) 5pm–10:30am