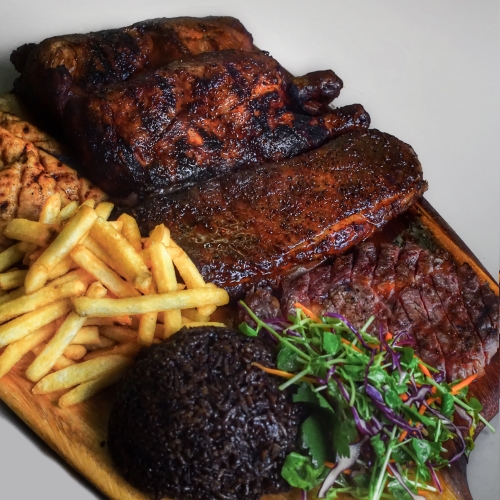 Salai By Meatdrop is the Hawker Spot for Affordable & Juicy GrillEd Meats
Grilled meats belong to a genre of cooking that is almost never associated with hawker centres and for good reason. Even then, it doesn't take a Michelin-Star restaurant to bang out juicy grilled goodies and Salai by Meatdrop shows that greatness is still achievable in a hawker stall.
If your passion is fiery enough, maybe it'll help the meats sear better? I am not familiar with the folks behind Salai or Meatdrop but one thing's for sure, it takes some guts to open a grilled meats stall in a greyed estate such as Commonwealth.
But they seemed to have built a loyal fanbase and they are looking to conquer more hearts out of that small hawker kitchen — and we're all for it.
What's in the sauce?!
If there's one unequivocal fact about decadently heavy meats, it's that sauce is king. While good rub forms the stable foundation, good sauce is the dainty cherry on top.
Suffice to say, I was smitten by some of the sauces concocted by Salai by Meatdrop, one in particular actually — the Assam Salsa, an umami blend that is best described as Chimichurri on steroids, but Asian.
Needless to say, the meats and the rubs are equally impressive so it's a match made in heaven. From Salai by Meatdrop's impossibly affordable Meat Platter ($50), the Smoked Lamb Ribs umped out to us the most
Lamb without game is not really lamb, so the sexy sliver of gameyness on the fatty ribs was a deft touch. More importantly, the flesh was impossibly luscious and fall-off-the-bone and scored with generous pockets of fat. Anyone as partial to fatty lamb as I will be satisfied.
That's not to mention the gargantuan halves of a Whole Grilled Chicken which were succulent and ingrained with a flavoursome rub, ferverntly absorbed by the skin.
Nothing too extravagant but when you factor in the $50 price tag Salai by Meatdrop puts on this platter, this is several magnitudes above more than just "good enough".
Steak to the Proteins
One protein I would say didn't leave me as dazzled was the Angus Beef Steak — a decent grill but slightly overdone. But then again, I wouldn't expect immaculately pinked steaks from a hawker stall —especially as part of a massive $50 platter— and this was still pretty solid.
This makes our cycle back to the first cardinal rule of grilled meats — sauce is king. Naturally, Salai by Meatdrop's moreish Assam Salsa effortlessly elevated the beef despite its shortcomings. Asian Chimichurri on steak? Hell yeah.
Beyond the proteins though, the sides were respectable but won't make you break your diet plans. Granted, the pita bread pieces were also great for mopping up the sauces so plus points for that.
Still, the biggest plus points are for its unbeatable value. Considering the gargantuan portion of the whole platter for $50 and with enough carbs to fill you up, this value proposition by Salai by Meatdrop is daylight robbery — by us.
Salai by Meatdrop
Address: #02-71, 31, Commonwealth Cres, Market, Singapore 149644
Hours: (Tue–Wed) 12pm–8pm, (Thurs) 12pm–6pm, (Fri) 5pm–10pm, (Sat–Sun) 12pm–10pm
*This was an invited tasting.