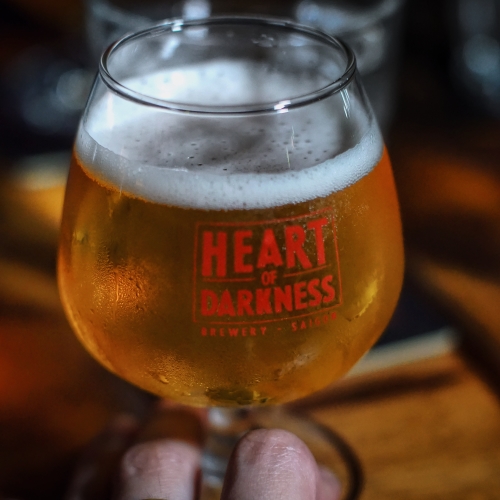 Heart of Darkness Marks Third anniversary of Its Craft Beer in Singapore With a New Menu
There's something many bars love to boast about: "we have pints colder than your ex's heart." So it's only fitting that Heart of Darkness at Keong Saik is a bar that provides exactly what its name alludes to — cold, fresh beer straight from the tap.

But the rationale behind their name is less quirky and more romantic than many realise. The brewery, founded in Saigon in 2016, actually shares a name with Joseph Conrad's seminal novella "Heart of Darkness", published in 1899.
Borrowing from its literary namesake, depicting a voyage up the Congo River, the brewery was set up in a time when craft beers weren't the scintillating hit in Asia as it is today and it was like that journey into the unknown.
In a blink of an eye, the craft beer brewery has racked up a dizzying myriad of awards and eventually expanded out of Vietnam, setting up another Heart of Darkness taproom right here in Singapore.
Situated in a dimly-lit shophouse space along Keong Saik, it has since become a hotspot for many avid craft beer drinkers in Singapore. Nothing like a hazy night getting lost in the red glow, edgy fonts, and sprawling assortment of concoctions.
Third Anniversary Celebrations
Celebrations at Heart of Darkness have to be rowdy and fueled by beer, so it's only natural that they'd decided to offer everyone 3 hour free-flow access to their acclaimed craft beers for $88++ for only one day on 24 September 2022.
For an easy-breezy Saturday, slowly sip on their tropical-forward and easy-to-drink favourites such as the Change Captains Pale Ale and The River IPA. Simple, crushable, and a familiar comfort for many.
Alternatively, challenge your palate to something wonkier with pours like the Excited Magpie Dry Irish Stout, a bewitching blend of light, chocolate stout fragrance and a stealthy hint of soy-sauce-like umami in the background.
Avoiding the bloat of binge drinking beer? The responsible adults can opt for a different evil of $58++ free-flow food on 25 September 2022, letting you indulge in their swanky new food menu. A four-drink beer pairing flight is also available with a $30++ top-up.
The Asian Factor
Most of us are mainly familiar with the staple Western bar foods when we chug on beer. While there are some who buck the trend in Singapore, not many do it with as much love for Asian flavours as Heart of Darkness.
That love is apparent when you dig into their new menu, which their self-affixed "Tex-Mex" label doesn't sufficiently describe. One rather curious dish that really caught our attention was the Chargrilled Fresh Calamari.
This really stood out as Heart of Darkness' endearing bastardisation of Thai Som Tam, where fresh squid pieces were imbued with the spice-forward complexities of pico de gallo, Thai Chimichurri, and mango.
It's what I'd described as the perfect companion to the mellower brews with its zesty and refreshing profile that was layered upon a ruthless burn.
Nonetheless, the title of showstopper has to go to the Chargrilled Char Siew Beef Short Rib — large, juicy bone-in ribs, dyed strikingly red by their special house marinade.
At first sight, it wasn't much of a looker. The first bite though, greatly surpassed my expectations as its richness shone through with a delectable sweetness, while the succulent fibres of flesh broke apart effortlessly.
So even while Heart of Darkness is known for its prowess as a brewery, it also shows some promising spark in its bar food. While there were misses such as the uninspiring Okonomiyaki Fries but most of what we had were more than satisfactory as beer pairings.
Celebrate Heart of Darkness, celebrate craft beer, celebrate Asia — nothing says "partayyyy" like coming down and indulging in a glut of beer and Asian-inspired bar bites to commemorate the beloved brewery's third anniversary in Singapore.
Make your reservations at Heart of Darkness here.
Heart of Darkness (Singapore)
Website | Facebook | Instagram
Address: 1 Keong Saik Rd., Singapore 089109
Hours: (Mon–Sat) 4pm–12am
*This was an invited tasting.