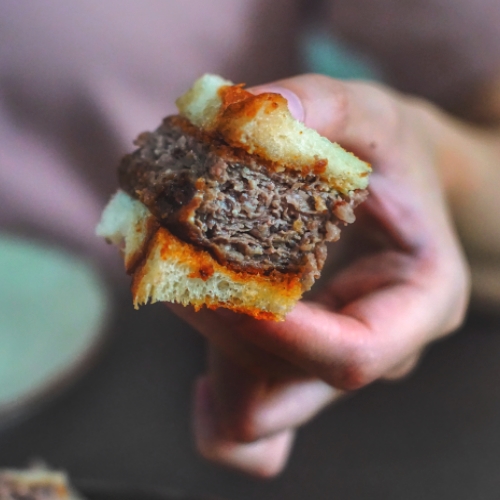 Gyu San Is Blowing up for Affordable Japanese Sandos but Is It worth it?
I think I speak for many that, when it comes to Japanese Sandos, the price point is not the friendliest — in Singapore at least. That's why every once in a while, an affordable Sando establishment comes along and drums up feverous media hype, with the latest being Gyu San at Tanjong Pagar.
Like its neighbouring units along the street level of Guoco Tower, Gyu San is a simple joint that is tastefully decorated but doesn't have much in the way of bells and whistles.
Here a florid metal skeleton that runs through the space adds a nice Japanese touch to the otherwise modern decor. It's not flashy and it doesn't have to be — it's just a cosy location for a casual meal.
Perhaps the most arresting facet of the entire shopfront is the meat fridges, stocked to the brim with beautifully-marbled beef, seductively calling out to anyone walking by.
Other than that, Gyu San shows it understands its directive — no-frills and affordable Sandos that don't cost you an arm and a leg.
Please Sando Nudos
Sando is a sexy, sexy dish. There's no spectacle quite like its obsessively neat symmetry, the fastidious alignment of the Shokupan, and the pristine cut on its often marble-rich cross-section.
Part of the driving factor behind its high pricing is partly due to the quality of ingredients and the intricacy of moulding the perfect cubes. Does Gyu San's craftsmanship entail the prices, especially with their hailed affordability?
As far as Sandos come, Gyu-San lies on the more reasonable side of the price spectrum. But their namesake A5 Gyu San Beef Sando ($32) is actually not your typical Japanese beef sandwich.
Moulded out of minced beef, the construction was more like a marriage between a burger and a Sando — previously more associated locally with now-defunct Gyu & Tori. The main distinction is a better quality cut but the price you pay is also markedly steeper.
Still, it's a good alternative if you don't want to shell out $48 for a bite into the A5 Wagyu Striploin Sando ($48) — reasonably priced, all things considered. The patty was still juicy, rich, and punctuated with fats while an elegant wasabi mayo sliced through the gamut of flavours. Just don't expect ridiculously marbled beef at this price point.
That said, Gyu San's Tamagoyaki Sando ($18) did leave a mixed impression. Unlike your traditional rendition, the omelette itself was smooth and not layered with folds, producing a custardy texture that lacked some of the distinct fluffiness of a traditionally-preparedTamago.
At this kind of price point though, it's a dependable option and an understandable direction given the finesse the Tamagoyaki demands. What matter is that it's still silky, soft, and pairs nicely with the bread for textural interplay.
What's cooler is that Gyu San even has dessert options and their Fresh Fruits Sando ($12) was a pretty solid one. I can even forgive the unevenly trimmed crust on the bread, especially since I enjoyed its refreshing and crisp mixture of cream and fresh fruits.
Gyu San does cut some corners —though not one of the corners of my Sando it seems— but there's no denying it's an extremely attractive option compared to the luxe options made by distinguished Omakase joints.
Just don't expect meticulous artistry and don't expect premium ingredients to be sold at loss. Nevertheless, their A5 Wagyu Sando is a good-value proposition that could coax a return. Everything is reasonably priced and Sando aficionados will be interested in its menu and its diverse range.
Make your reservations here.
Gyu San
Address: 7 Wallich St, Unit 01 – 03 Guoco Tower, Singapore 078884
Hours: (Mon–Sun) 11:30am–3pm, 5pm–9pm