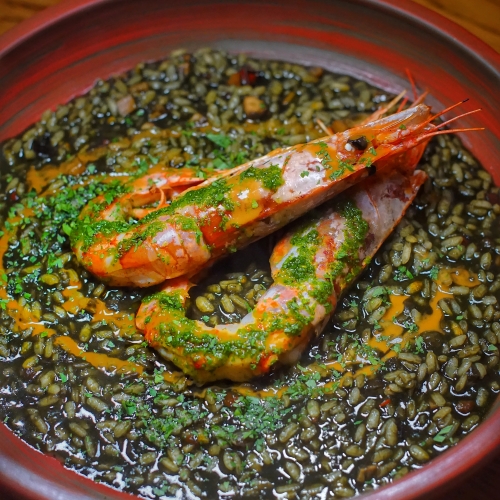 Olivia Restaurant & Lounge Serves a decent dinner to Prime You for the iconic Burnt Cheesecake
There was a sort of palpable excitement as I planted myself into one of the chairs at Olivia Restaurant & Lounge. After staving off a visit in fear of disappointment, a visit was finally planned for this acclaimed Spanish restaurant that sits at the heart of Keong Saik's crossroads.
Glancing around revealed a cosy, elegant lounge that was vibrant with the hectic buzz of a full-house dinner crowd. As with most outfits in the vicinity, Olivia is a restaurant that comes chic but without ornate overembellishment.
Be that as it may, seats at this beloved Spanish restaurant are some of the most sought-after in the city as the crowd, and the Michelin decal at the entrance, suggests.
Compared to the early days of its conception, the hype has waned a little. But of course, the footfall at Olivia's compound still remains as brisk as ever and it even earned a mention in the Michelin Guide.
After all, not many people can escape the temptation of one of the most gorgeous slices of burnt cheesecake jumping out at their faces while scrolling through social media.
Small Welcoming Steps
Iconic desserts are not the entire basis of a restaurant, especially one such as Olivia Restaurant & Lounge, so it's still essential to judge it through the main bulk of the meal.
Especially with its Spanish identity, there was no doubt that an array of tapas would inevitably fill the table. First though, came petite globs of Spherical Olives ($1.50) to start. Aromatic with a potent olive zing — a great prologue.
Croquettes ($14/2pcs) as part of the tapas medley have long become ingrained in most who have visited a few Spanish restaurants in their time. Suffice to say, Olivia does a pretty good rendition of the timeless classic.
While our two choices both came with a pleasantly airy shell, the Mushroom & Truffle rendition's ambrosial creaminess might trump the Ham's more pedestrian umami profile.
Similarly, their Bikini Sandwiches were given the delicate touch they deserved. Truthfully, its simplicity makes it easy to misfire despite being an inelaborate amalgam of bread, comte, and pork.
Even with world-famous Tapas 24's bikini sandwiches finding a home in Singapore, Olivia's Bikini "Barcelona" ($16) might just trump that.
I couldn't find any faults with how the tidbit was lightly crispy on the outside while overloaded with a gamut of richness between the meat, cheese, and aroma of truffles.
Moving onto a classic dish that pervades the restaurant scene, Olivia's Steak Tartar ($48) was inherently pedestrian. While still sporting a bovine oomph, the caviar felt like a superfluous accoutrement which was mostly obfuscated by its domineering counterpart.
In the same vein, the ingenuity of the Octopus ($38) dish was lost on me. While the potato foam abetted with its plush mouthfeel, the remainder of the cast was rather unmemorable in their combined flavour profile.
More surprisingly, Olivia's texture on the octopus skewed towards a meatier heft which faded into the background as it met the loosely similar bite of the pork. That said, there are no intrinsically glaring deficiencies — just didn't quite demonstrate the mix of textures I'd anticipated.
A Big Finish
As a stickler for pasta, take this as a warning that the Beef Cheek Ragu Pasta ($38) was a spectacular disaster as a pasta dish. But even with the pasta being overwrought and tediously thick, I have to admit that its beefy foundation still shone.
Homeliness is a sensation many restaurants seek to deliver, but with elevation. Olivia is one of the restaurants that nailed it. On its own, it was a solid entree that hit with a provocative boldness while also hiding a splash of wine acidity — perhaps easing on the heavy-handed salting would make help accentuate its complexity.
The following Black Rice ($52) was a course that could prove divisive, depending on your allegiance to seafood. This was a dish that floods the palate with exuberant briny richness as the squid ink and prawns imbue a gratuitous kiss of the ocean.
Others might argue the salinity is jarring but to me, it was quite a refreshing sharpness that broke the monotony of Olivia's robust flavours. The Carabinero were well handled too with an entrancing soft and weightless bite that almost felt like it was melting — slightly marred by a stealthy hint of fishiness though.
While we forwent it, ending the meal with aplomb at Olivia Restaurant & Loung with a slice of the iconic Burnt Cheesecake ($14) is almost dogmatic. Stunningly molten at the exposed core while sultrily embedded with browned leopard spots on the surface, these slices are titillating specimens of the ubiquitous cafe favourite.
Olivia Restaurant & Lounge has a lustrous reputation that's almost hard to defile. Whereas I have to agree on their stature as one of the top Spanish restaurants in Singapore, the food's simplicity and lack of high polish gave it a homey vibe that wasn't quite congruent with some of the pricing decisions.
Solid Spanish food for sure but a little underwhelming. Nonetheless, Olivia's Burnt Cheesecake? Simply to die for.
Make your reservations here.
Olivia Restaurant & Lounge
Website | Facebook | Instagram
Address: 55 Keong Saik Rd., #01-03, Singapore 089158
Hours: (Tues–Sun) 12pm-2:30pm, 6pm–10:30pm