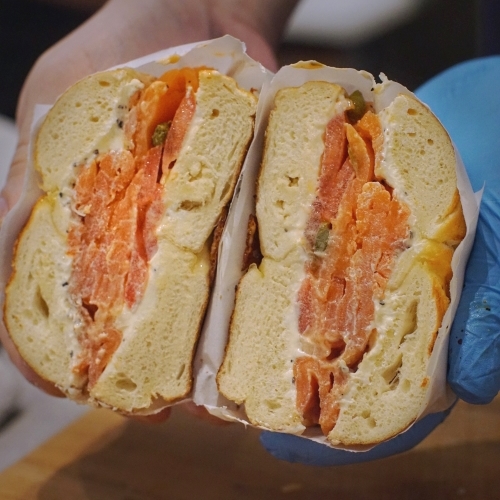 Fun Japanese-Inspired Bagels at Keen's Bagelry Takeaway kiosk
Sometimes, an Egg McMuffin just isn't enough to satiate those morning munchies. Crave a sandwich that's more substantial and more loaded? Nothing fits that profile better than bagel sandwiches, one of the trendiest items in Singapore's cafe scene.
And the slew of bagel specialists has been growing steadily in Singapore so, fortunately, getting your hands on artisan bagels doesn't a trip to the crowded Two Man Bagel House anymore.
You can find them in quaint cafes littered around the island, with Keen's Bagelry being a particularly popular new opening that's hidden in an art market.
They are hidden deep at the back of the compound of Curbside Crafters at Kampong Glam, setting up shop in the form of a small, simple kiosk that's generally unadorned save for baskets of bagels.
Getting your hands on these bagels still requires some queueing though, depending on the timing. It's a small space with a small team after all but you can avoid the queues, like we did, by heading down earlier.
Well, we know how our national hobby is queueing and a queue means good things — so you gotta wonder what is it that draws people to queue for Keen's Bagelry?
Dependable Fillings, Affordable Pricing
As far as variety is concerned at Keen's Bagelry, there are five main base permutations on the menu which you can customise with your choice of schmears and add-ons.
These bagels are freshly prepared daily and come with a crusty exterior and a chewier and denser crumb, closer to traditional NY style.
Prices are kept affordable here and you kept snag the hearty Hashstack ($8.50) that's filled to the brim with hasbrowns and silky scrambled egg — more than justifies its price.
But I suggest turning the richness to eleven with the Bekki ($10.50), possibly the simplest but heartiest indulgence at Keen's Bagelry. It simply hit with waves of exuberance as cheesy scrambled eggs and smoky beef bacon are emboldened by a heady dose of garlic aioli.
Of course, there's no missing out on the Loxu ($13). It's sacrilege to run a bagel shop without a salmon bagel sandwich and Keen's Bagelry does a dependable rendition of the classic, while also stuffing it up with generous layers of smoked salmon.
It's worth praising that this did not pale in comparison to Two Men Bagel House with its smooth and clean profile, cut through by a sharp zing from onions and capers — an enjoyably textbook lox sandwich.
Another hit at Keen's Bagelry was the Truffle Chicken Bagel ($12) which, despite the inclusion of oft-misused truffle mayo, remained balanced and comforting.
At its base is a succulent chicken leg that's jazzed up with a sapid blend of spice marinade which made for a perfect bedfellow with a controlled truffle mayo perfume — struck a good balance between the distinct and punchy components.
Ultimately, there are no gimmicks to Keen's Bagelry and honestly, it doesn't need gimmicks. What it has are earnest flavours in spades, a generous portioning of fillings, and a great pricing model.
With all these at its core, it's no surprise that it's quickly becoming one of the hottest spots for bagel sandwiches in Singapore.
Make your online orders here.
Keen's Bagelry
Address: 730 North Bridge Rd, Singapore 198698
Hours: (Tues–Fri) 12pm–8pm, (Sat–Sun) 12pm–3pm