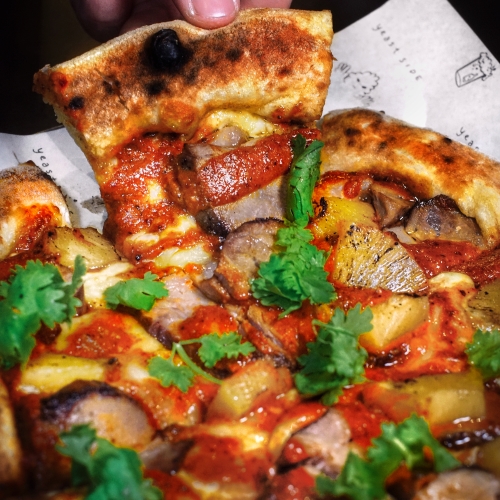 Yeast side Farrer Park is a day drinker's dream with Sourdough Pizza & $10 Happy Hour Pints
Having been a regular at Yeast Side's quaint hideout at King Albert Park, it was exciting to step into the spanking new Farrer Park outlet for the first time. This new space is as lively, unpretentious, and inviting — a trademark of the cafe, which also doubles as a craft beer bar.
Yeast Side set up their second outlet in a cosy corner of the Lyf co-living space compound, just a stone's throw away from Farrer Park MRT station — you can't miss the striking orange paint job from across the road.
The main space mostly consists of the kitchen, the bar counter, the beer taps, and a cosy couch set up for customers to lounge on. Comfortable and intimate, like the second storey at the original.
There are seats that spill out into the main Lyf area which is more spacious and quiet and actually immensely conducive as a co-working space. No better way to raise productivity than free WiFi and a beer in hand. Say yes to day drinking!
A beery good time
Most coverage of Yeast Side would generally be on their pastries, pizzas, and other fares but there's one aspect that they do criminally well, first at King Albert Park and now at this quaint side of Farrer Park.
That is their curation of fresh craft beer on tap. Being a sister concept of Orh Gao, one of Singapore's most popular craft beer bars, the team knows their alcohol.
As with most freshly kegged beer, the menu is on perpetual rotation and Yeastside spices things up even more at this new Farrer Park branch — a dizzying choice of twenty taps with sixteen beers.
What flows in the taps ranges from charmingly drinkable lagers and hearty IPAs to occasionally more esoteric choices like fruity sours and funky goses.
And for the day drinkers, the attractive $10 happy hour pints are more than a good enough reason to head down between 9am to 4pm daily.
Pastries and Tasties
The best companion for that early pint? Their bakes, which they make in-house daily. Like the OG outlet, Yeast Side Farrer park is focused on fresh bakes in the AM and Pizzas in the PM.
Besides the regular lineup of focaccias, croissants, and scones, their new viennoiserie Swirls are probably the most enticing.
These swirls are exclusive to Yeast Side Farrer Park and come loaded with custard and cream in permutations including Almond ($8), Black Forest ($10), and Vanilla Pistachio ($10).
A crowd favourite was the Vanilla Pistachio, which let out a deluge of gloriously nutty pistachio cream when hacked in half. Sweet tooths would enjoy this but I did find the pastry slightly doughy and in need of a flakier core.
For those who prefer to drink the night away instead, there are also more filling bites that they'd added to Yeast Side Farrer Park's menu.
My personal vote for a great craft beer pairing would be the Fried Cajun Eggplants which, while straightforward, boasted of a soft, silky texture amidst the satisfying seasoning.
Even though the bites aren't the stars that the pizzas are, you can also find a bit of experimentation on the menu like the Crabcakes with Coleslaw.
Unlike your usual crabcakes, Yeast Side's rendition comes with a bit more Asian influence as you can catch the heady scent of ginger amidst the chunky crab mince. Quite interesting but slightly too spicy for my liking.
Craft Pizza For the Craft Beer
The original King Albert Park outlet was one of my go-to pizza spots because of a combination of good booze, solid dough, and creative toppings. That said, I wouldn't list it as a spot to go out of the way to visit for hardcore pizza aficionados.
However, the new setup at Farrer Park sees Yeast Side putting more oomph into their pizza, with an oven that runs hotter here — to the point of the pizza momentarily lit on fire, as I personally witnessed.
And the hotter oven enhances the sourdough pizza base. Here, it's chewier and fluffier, housing more air pockets, and more consistent with the leopard spots.
That also translates well for certain pizzas, such as the Harissa Lamb & Pineapple ($28), a new creation at Farrer Park's Yeast Side. While mutton is a balancing act, the juicy lamb slices are punctuated with just the right amount of game to keep it exciting amidst traces of smoke.
A moreish harissa sauce then turns the heat up with a moderated spice to cut through the lamb's profile. As much as pineapple is seen as a pizza taboo, it also worked well with round up the flavours with its vibrant sweetness.
If you're not a fan of game meats though, a great choice would be the Foursome with Cheese ($21). Yeast Side's no-frills classic comes loaded with a gamut of cheeses, including cheddar and blue cheese for a simple, creamy, and delightfully rich experience.
Ask for add-on Burrata (+$6) atop to inject more silkiness into the texture, worth it if you're a fan of cheese — don't worry, the cheeses don't get overwhelming. Especially not when you have a beer in hand to wash it down.
In essence, the Farrer Park outlet is Yeast Side but improved. I wouldn't say it's entirely improved since it's lacking the ambience that made the OG so popular. Nonetheless, it's a cosy and convenient hangout spot for those who find King Albert Park inaccessible.
Make your reservations here.
Yeast side (Farrer park)
Website | Facebook | Instagram
Address: 2 Perumal Rd, #01-06, Singapore 218773
Hours: (Wed–Sun) 9am–11pm
*This was an invited tasting.