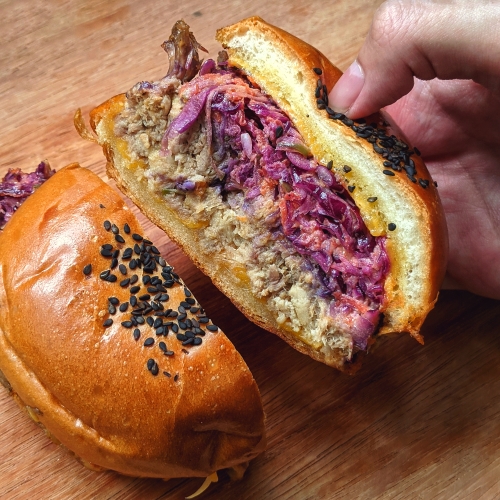 Best Burgers in Singapore for a Juicy Indulgent Feast
Burgers — greatest invention since sliced bread. Sliced bread walked so burgers could fly. And burgers are flying off the shelves everywhere now. We've seen some of the best burgers in Singapore inundated with inhuman queues and showered with praise online.
What's not to love about these compact parcels of juicy goodness? All that flavour and decadence condensed between two buns, acting as the perfect canvas for any creative permutations you can fathom.
Versatility is the magic of a burger. The best, most well-made burgers can come in all kinds of combinations as even Singapore's Michelin-starred restaurants indulge in firing up thick, sinful patties on their roaring grills.
If you're a burger aficionado who doesn't know where to hunt for the best burgers in Singapore, read on for a dizzying array of burgers, ranging from crispy chicken burgers to lusciously rich high-end burgers.
At top of their game, 25 Degrees' Number One ($14) is inarguably my numero uno. Simply an irresistible combination — a hulking slab of patty embraced by buttery and fluffy buns. Everything is plus-sized.
More importantly, this Bugis joint makes perhaps the most unique cheeseburger in Singapore. It's accented by gorgeously caramelized onions and crispy bacon, then finished by sharp gorgonzola and piquant thousand island sauce, adding a one-of-a-kind spunk atop its irresistible umami overload.
Make your online orders here.
25 Degrees Singapore
Website | Facebook | Instagram
Address: Hotel G, 200 Middle Rd, Hotel G, Singapore 188980
Hours: (Mon, Wed–Thurs) 12pm–10:30pm (Fri) 12pm–12am, (Sat) 8am–12am, (Sun) 8am–10:30pm
Michelin-starred burgers? Yes, sir. One of the stars at Burnt Ends, a rebellious smokehouse and perennial World 50's Best favourite, is actually their Sanger Burger ($20). The photogenic cross-section featured vivacious slaw blooming like fireworks in the night sky, layered over a lavish mound of pulled pork.
Biting into the burger invites voluminous gushes of well-spiced flavours into the palate, while notes of spicy chipotle aioli, sharp cheddar and slaw piquancy rounded up the profile. Accompanied by cloud-like buns and slaw crunch, this is the best pulled pork burger in Singapore bar none.
Make your reservations here.
Burnt ends
Website | Facebook | Instagram
Address: 7 Dempsey Rd, #01-04, Singapore 24967
Hours: (Tues–Wed) 6pm–11pm, (Thurs–Sat) 11:45am–11pm
BurgerLabo's flavourful basic burger ($18) patty delivered a sensual textural threesome — an absolutely pristine crust gave way to juicy succulence, then a slight crumbliness coated the palate full of rousing beef bits and fluids.
Umami cheese and shio kombu mayo build on the bovine magnificently and are then given a pillowy embrace from a pair of potato buns. it's not hard to see why BrugerLabo is touted as the best burger in Singapore, even if the price is slightly steep for its small make. Truly burger engineering ingenuity.
Make your reservations here.
BURGERLABO
Website | Facebook | Instagram
Address:

41 Malan Rd, Singapore 109454
Hours:

(Tues–Sat) 12pm–3pm, 6pm–10:30pm
Golden Brown Hambaga
While most people associate burgers with beef patties in Singapore, Akashi's unique Tamago Yaki Hambaga ($10.80) might actually best many of the meat-loaded monsters, using the classic Japanese ingredient.
There's just something captivating about the pillowy tamagoyaki, meticulously folded to form the plushest air pockets and fluffy bite. A touch of nori gives it the zing it needs to accentuate the elegant sweetness of its omelette base — something not to be missed out on.
Make your online orders here.
AKASHI JAPANESE RESTAURANT
Address: Paragon Shopping Centre, 290 Orchard Road, #B1-01/02, Singapore, 238859
Hours: (Mon–Sun) 11:45am–3pm, 6pm–10:15pm
Meatmsith's legendary $10 Cheeseburger is a stunner — two beautifully-smithed patties grilled marvellously, then smothered between pillowy brioche buns to create this inexplicably scrumptious little package.
The grill bestows a smokey fragrance and gentle crust onto the succulent patties. The richness of the meat, cheese, and sauce combined for maximum umami while a playful pickle tart-sweetness elegantly cushions those heavy-hitting flavours.
Make a self-pickup order here to enjoy the $10 price.
Meatsmith
Website | Facebook | Instagram
Address: 167/169 Telok Ayer Street, Singapore 068620
Hours: (Mon–Sun) 11:30am–12am
Address: 21 Campbell Ln, Singapore 209894
Hours: (Wed–Turs) 5pm–12pm, (Fri–Sun) 11:30am–12am
Hambaobao
Hambaobao is perhaps best known as one of the trailblazers for artisan burgers in Singapore's hawker centres. They went on a hiatus before returning with a bang by opening their own stand-alone outlet.
The owners' respite hadn't dulled the burger-making skills as their iconic, and iconoclastic, Crispy Pork Belly Burger ($8) returns with a vengeance. Crackles echo more powerfully while the mustard and hoi sin sauce are just the perfect Midas touch to bolster the fatty sio bak.
Make your reservations here.
Hambaobao
Address: 11 Sam Leong Rd, #03-08 Trio Building, Singapore 207903
Hours: (Tues, Thurs, Sun) 12pm–10:30pm, (Fri–Sat) 12pm–1pm
Perhaps one of the best-kept secrets by burger aficionados in Singapore, One Fattened Calf is a cosy burger joint at one-north where casual-fast style burgers are elevated with a touch of gourmet finesse. Homemade potato buns and 150g of pure beef are more than what you can ask for at the price range.
Fundamentals are pretty much flawless — a perfect grill on the beef patty renders it exuberantly juicy whereas a pristine toast on the buns creates a medley of fluff and gentle crunch. Combined with sapid beef brisket and charred onions in their extravagant Gold Burger ($18), they gave birth to pure, unadulterated hedonism.
One Fattened Calf Burgers
Website | Facebook | Instagram
Address: #01-31, Galaxis, 1 Fusionopolis Pl, Singapore 138522
Hours: (Mon–Tues, Thurs–Sat) 11am–3pm, 5pm–8pm, (Wed) 11am–3pm
Park Bench Deli is more definitely known for its finesse with sandwiches but their Fried Chicken Sandwich, despite the name, is actually one of the most damn satisfying fried chicken burgers you'd find in Singapore.
We're talking about the most sinful, most juice-gushing slab of chicken thigh, given a pampering spa in a medley of spice-forward seasoning. Everything just comes together with oomph.
Make your reservations here.
Park Bench Deli
Website | Instagram | Facebook
Address: 179 Telok Ayer St, Singapore 068627
Hours: (Mon–Tues) 11am–4pm, (Wed–Fri) 11am–4pm, 5pm–10pm, (Sat) 9am–4pm, 5–10pm, (Sun) 9am–4pm
Hammee's
Hammee's operates out of a hawker centre, but they churn out restaurant-grade burgers. Their classic cheeseburger ($6/$8 for double) featured an obscenely juicy patty packed to the brim with richness.
You'd notice an eloquent mix of crumble, tender bites, and scores of fat, all enveloped in a beautiful char. Dressed with a simple sauce and perfectly caramelised onions, then sandwiched between two fluffy and buttery buns — no-frills but beautifully made.
Hammee's
Address: 31 Commonwealth Cres, #02-93 Market & Food Centre, Singapore 149644
Hours: (Wed–Sun) 11am–5pm
Employees Only
Employees only might be known for being one of the best watering holes in Singapore, but there is a secret fondness amongst regulars for another item besides their potent tipples — the EO Smash Burger ($26).
This burger screams All-American simplicity and heartiness where the New York brand's roots are on show. Gnaw into the most glorious layer of cheese that blankets the smash patties, proportionately lacquered with a pristine coat of Mallaird browns that perfectly complements the caramelised onions.
Make your reservations here.
Employees Only
Website | Facebook | Instagram
Address: 112 Amoy St, Singapore 069932
Hours: (Sun–Fri) 5pm–1am, (Sat) 5pm–2am
For something as simple as burgers, they don't come cheap, at least not in Singapore. Wildfire is one of the exceptions to the rather pricey artisan burger options. A Classic cheeseburger for $10 is definitely a strong value proposition, especially when given the tender grilling care it deserves.
Where WIldfire truly shines though is with their original creation, the Japanese-inspired Shabu Burger ($14) which comes loaded with luscious shabu beef slices drenched in a sapid yakiniku sauce.
Make your online orders here.
Wildfire burgers
Website | Facebook | Instagram
Address:80 Bencoolen Street, #01-15 NAFA Campus 1, Singapore 189655
Hours: (Mon–Fri) 12pm–3pm, 5:30pm–10:30pm, (Sat–Sun) 12pm–3pm, 4:30pm–10:30pm
Three Buns / Potato Head
Has there been a more iconic burger brand to have come out of Asia? Every bon vivant is familiar with the indulgence of a burger from this Bali-born brand and Singapore is lucky to be home to two outlets.
Any burger would suffice. Be it the timeless Baby Huey ($18) with its piquant ketchup and pickle duo or the Smokin' B-Boy ($25) and its obscene bacon-and-smoke umami. Finish with the boisterous chilli and sauces of the Naughty Nuri Fries ($15) and you're set for a party.
Make your reservations here.
Three Buns @ Potato Head Singapore
Website | Facebook | Instagram
Address: 36 Keong Saik Rd., Singapore 089143
Hours: (Mon–Sun) 11am–12am
2280 Burger
Fan of BurgerLabo but not a fan of the exorbitant prices? The team are as empathetic to your cause as we are, so they came up with 2280 Burger ($13.50/double patty) — the best quality-to-price ratio you'd find in any burger joint in Singapore.
Inevitably, the lower price point lowers its overall profile but they do blow every other rival in the price point out of the water. An immaculate grill on the patties reacts with tender recoil and a deluge of rich juices, while the accoutrements of punchy shio kombu mayo and sharp pickled onions remain unchanged from its more upscale sibling.
2280 Burger
Address: 213 Henderson Road 01-10 Henderson Industrial Park, 159553
Hours: (Mon–Sat) 11am–3pm. 5pm–9pm
The Elephant Room is a love letter to Indian culture and owner Yugi's fond memories of growing up in Little India. So it's only appropriate that it's one of the rare places in Singapore you can find a burger properly fleshed out with Indian influences.
And what a specimen the Indian Fried Chicken Burger ($21) is. The craggy buttermilk crust lets out soft crackles before spurting out gushes of spiced-froward juices that paired perfectly with the dangerously addictive curry aioli. A beautiful medley of umami and spice.
Make your reservations here.
The Elephant Room
Website | Facebook | Instagram
Address: 20A Teck Lim Rd, Singapore 088391
Hours: (Mon–Sun) 6pm–12am
Nowadays, you can find meatless burgers at restaurants all over Singapore, including hip joints like Three Buns. However, no one restaurant is as astute at making meatless burgers as The Goodburger, a quaint food truck along Bukit Timah.
GIven their speciality, even the humble Impossible Patty in the Classic ($16) is well executed. The real star is the What the Cluck? ($18) that features an immensely well-marinated and succulent meatless chicken patty that puts real chicken to shame.
Make your online orders here.
The Goodburger
Website | Facebook | Instagram
Address: 587 Bukit Timah Rd, Coronation Shopping Plaza, Singapore 269707
Hours: (Mon–Sun) 11am–9pm
Broadway American Diner
The best place to dig into a hulking All-American classic burger is always in an American diner. While most American diner concepts in Singapore focus on breakfast, Broadway American Diner focuses on the true food of champions, burgers.
A hulking classic headliner of Double Black Angus Beef Cheese Burger ($22) will satiate any cravings, especially with the distinct richness of American cheese. For a more continental mood, get the Black Angus Beef & Mushroom Cheese Burger ($18) for the sauteed mushroom and Swiss cheese.
Make your reservations here.
Broadway American Diner
Website | Facebook | Instagram
Address: 13 Stamford Rd, #01-84B Arcade @ The Capitol Kempinski, Singapore 178905
Hours: (Mon–Sun) 12pm–9pm
Apollo Coffee Bar
Quite unlike any other burger on this list, Apollo Coffee Bar's Breakfast Burger ($17.70) is pretty self-explanatory. What its succinct name doesn't articulate though is how it's the best burger in Singapore for those lazy weekend brunches when you're struggling to be half-awake.
Loaded to the brim with heart, the soft brioche buns felt at home with the creamy cheddar scrambled eggs while the spicy aioli added a nice feisty garlicky kick, layering well over the bacon. The perfect taste of breakfast.
Make your online orders here
Apollo Coffee Bar
Website | Facebook | Instagram
Address: 65 Serangoon Garden Way, Singapore 555961
Hours: (Tues–Sat) 9am–10pm, (Sun) 9am–7pm
Ah, the notorious Shake Shack — how could a comprehensive listing of the best burgers in Singapore not include this wildly popular global brand?
First things first, don't expect stellar artisan quality. Shake Shack is what it is and that is a satisfyingly elevated fast-food burger. Potato buns are fluffed up properly, patties are grilled decently and most importantly? The Cheese Portobello Patty in the Shack Stack ($15.20) handily beats many of the other beef burgers around.
Shake Shack
Website | Facebook | Instagram
Ashes Burnnit
Even if charcoal black buns are somewhat of a red flag for gimmicky burgers, Ashes Burnnit makes one of the best burgers in Singapore's hawker settings. Starting from one humble stall in the basement of Golden Mile Food Centre they'd expanded into quite a few locations
As a childhood fanatic of Burger King's Mushroom Swiss Burger, the Truffle Mushroom Burger ($8) immediately resonated with me as mushroom earthiness and truffle aroma permeate the mouth. Both affordable and good.
Ashes Burnnit
Website | Facebook | Instagram
Chico Loco
Who goes to a Mexican joint and eats a fried chicken burger? Anyone who goes to Chico Loco because this bustling casual Mexican diner serves up one of the tastiest fried chicken burgers in Singapore that's massive in both favour and size.
Chico Loco's eye-catching Hot Buttermilk Chicken Sandwich ($19) comes with a colossal slab of chicken thigh that's perfectly seasoned, gratuitously crispy and unbelievably succulent. A lively ensemble of slaw, jalapeños, pickled cucumbers and spicy mayo tangoed with the flavourful chicken on the palate, in a salaciously-spiced fiesta.
Make your reservations here.
Chico Loco
Website | Facebook | Instagram
Address: 102 Amoy St, Singapore 069922
Hours: (Mon–Wed) 11:30am–10:30pm, (Thu–Fri) 11:30am–11pm, (Sat) 5pm–11pm
Mahmud's Tandoor
The most seamless marriage between the depth of Indian spices and the no-frills affairs that are burgers. A boisterous tandoori-spice-forward profile greets you as you bite into the Baked Tandoori Burger ($8.90) but it wasn't too overwhelmingly rich to fit the context of a burger. Plus a deft splash of smooth zesty mint yoghurt sauce cut through all that sizzling, tender goodness, complementing the chicken thigh patty to a tee.
–
Fried chicken fans might also want to check in on the Crispydoori Burger ($8.90) which is pretty solid, even if not as unique as the former. Mahmud's Tandoor is currently on hiatus due to "exciting plans" as they announced in February so stay tuned.
Mahmud's Tandoor
Website | Facebook | Instagram
Tiga Roti
Tiga Roti is basically translated to "Three Buns" — yes, this is basically Three Buns' cousin. Singapore has a marked dearth of Muslim-friendly artisan burger options, so it's immense that Three Buns set up TIga Roti.
With a view for a permanent home soon, the cloud kitchen is currently offline. But watch out for its physical return since the reimaginations of Three Buns' classics, such as the Plug Three ($12), are easily on par with the OG.
Tiga Roti
This one here's a bit of a mythical beast in Singapore — charcoal-grilled burger patties. That's because Raging Bull Burgers actually hails from Manila and will be having a special pop-up tenure atop Hotel Jen Orchard Gateway until 31 Aug 2022.
Leveraging on its open-air environment at the rooftop pool, the grills ensure intoxicating smoke is ingrained into every atom of the patty. As its name suggests, the Mighty Beast ($18) is truly a formidable behemoth of smoky exuberance.
Make your reservations here.
Raging Bull Burgers At BAYWATCH@JEN
Website | Instagram | Facebook
Address:

277 Orchard Road #10-01 Singapore, Singapore 238858
Hours: (Mon–Sun) 12pm–9:30pm