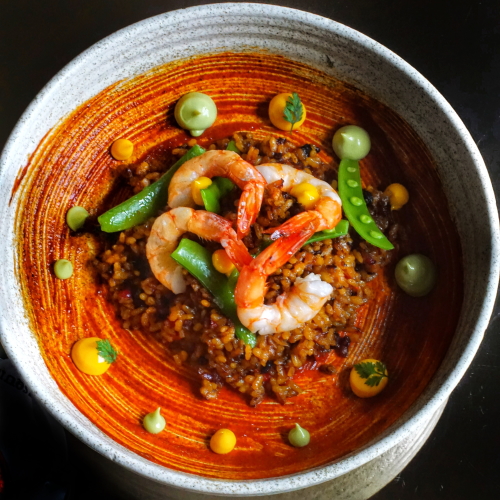 Come for the Crazy Rich Paella at Esquina's Quaint Spanish Casa
A sharp turn around the corner from popular gelato parlour Apiary will lead you straight into the bougie enclave of Keong Saik. While strutting into the hood, the first thing that grabs your attention will be the striking vermillion-hued canopy strewn along the white walls of Esquina.
As the striking red-accented exterior suggests, this Unlisted Collection concept is a passionate, fiery proponent for the ever-popular Spanish flavours close to the heart of Barcelona-born Head Chef Carlos Montobbio.
With two storeys and quaint alfresco seats set up along the walkway, this jaunty spot is perfect for unwinding over some tapas. Unlike other Spanish establishments in its proximity, such as the swanky Olivia, Esquina is a more laidback and intimate experience.
And that is perhaps the charm of Esquina. There's a choice between a relaxing second-floor setting that aims to replicate some of the warmth of sunny Spain or a seat at the bar seating downstairs to watch the kitchen magic unravel.
Satisfactory Starters
When the words "Spanish food" are evoked, tapas are one of the fastest images to flash into the mind's eye. A Spanish feast isn't complete without some gratuitous helpings of those nibbles to start you off.
So we decided to dive headfirst into one of the most ubiquitous starters, croquetas. Esquina's Chorizo Iberico Croquetas ($8/2pcs) are a blast of richness and salty umami that uncannily hearkened to the taste of Bread Talk ham & cheese bread, albeit elevated.
That said, it was still quite comforting and the airy crunch on the exterior and creamy smoothness of the interior made this a great tidbit to mark the start of our meal.
One of the serendipitous crowdpleasers was this Cauliflower ($18) that everyone loved, In spite of half the table's general apprehension towards greens. Esquina's rendition of this succulent classic charmingly assuaged any carnivorous trepidations.
Mostly because it was a surprisingly multi-faceted dish — perfumed with a nice sultry whisper of smoke while bits of couscous, crispy Serrano ham, and manchego cheese add a lot of textural pizzazz to the already blissfully tender morsels of cauliflower.
The Spaniards love their juicy, flavourful pork dishes so a Spanish Pork Jowl ($16) order was very enticing. As with all good pork jowl dishes, expect plenty of unctuous fats to caress your tongue.
As far as ratios are concerned, Esquina managed to negotiate a good balance of fattiness and tenderness despite the cut they are dealing with and even added pieces of pickled pear for cleansing bites in between all that decadence.
Main Star is the Red Prawn Paella
Another icon synonymous with Spanish food is Paella and here at Esquina, their presentation is modern and a slight stylistic departure where the shallow iron pan is forgone for more refined plating.
Rest assured though, that Esquina's particular choice of display does not hinder the Red Prawn Paella ($36).
We couldn't get enough of that spectacularly riotous explosion of seafood richness, especially when a spurt of prawn head juice was jumbled into the rice.
Texturally, more charred rice bits would be the focus of satiation for most Paella lovers but Esquina's approach of moistness with intermittent charred debris worked quite reasonably to maintain balance against this exuberant seafood profile, without so much as a hint of surfeit.
Then followed Esquina's take on Grilled Spanish Octopus ($28), another time-tested seafood staple. Their version sported a satisfying tenderness and sultry crackle on the suckers but it was, truthfully, lacking in the pristine bounce we've come to expect from octopus dishes.
Nonetheless, Esquina impressed us with the selection of accoutrements to supplement the smoky base profile, accentuated using the fabulously spirited persuasion of sweet corn sauce and the earthy charm of chimichurri.
Although our other pork dish of the day satisfied, Esquina's Spanish Suckling Pig Belly ($32) sadly did not. At its core, the textures just weren't as immaculate as they could be — mustering merely an unenthusiastic crunch that wasn't quite the thundering crackle it should be.
Similarly, the choice of apple chutney was a gamble that didn't pay off. It would have won style points if they managed to find the perfect dose of tanginess to cut through the pork heaviness but alas, it just faded into the background and fell flat.
A wonderful surprise came at the end when Esquina generously pampered us with complimentary bites of Chocolate Mousse with Olive Oil Pearls. While seemingly odd, this combo isn't actually foreign to Mediterranean styles, and that juxtaposition of rich chocolate against fragrant, silky olive oil was simply sublime.
Eventually, we left satisfied but perhaps not as much as we'd hoped since Esquina's glowing reputation preceded it. That said, I will be more than happy to return for a taste of other items, especially given the glimpses of promise throughout the meal.
Make your reservations here.
Esquina
Address: 16 Jiak Chuan Rd, Singapore 089267
Hours: (Tues–Sat) 12pm–2pm, (Tues–Thurs) 6pm–10:30pm, (Fri–Sat) 6pm–11pm