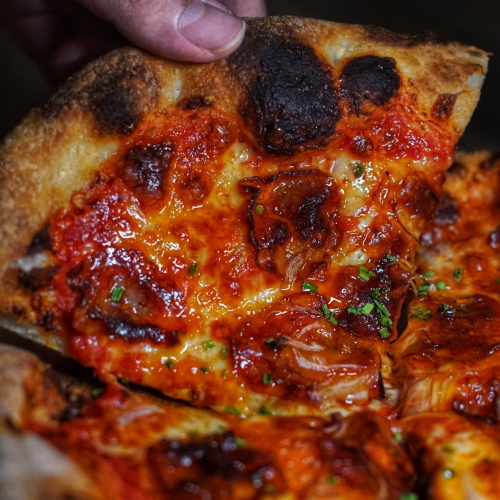 Drunken Farmer is a vivid Lucid Dream of Sourdough Pizza & Wine
Watching a fledgling concept blossom into a successful restaurant is always a heartwarming experience for me. Supporting local is more than just a mantra, it's a conviction in Singapore's latent talent — and Drunken Farmer is one of the few places that I can proudly say I've seen grown from its infancy.
My first taste of Drunken Farmer was aeons ago when they were just a pop-up operating out of Tiong Bahru Bakery on certain days of the night.
While there was obvious passion and dedication to craft, the formlessness of Le Vin Levain obviously didn't help flesh out the type of experience they wanted.
Fast forward to 2021 and Drunken Farmer has opened its second outlet, being the nocturnal alter-ego of two Common Man outlets. It's a technicoloured lucid dream, filled with retro movies surreally splashed on the walls, that not only delivers a satisfying pizza experience but also a fun time with wines.
Sourdough Pizza Texture Wizardry
Le Vin Le Vain's Margherita ($18) was easily a contender for my favourite Pizza and The Drunken Farmer still maintains those high standards even after their transition into a full-time operation.
This pie was simply sublime, as nondescript as a suite of basil, tomato sauce, and stracciatella may sound. Really, my palate celebrated as the stracciatella exploded with intoxicating umami while magically retaining clean dairy notes.
And Drunken Farmer's dough — dear god — was basically every pizza lover's dream. Biting into them was like sinking your teeth into airy pillows, punctuated by gentle crackles and heady whiffs of smoke.
While the dough was still impeccable on the Chorizo ($23), the ensemble of toppings was rather monotonous, with not enough slices of that umami sausage to carry the profile as the red onions and tomato sauce ended up dominating most of the flavour profile.
One surprise hit at Drunken Farmer was the unique Sourdough Karaage ($20) that came encrusted in an airy, cracking getup of sourdough batter. After that thunderous crackle is let out, you'd find a succulent motherlode of chicken, best accentuated with the moreish, creamy Kimchi mayo.
Become a Drunken Farmer
But as the name suggests, you shouldn't leave Drunken Farmer walking straight. Why should you, when you can get a flight of 3 wines with their Farmer's Selection for just $50?
What left me absolutely intoxicated was the Domaine Christian Binner Si Rose, which blossomed with warm tropical fruit notes while still having a nice depth of flavour — paradoxically complex while being refreshing.
You also can't go wrong with a glass of Champagne Fleury Blanc de Noirs Brut — a delightful, satin-like sparkling that quickly slipped out of my glass down my throat not long after it reached the table.
Drunken Farmer
Website | Facebook | Instagram
Address: 11 Stanley St, Singapore 068730
Hours: (Tue-Sat) 6pm-10:30pm