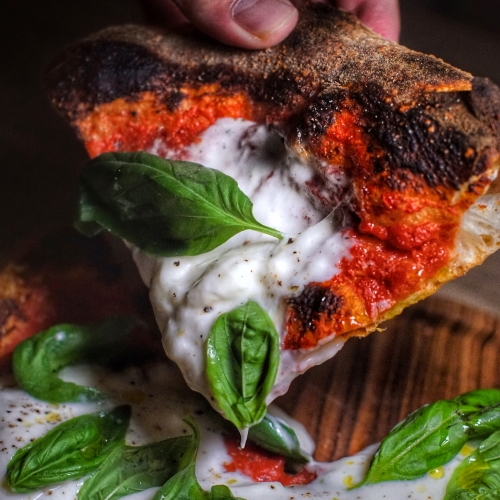 The Funkiest Pizza & Wine Night Out at Drunken Farmer's new Martin Road Outlet
Watching a fledgling concept blossom into a successful restaurant is always a heartwarming experience for me. Supporting local is more than just a mantra, it's a conviction in Singapore's latent talent — and Drunken Farmer is one of the few places that I can proudly say I've seen grow from its infancy.
My first taste of Drunken Farmer was aeons ago when they were just a pop-up operating out of Tiong Bahru Bakery on certain days of the night While there was obvious passion and dedication to craft, the formlessness of Le Vin Levain obviously didn't help flesh out the holistic pizza experience they wanted.
Fast forward to 2022 and Drunken Farmer has infiltrated Martin Road, successfully assuming its role as the nocturnal alter ego of all the Common Man Coffee Roasters, save for the newly opened Sentosa outpost.
Similar to the other outlets, the Martin Road outlet is filled with retro film excerpts surreally splashed on the walls. It's like a hazy technicoloured dream, setting the mood for a laidback date night out with a touch of funk and a touch of bougie.
Drunken Farmer is just one of those quirky spots that will put your guard down — pizza to show off your ungraceful eating poise and spectacularly affordable wines that will enliven the conversation with a bit of inebriation.
Sourdough PizzaZZ
An important driving force behind the concept is their dough which, while not as exemplarily pillowy as before, was still one of the finer pizza doughs around. Always a pleasure to sink your teeth into a generally fluffy crust with a soft chew, that's also punctuated by gentle crackles and heady whiffs of smoke.
Le Vin Le Vain's Margherita ($18) was easily a contender for my favourite Pizza and Drunken Farmer still maintains its standards even after its transition. This was a sublime layering of flavours, as nondescript as a suite of basil, tomato sauce, and Stracciatella may sound.
The Stracciatella was marked with a delectable touch of umami but still magically retained clean dairy notes to layer upon the rich base. If you haven't gotten enough of its cheesy goodness, you could also double down with a portion of Creamy Stracciatella ($18) by itself, that's sharply dressed up with accoutrements of balsamic, parsley oil, and tomatoes.
Running counter to the clean richness of the classic was Drunken Farmer's more iconoclastic creation of Shrooms & Goat's Cheese ($22). Sufficed to say, this was an enchanting rollercoaster of flavours.
It throws the whole smorgasbord of flavours at you — unabashedly spirited Chilli Honey oozed a sensual light heat while bright floral notes weaved into the hefty earthiness of Roasted Shittake & Kale. They somehow managed to tame this funky madness that may have come swinging out of the left field but stuck a perfect landing on the palate.
However, for the Chorizo ($23), I found the topping ensemble rather monotonous, with not enough slices of that umami sausage to carry the profile as the red onions and tomato sauce ended up dominating most of the flavour profile.
While these discs of saucy decadence are the bread and butter of Drunken Farmer, the peculiar Calzone ($25) also makes a cameo on the menu. This folded style of pizza is rather uncommon in Singapore, so of course, I'll jump at a chance to slice into their saucy calzone.
With consideration to the eye test, the alluring ooze of its cross-section passed with flying colours. When it came to the taste test, it was enjoyably flavourful and came with a rich dose of cheeses but it's not really anything crazy, flavour-wise.
Wine & Dine
Despite the extensive repertoire of Pizzas on the menu, the surprise hit at Drunken Farmer was actually the unique Sourdough Karaage ($20) that came encrusted in an airy, cracking getup of sourdough batter.
Biting into it lets out thunderous crackles before the succulent chicken flesh is unearthed. All the flavours are further accentuated when drenched in heapings of the moreish, creamy Kimchi mayo.
But as the name suggests, you shouldn't leave Drunken Farmer walking straight. Why should you, when you can get a flight of 3 wines with their Farmer's Selection for just $50?
What left me absolutely intoxicated was the Domaine Christian Binner Si Rose, which blossomed with warm tropical fruit notes while still having a nice depth of flavour — paradoxically complex while also refreshing.
To compound on all that pizzas and wine for a truly happy ending, Drunken Farmer caps off the hearty feast with a decadent Flourless Chocolate Cake ($18) dessert, packed with oodles of unadulterated chocolate oomph. Simple but convincing end to the meal.
At this point, you should be lurching out of Drunken Farmer, tummy engorged and in a state of alcohol-spurred euphoria. This a place that will suck you in with all its quirks, from the unique retro ambience to the most charming of pizza and wine pairings and a place that will undoubtedly make for wonderful after-work shenanigans.
Make your reservations for the Martin Road outlet here.
Make your reservations for the Stanley Street outlet here.
Make your reservations for the Joo Chiat outlet here.
Drunken Farmer
Website | Facebook | Instagram
Address: 22 Martin Rd, Singapore 239058
Hours: (Sun, Tues–Thurs) 6pm–11pm, (Fri–Sat) 6pm–11:30pm
Address: 11 Stanley St, Singapore 068730
Hours: (Tues–Thurs) 6pm–11pm, (Fri–Sat) 6pm–11:30pm
Address: 185 Joo Chiat Rd, Singapore 427456
Hours:(Sun, Tues–Thurs) 6pm–11pm, (Fri–Sat) 6pm–11:30pm
*This was an invited tasting.