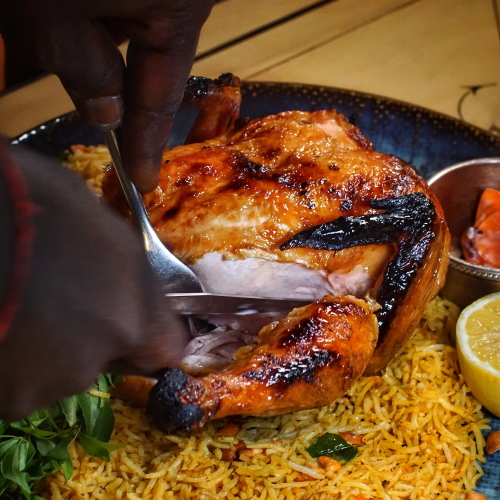 Meatsmith Little India's Pursuit of Mod Indian Ingenuity May have Some Basics Forgotten
Quiz any discerning gourmand in Singapore on their top restauranteur groups, and the conversation always steers towards one particular name — Unlisted Collection. Hardly surprising, considering their stable of Michelin-starred restaurants and mould-breaking concepts. Given the reliability of the UC name, I was undoubtedly excited for the exciting flavours set to be on display at Meatsmith Little India.
Modern Indian Fusion is a rather peculiar trend that has been running rampant in Singapore's dining scene, with many plaudits going the way of swanky new upstarts such as Firangi Superstar. It's inventive yet familiar, bold yet comforting — incorporating different styles into one of Singapore's richest ethno-culinary heritages.
Such a winning formula can only be elevated by the fervent dedication to perfection and sophisticated approach of a concept such as Meatsmith.
A caveat to note — our reservation coincided with a transitory period in Meatsmith Little India's hierarchy, as former Head Chef Kurt Sombrero recently vacated his spot at the pass.
He's succeeded internally by fellow colleague Chef Edwin — a reasonable choice given his experience and familiarity with grasping the flavours expected of the concept.
Promising Start With the Iconics
It's almost customary to see Meatsmith Little India's Ikura Papadum ($12) make a beeline out of the kitchen as every table's first course, in all its glistening pearl-crowned glory.
This iconoclastic icon of the establishment is set on a stage of delicately crackling Papadum, where heady Ikura umami tangoes with the twang of Creme Fraiche.
Meatsmith Little India's dainty bite of Ikura Papadum is best detailed as a sinful mouthgasm that deftly married the best of Japanese and Indian flavours.
We chased our flavour bombs with yet another flavour bomb in the form of Meatsmith Little India's Tandoori Stuffed Wings ($16).
Filled to the brim with stuffing, these were simple but exuberantly rich and spice-forward chunks of meat that we quickly wolfed down.
Our subsequent dish of Smoked Cauliflower ($22) was where the cracks started to appear. For a smokehouse such as Meatsmith Little India, one should anticipate splendid grillwork, after all.
As fate had it, this behemoth did come sporting a juicy core but alas, it didn't possess enough smoke or char on the extremities. Sad to say, the crucial outer flesh was rather dry and bland, not helped by the watered-down piquancy the tomato relish struggled to eke out.
A Disappointing Lack of Finesse in the mains
Ultimately, the mains that came out of Meatsmith's Little India grill were where it all came crashing down. Starting with the Coconut Pork Ribs ($32), which sounded supremely enticing on paper.
In execution, it had an enjoyable dose of coconut fragrance but that touch of aroma couldn't quite salvage the arid flesh within.
However, what was perhaps the biggest letdown was the supposed showstopper, the magnum opus of Meatsmith Little India — the signature Tandoori Chicken Spatchcock ($68).
Arriving in all its charred majesty and prepped for tableside theatrics, our anticipation was driven wild as we witnessed the fowl being carved up and bathed in a deluge of amber butter sauce.
Alas, the issue wasn't so much the chicken, which was dependably succulent, but the anaemic saffron butter sauce. A clumsily heavy lemon acidity, coupled with a feebly thin sauce, just couldn't inspire the beloved butter chicken creamy bliss.
There was a saving grace though — a bed of fluffy and sapid Briyani buried under the chicken that mitigated some of the sauce's shortcomings as its complement.
I say this with a heavy heart, and as a fan of the Telok Ayer concept, but Meatsmith Little India did not live up to expectations. Granted, succession is a choppy process but there are basics such as balancing sauces and grilling up juicy proteins that shouldn't trouble a smokehouse of its stature. While I would return after the ship is steadied in the future, it won't be for a while.
Make your reservations here.
Meatsmith Little India
Address: 21 Campbell Ln, Singapore 209894
Hours: (Tues–Sun) 11:30am–11pm