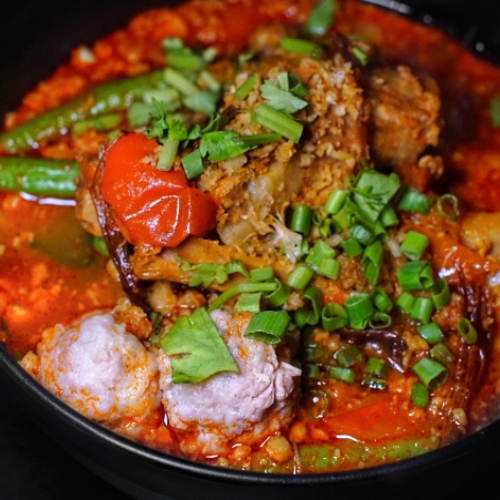 Soi Aroy cooks up the most Authentic and No-Frills Thai Street Food in Singapore
Thai food in Singapore almost never matches up to those served in its motherland, especially not in the mall franchises soullessly replicated. But on occasion, you'll chance upon dingy and obscure eateries serving the most authentic dose of Thai heartiness — for me, that's Soi Aroy.
There's a lot of praise about the no-frills beauty of many of Golden Mile's establishments and this Sim Lim Square classic will fit in just as well. It's a little rustic but it's really all about the food here.
One-of-a-kinD Dish
Thai street food is extremely diverse in scope, especially when it comes to meats, so Soi Aroy's Mixed Platter ($8.50) is a good starting sampler if you're in two minds on which sides to spend your carb allowances since you are afforded three of their bestsellers.
And it's no surprise the flavourful Grilled Pork Cheek is as beloved as it is when it's exceedingly tender and blessed with silky fatty layers. Whereas the Moo Ping was pretty good with a decent texture and glaze, the Basil Chicken was veritably mundane, though I have no real quarrel with it.
There are many reasons to hanker for Thai food —like a steamy bowl of tom yum soup or a fragrant plate of pineapple fried rice— but Soi Aroy's main draw is indubitably the Northern Thai Pork Ribs Soup ($8), a comfort that you'd struggle to find anywhere else in Singapore.
That tomato-based soup delivers a balmy solace when it slides down your throat —rich, piquant, and hearty— and is also soaked up by the recommended thin rice noodles, enlivening each slurp with tomato zing. Not something I'd had before but I'd return just for this.
The contrastingly ubiquitous Premium Tom Yum Soup ($12.80) also yielded a similar hit of comfort, while upping the ante with a bountiful slew of premium seafood swimming in its murky amber broth.
Soi Aroy's take was a pretty straightforward tom yum but nonetheless turned out one of the better-executed renditions in Singapore — creamy and lively at its foundation but with edifying layers of herbs and aromatics buried beneath, imbuing subtle complexity to it.
Admittedly, I can't claim to be an expert on the authenticity of foreign cuisine but Soi Aroy did match up, if not beat out, some of the street food I had in Bangkok. Of course, there can always be better hidden gems. Still, I can understand why this unassuming Sim Lim Square eatery is one of the best-rated Thai restaurants in Singapore.
Soi Aroy (Sim Lim)
Address: 1 Rochor Canal Rd, #02-08 Sim Lim Square, Singapore 188504
Hours: (Mon–Sun) 11am–8pm
*This was an invited tasting.