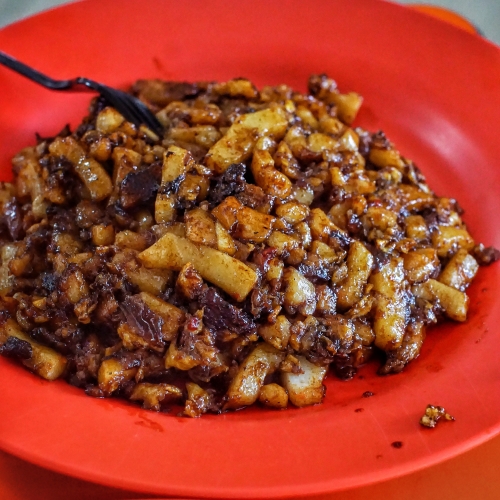 Is the famous Song Zhou Luo Bo Gai the Best Carrot Cake in the East of Singapore?
Black or white? Many Singaporeans may be selectively colourblind — but not when it comes to the timeless hawker classic of carrot cake. Myriad names are thrown into the ring for the contention of best carrot cake in Singapore. Still, those living on the East side would be most familiar with one particular Song Zhou Luo Bo Gao, perhaps best known for its black rendition.
Anyone who's familiar with the neighbourhood would probably list it as one of the all-time favourites of the buzzing Bedok Interchange Hawker. Though it might not command the same queue as some other vendors, it still draws in quite a steady crowd of regulars.
Sufficed to say, Song Zhou Luo Bo Gao is one of the must-tries in the East even if it didn't manage to catch the, often flawed, attention of the Michelin inspectors.
Black takes the cake
Alas, if you were tempted to order both types of carrot cake to sample Song Zhou Luo Bo Gao, unfortunately, doesn't allow for mixed orders, as some other carrot cake stalls do.
First things first — the carrot cake itself was good, no matter which colourway you pick. While times have changed and the stall has moved on from making its own carrot cake, the radish cake chunks still remained undoubtedly soft and silky.
Given a little magic from the sweet black sauce, it's easy to see why Song Zhou Luo Bo Gao's Black Carrot Cake ($3.50/4/5) is rated so highly by the food aficionados of Singapore.
Here, moist and spongey bits of carrot cake are punctuated with treacly caramelised bits while also being imbued with just the right amount of dark sauce fragrance and depth, along with a mellow spice.
The black sauce sweetness is surprisingly well balanced and Song Zhou Luo Bo Gao's take is flavourful without relying solely on the dark sauce, which can easily lead to quite the tediously saccharine profile.
Conversely, the White Carrot Cake ($3.50/4/5) is still hearty but pales in comparison. Maybe it's the frying but the radish cakes feel a bit starchier and lack an overall eggy fragrance. Still beats out most other generic kopitiam carrot cakes though.
My experience tells me that this Bedok mainstay deserves its hype — I'd put them up there with some of the other top carrot cake legends in Singapore such as Ghim Moh.
Song Zhou Luo Bo Gao
Address: 208B New Upper Changi Rd, #01-37 Bedok Interchange Hawker, Singapore 462208
Hours: (Mon–Fri) 8am–4pm, (Sat–Sun) 9am–4pm