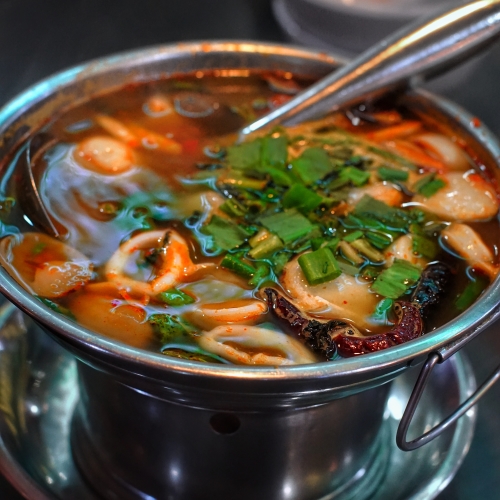 Affordable and Authentic Beerthai House Restaurant Makes Me Sad to See Golden Mile GO
The end of an icon — truly saddening to see the expiration of a cultural landmark such as Golden Mile Complex, affectionately referred to as the "Little Thailand" of Singapore. There really aren't many places in Singapore that transplanted a foreign culture as holistically as Golden Mile Complex.
Alas, things are coming to a close as Golden Mile Complex's impending en bloc means the eventual exodus of its myriad of authentic and fuss-free restaurants. It would be remiss if I didn't head down for one last hurrah at its iconic restaurants — one such as Beerthai.
Like most other Thai eateries in the vicinage, Beerthai House Restaurant is a rustic outlet that's just set up very plainly. There are no frills, basically like our familiar Zichar restaurants but with a touch of Thai elements.
But hey, swankiness is overrated. As the old wisdom goes, the best and most authentic eateries often don't stand out.
Yum Yum in my Tom Tom
Just one taste of the first dish, a Clear Tom Yum Soup ($15), already left me convinced it'll be my favourite. Unlike many chains, Beerthai is one of the stores that are more loyal to the source around here.
For one, it's exceedingly complex with different spice notes popping in and out of the crisp, piquant profile while a creeping heat made the Tom Yum such a comfort to sip on.
The following Green Curry ($15) though did not look, or taste, particularly like the verdant-hued Thai classic. That said, it was still a very enjoyable companion to rice and contained plenty of coconut fragrance.
Another time-honoured Thai dish that Beerthai does pretty well is the Pad Thai ($8) — some of the bounciest ribbons of rice noodles imbued with a nice bit of sweetness.
It doesn't have that same heavy-handed smokiness and tastes a bit cleaner but Beerthai's Pad Thai is one that I think many Singaporeans would enjoy.
Following that, the Garlic Fried Pork Rice ($8) was another crowd-pleaser. Yes, it's as simple and homespun of a dish as you'd get for authentic Thai food but the execution was pretty sound.
Each succulent bite of pork came with a sharp garlicky fragrance while also accentuated with a surprisingly potent heat — a very well-executed comfort dish for sure.
With the bill coming up to less than $50 for three, it was honestly a steal. No frills, no pomp, no pretensions — Beerthai House Restaurant is one of the authentic and affordable Thai food haunts that make us dread the impending lifelessness of Golden Mile Complex.
Beerthai House Restaurant
Address: 5001 Beach Rd, #01-94/96 Golden Mile Complex, Singapore 199588
Hours: (Mon–Sun) 11am–9:30pm