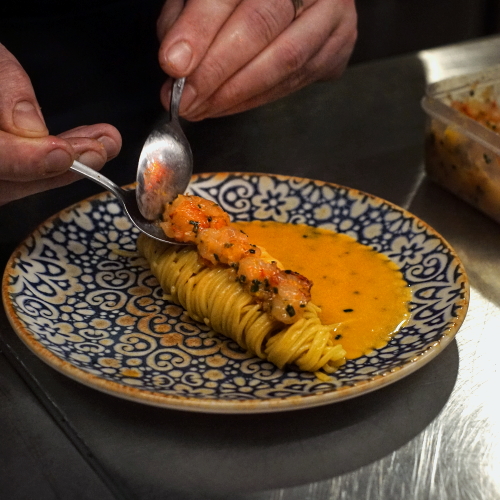 Griglia is an Italian Grill With surprisingly Stunning Hand-made Pasta
Open fire is hot right now in Singapore, red hot. Following luminaries like Burnt Ends, a new wave of impressive torchbearers has emerged. These range from Griglia, a new Mod Italian concept opened last year, to the swanky Californian dream of Rosemead, Jigger & Pony's vogueish new Californian grill-centred restaurant.
Still, in a trendy open kitchen that puts on a performance of open iron charcoal grilling, Griglia is undoubtedly Italian to the core.
Italian cuisine has long gone past the trappings of stubbornly following Nonna's time-tested recipes as more modern Italian concepts gain prominence. But there is an intangible connection that still keeps Italians deeply rooted in their heritage.
Unlike many of the newfangled grill houses, Griglia focuses on a specific traditional Italian practice — Grigiliata, summer outdoor grilling. So expect Head Chef Federico Schiraldi —ex Zafferano, Amo, et al— to bring you the flavours closest to his heart.
With the cosy trimmings and intimate air, salaciously tinged with the faintest perfume of smoke, Griglia is undoubtedly a great place to bring a date to impress them with sleek pyrotechnics and pasta twirling.
But be warned — it can get a little hot and steamy here.
Starters Kick Off Hot
That's especially true when you get served sublime starters to kick off your Grigliata experience. Starters are hard to impress with, due to the limited allowance of its nature, but Griglia truly put a spark in their small plates.
Eggplant is easily one of the most divisive ingredients to be reaped out of the soil. Slimy and disgusting are the common adjectives thrown around for this underrated veggie. Truth be told, I think they are right — Eggplant can be revolting.
On the flip side of the coin, however, well-cooked eggplant can be sublime and Griglia's Eggplant ($18) firmly belongs in the latter category. Embellished with delectable folds of acidic Roma tomatoes and Basil to complement its unbridled smokiness, then drenched in a pool of 'Caciocavallo' fondue, this was a supremely comforting and appetising dish.
Consequently, the lofty standards set by the Eggplant made the subsequent Hokkaido Scallops Crudo ($22) unable to leave as a deep of an impression.
While doubtlessly supple, the Hokkaido Scallops weren't anything out of the usual. If anything, the star was the medley of White Corn and Amalfi Lemon which hit the palate with a riotous mix of spirited sweetness and crisp tartness.
Stunning Handmade Pasta by Griglia
Oddly, we felt that the strongest dishes at Griglia were the handmade pasta, despite its concept as an open-fire grill. I guess you can't divorce pasta from a true-blooded Italian concept.
There was not a single bad thing we could think to say about the House-Made Tagliolini in Sardinia "Bottarga" ($24). Stunning beyond words, Griglia's dish had all the makings of a unadulteratedly rich seafood pasta where every strand of sleek al dente Tagliolini was robed in the amber hues of the sauce.
Every mouth was a delightful burst of briny umami that, quite honestly, beat out even the richness of the pricier Uni Pasta from its heavyweight neighbour down the street.
Our other order of House-Made Parpadelle with Braised Pork Jowl and Chianti Sauce ($22) was similarly luxurious beyond words as each fatty slab of pork jowl caressed the mouth with a smooth semi-melting creaminess with a heavy touch of chianti.
While the jowl did deliver the fattiness that one would expect from jowl, the Parpadelle didn't feel like the aptest conduit for the chunky sauce and a sharper wine would have added more attenuating flavour. Nonetheless, Griglia did an exceptional job on the protein regardless.
Burnt Out SLightly
With all that said, the main of Whole Spanish Turbot ($58/400g) couldn't quite live up to the expectations we had after seeing the sultry whiskers of the smoke caressing it all over. Certainly, it was smoky and juicy but the flesh was, unfortunately, a bit more rigid than we would have liked.
Here's a caveat though, we were told the bigger portion of 800g ($98) would have a better texture but it was too much for our party of two. So your mileage may vary.
Alas, the wonderful surprise was the fact that two of our favourites at Griglia arrived furtively as the two sides we ordered to be accessories to the hefty fish.
This may be hard to believe but we were blown away by the Gratinated Bone Marrow ($12) and Potatoes Puree ($10) — it's always the ones you don't suspect.
Bone Marrow is a dish that oh-too-often receives rather lackadaisical treatment but not here at Griglia. Here, it's unleashed with the most gratuitous dose of smoke and inebriating nuttiness, dressed up with a spiff of herb notes.
Whereas the Potatoes Puree just sent us to mash potato heaven with its impossibly velvety mouthfeel, accentuated by a heady smoke and subtle sharp horseradish to round up the flavours.
Is Griglia perfect? No. Is it satisfying though? Yes, hell yes. If you want those heavy, decadent flavours, not many places provide this level of vigour at this price point. Maybe it didn't quite hit the expectations for a grill but I didn't have a taste of the heavier meats and besides the fish, I didn't have many complaints about the food here — very enjoyable dinner at a very promising new spot.
Make your reservations here.
Griglia Open Fire Italian Kitchen
Website | Instagram | Facebook
Address: 37 Craig Rd, #01-01, Singapore 089675
Hours: (Mon–Fri) 12pm–3pm, (Mon–Sat) 6pm–10:30pm