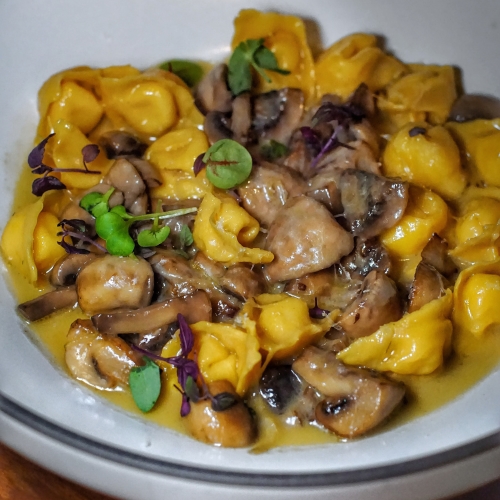 California Republic Delivers Hearty Socal Italian Flavours to Singapore
Despite being the interconnected metropolis it is, there are still certain cuisines that are scantly featured in Singapore. One of those is Californian cuisine where only a rare few restaurants like Rosemead fly that grizzly bear insignia high. Joining the fray though, is a newly opened California Republic bringing the California dream to Singapore.
Unlike the former, an upscale grill restaurant getup, California Republic will be transposing a unique brand of South Californian Italian fare to its home at Amoy Street.
Conceptualised by the same people behind the dandiest restaurants such as Firangi Superstar, you can expect plenty of warm hospitality and just a chic, cosy space to unwind in.
The entrance is illuminated by the glow of a sign emblazoned with the words "California Republic" and the iconic bear but the inside is a lot more ostentatious than their logo would suggest.
Their interior channels the unbridled sleekness and glamour of South California, home to vibrant cities such as Los Angeles and San Diego.
Warm Welcoming Flavours
Dining at a place priding itself as an Italian establishment, it's natural to brace for the heartiest, most straightforward flavours that tug at the heartstrings. As expected, California Republic showcases their earnest warmth quite efficaciously through simple flavours.
First off was this Ceviche ($21) that came with chunky slices of fish but its profile was markedly different from its Peruvian cousins. This had less zest and just strong garlic-imbued umami that reminds us of a California Roll.
Arancini is decidedly one of the most iconic Italian bites, so it piqued our interest to see how their Sweet Corn Arancini ($24) fared.
As textures go, California Republic's Arancini started with a delightful airy crackle before morsels of sweet corn popped. RIch and sweet but with an intense touch of black olive aioli at the side to deftly slice through the heaviness.
Being a fan of meaty cauliflower dishes, the Cauliflower Steak ($19) didn't quite hit the mark. Not much of the gushing juices I was anticipating though grilled to a decent tenderness nonetheless. The Raisin-Capers Gremolata added a nice touch of pep to the dish though.
Unadulterated Carby Goodness
With many grill items and pasta on their menu, one of the most recommended items at California Republic is… Garlic bread.
An unassuming dish inherently but these West Coast Garlic Mops ($18) are baked only after ordering, inside a cast iron pan for maximum freshness. Soft garlicky pillows that effortlessly soak up any sauce, the best clean up for any meal.
Since "Italian" is explicitly mentioned in their name, a pasta dish was definitely a must-order — what better to test California Republic's mettle as an Italian restaurant?
Here, they don't overthink. The Celery Root Cappelacci ($29) is a pasta dish that understands the warm homely flavours that the restaurant seeks to deliver. Each piece of pasta is not rolled too thick and exploded into silky celery root puree. The finishing touches of mushroom and sauce are also kept simple and just very earnestly complemented its base.
Although artisan doughnuts are all the rage even amongst fine dining restaurants of Singapore but California Republic bucks that trend with their Zeppole ($16).
You can't go more simple than traditional street festival doughnuts but these were immaculately fried with that gentle crunch before revealing a soft, almost melt-in-mouth texture. Paired with the Italian classic of Hazelnut chocolate sauce, these were gratifying bites to wind down the meal.
If you're looking for elaborate, intricate flavours then this won't satisfy. However, California Republic could become one of the best places for pasta in Singapore with their simplicity, homeliness, and a tendency to not overcomplicate — just focusing on perfecting the simple things.
Make your reservations here.
California Republic
Website | Facebook | Instagram
Address: 88 Amoy St, Singapore 069907
Hours: (Wed–Sun) 12:30pm–3pm, 5:30am–12pm