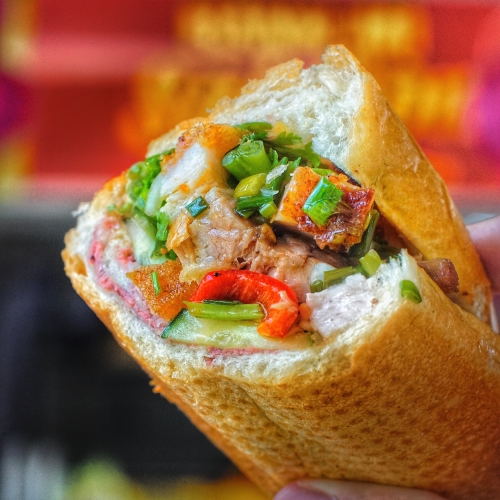 Earnest Authenticity — the Secret To Banh Mi Saigon's Amazing Sandwiches at Ang Mo Kio
Ang Mo Kio is not a place you'd normally think to venture out for a food adventure. I actually had the same sentiments — until I discovered Banh Mi Saigon. It's a short trek through the winding mazes of HDB blocks but you'd feel your efforts rewarded as you edge towards the shops nestling below Ang Mo Kio Block 505.
From afar, the store closest to the road looks like just another typical provision shop. But take a few more steps and you'd be greeted by the display case of a charming hole-in-the-wall deli where mounds of meat, veggies, and condiments are piled high beside tubs of liver pate.
There's something charming about the unassuming, stripped-down takeaway kiosk that Banh Mi Saigon operates out of — it shows that this hidden gem means business, and it's all about sculpting the best, most authentic Banh Mi you can find in Singapore.
And a short chat with one of the affable owners confirms that. The recipes are based on generations-old family traditions passed down by acquaintances in Vietnam and this deli's prime directive is to make things as hearty and as closely resembling authentic flavours.
Best Banh Mi in Singapore?
The unassuming Vietnamese-style sandwiches have witnessed a bit of a meteoric rise in Singapore in recent times, where even the younger crowd flocked to places like Bami Express in droves. Thankfully, Banh Mi Saigon is still slightly under-the-radar — but not for long, because it's truly fantastic.
I think they nail the trifecta of quantity, flavour, and freshness that are necessities for a good Banh Mi, more than some of the more established hotspots. They take pride in making their ingredients fresh and keeping parity with Vietnamese norms when possible — and it shows.
Their Special Banh Mi ($6.90), for example, is voluptuously engorged with a smorgasbord of ingredients while juices drip from both ends. A generous feast that's beautifully bookended by crunchy fresh baguettes.
Firstly, the flavours are all there — aromatic spice notes, rich porky umami, and creeping heat all come together in harmony. But more importantly, it's the coherence of textures that really make it stand out.
Despite the glut of elements, Banh Mi Saigon still managed to assemble the loaded behemoth with an eloquent mix of crunch, crackle, and meaty bite with almost every mouth. The multitude of sliced ham just boasted of a delectably firm but tender bounce that screams "I'm incredibly fresh".
Banh Mi Saigon's unhinged magnanimity also translates to sandwiches chock full of their fresh, juicy greens and a liberal slather of pate.
And it's because of that munificence that permutations such as the Roasted Pork Banh Mi ($8.90) are elevated. As you'd expect of pre-batched roast pork belly, the skin doesn't hold the crackle but it works hitchlessly with the opulence of ingredients.
Roasted pork crackle isn't necessary when you are already blessed with the boisterous crunch of the baguette and cucumber. Similarly, the fatty, five-spiced roasted pork made perfect sense with the medley of sweetness and richness from the veggies and condiments.
Grab some Ca Phe
Yes, I am a coffee snob but I don't quite mind grabbing some Vietnamese Coffee to go with my sandwiches. There's a wide range of permutations but I went for the unelaborate and classic Vietnamese Iced Milk Coffee ($4.50).
ne
Banh Mi Saigon's take on it is just classic Vietnamese coffee, smooth, punchy, and given a tasteful touch of acidity. Personally not the biggest fan of this style of coffee but they do the style justice, even if it's a tad expensive, encroaching on speciality coffee territory.
Some places are worth planning trips around, no matter how far-flung their location may be. I argue that Banh Mi Saigon is the perfect excuse to venture down to Ang Mo Kio. There ain't much else there save for some old-school hawker gems and a scant few cafes but these hearty sandwiches are good enough an impetus for the voyage.
Banh Mi Saigon Singapore
Address: 505 Ang Mo Kio Ave 8, #01-2668, Singapore 560505
Hours: (Mon–Sun) 9am–9pm