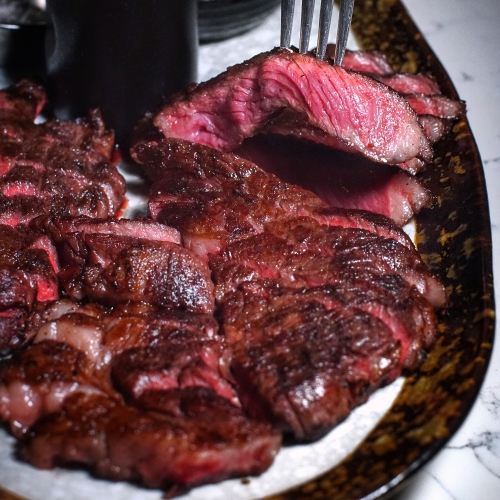 Meadesmoore is Singapore's best casual alternative to stuffy steakhouses
Steakhouses are no longer the decorous grand affairs of the yesteryears. While prim and proper establishments still possess their old-school draw, Singapore is seeing casually chic steakhouses take the spotlight — places like Meadesmoore at Telok Ayer.
Ensconced on the second storey of a shophouse along Boon Tat Street, access requires trudging up a flight of nondescript stairs quietly settled beside the flamboyant Fool Wine Bar.
Those with better recollection may remember the establishment's name as Fat Belly Social, once upon a time. Alas, they'd shed that moniker in conjunction with flagship outlet Fat Belly's rebrand to "FBG".
Here, the decor eschews exhausted conventions of obstinate white linen and pompous opulence, while seemingly encompassing the intimacy associated with a hidden gem date spot that takes pride in its cutting-edge culinary proclivities.
Nonetheless, Meadesmoore is still as tastefully decorated as you'd expect from a steakhouse at Telok Ayer — glossy marble table tops, sleek brass accents, and vogueish mute colours for understated visual contrast.
Surprisingly Whimsical
Our perception of a steakhouse's starters is inexorable. Learned myopia barely strays our inherent expectations away from the all-too-trite bread baskets, salads, and the like. But Meadesmoore — here's a top steakhouse that knows how to let loose.
More unexpectedly, the dinner unravels with a bodaciously experimental fashion, at least in a steakhouse context. Borrowing from the Asian canon, the Tendon & Escargot ($24) start incorporates a familiar component of braised beef tendon into classic French garlic-roasted Escargot.
Meadesmoore charmingly marries slow-braised beef tendon with garlic-roasted Escargot, carousing atop a richly buttered brioche smothered in sharp horseradish cream — a wonderful mix of textures and flavours.
In a similarly aberrant manner, they also reimagined the classic surf and turf, condensed into one ingenious Beef & Crab Tartare ($28) that showcases luscious crab salad and hand-chopped beef tartare.
Besides showcasing a fabulous suite of textures from the main proteins, punctuating pops of Ikura and sherry jelly also made the surf & turf base especially satisfying with their distinct profile.
The one-of-a-kind Meadesmoore Cut
Working through the starters, while wonderful, was just a distraction before the main course arrived — the one-of-a-kind Meadesmoore Cut ($200) in all its luxurious glory.
Even though most occasions would lead me to dismiss steak as a dish that is surprisingly straightforward, their unique cut is the exact opposite. Comprising three distinct sections that straddle the ribeye-chuck region, this cut is blessed with a spectrum of textures and richness.
No matter if you're hankering for gorgeous lean and tender bites or gratuitously fatty indulgence — you get varying levels of intensity all in one hulking cut that arrives with a picture-perfect pink centre.
Given the choice of three wildly individualistic textures, I found the fattier underblade and ribeye cap the most spectacular, letting out a deluge of buttery and slightly nutty bovine juices. However, if you're not partial to cuts brimming with fattiness, the milder and leaner loin section would capture your heart.
Accompanying Meadesmoore's crowning jewels were a trio of sides meant as its regal accoutrements — piquant Black Kumato ($18) heirloom tomatoes, humbly executed Butterhead ($16) lettuce, and the lavishly truffle-scented, signature house Mac and Cheese ($24).
While they were all generally solid, none of them were particularly memorable, even Meadesmoore's signature Mac and Cheese which was nice and creamy but didn't pack enough of a cheesy oomph.
Just Desserts
Desserts at Meadesmoore, owing to the lack of a dedicated Chef de Partie, are more limited in scope and rudimentary. Don't mistake simplicity for mediocrity though because neither the S'mores ($20) nor Popcorn ($16) were lacklustre.
In fact, I'd struggle to call either pedestrian though I did appreciate the velvety marshmallow shell of the S'mores much more, especially after it gets dramatically engulfed in a robe of striking blue flame. The twinge of richness from the chocolate cookie and coconut base wrapped within its marshmallow coating was a nice touch too.
Meadesmoore isn't quite the quintessential life-changing steakhouse experience. What it is though, is a great offbeat alternative to the tedious outfits that take themselves too seriously.
In the internet epoch, most people are able to whip up a fine butter-basted striploin steak. But what Meadesmoore possess –a one-of-kind cut and a slew of culinary ingenuity— makes it fit in seamlessly with its casual date spot neighbours.
Make your reservations here.
MEADESMOORE
Website | Facebook | Instagram
Address: 21A Boon Tat St, Singapore 069620
Hours: (Mon, Tues–Wed) 11:30am–3pm, 5:30pm–10pm, (Thurs–Fri) 11:30am–3pm, 5:30pm–11pm, (Saturday) 5:30pm–11pm
*This was an invited tasting.