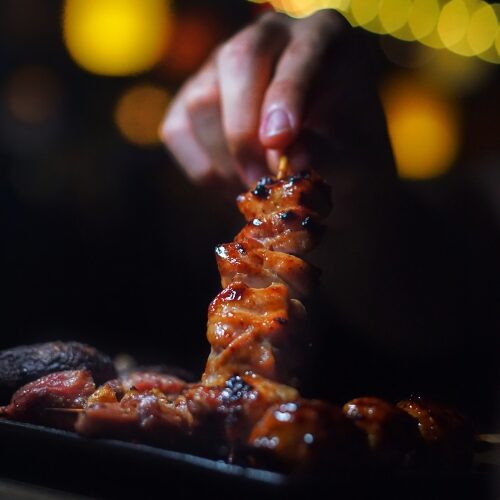 Ku-Kai Izakaya pAirs Unique Seaside Serenity with Decent Japanese Grub
In the far-flung North of Singapore, there stands a lone cottage by the seaside. A quaint spot where crowds are graced by the gently subsiding fizzle of waves, by wafts of brackish sea breeze, and enshrouded by a meek glow from festooned lines of fairy lights — this is Ku-Kai Izakaya, a unique Japanese bar that provides a seaside setting that distinguishes it from the competition.
Waterfront dining has become a bit of a highly-marketed draw in recent years but Ku-Kai Izakaya feels decidedly different.
It sits on the edge of a yacht club where nightfall's darkness vignettes the illuminated cottage and the seats propped up on the boardwalk right in front.
Other than the lighting fixtures of the restaurant itself, the only other real source of light is the faint glow of boats docked a few miles away. It's rare to find a spot in Singapore with a palpable feeling of isolation, much less an Izakaya.
As we all know, these rowdy watering holes are commonly littered about the CBD, as convenient means for Nomikai. In contrast, Ku-Kai Izakaya feels like a serendipitous chance encounter at a Japanese beachside town, far removed from any metropolitan buzz.
It's not a perfect seaside town experience, admittedly, as sparse lights are still visible in the periphery plus it's quite a voyage to find the SAF Yacht Club far up in the North. Nevertheless, it's still quite an inviting setting if you tune out these little flaws.
Working the Grill
Ku-Kai Izakaya's food is not spectacular by any means. Nonetheless, they worked the grill quite proficiently to churn out some smoky bites — most solid, some rather good.
A rather dependable choice comes in the form of the Grilled Squid ($30), arriving smokily charred and accompanied by a moreish sauce to pair with the bouncy slivers of flesh while the Kushiyaki Omakase ($19/5pcs) provided moments of satisfaction but also glimpses of mediocrity.
Take the Chicken Heart ($4/pc), for example, that announces itself on the plate with a jarringly limp crunch and residual offal pungency. Whereas some sticks were executed to a standard just slightly below the most revered Yakitori joints in Singapore, like the Chicken Skin which delivered a glorious mix of fat and crunch.
Some were rather enjoyable though not noteworthy, like the Tsukune that's seasoned just right but not in any way that's outstanding. Overall, that's a good indication — it shows Ku-Kai Izakaya churns out more-than-decent food to do justice to its ambience.
Similarly. there's competency apparent from the Grilled Beef ($36.80) that's rendered a luscious pink with scores of fats and smoke. Ku-Kai Izakaya doesn't quite make it melt-in-the-mouth but it honestly wouldn't feel out of place at some of the more established after-hours haunts in the CBD.
Homespun Tastes
Libations are a key aspect of any bar, as much as bar food, and this is an area where Ku-Kai Izakaya showed some nous. As simple and modest as a classic Japanese highball is, the Ume-Shio Highball ($12.30) proved to be quite a beguiling thirst quencher.
For a mere highball, it's furtively complex — refreshing, slightly tart, with a mellow shiso sharpness permeating it. More importantly, it's phenomenally palatable, which is the paramount attribute for Izakaya tipples.
Compared to the grill-worked bites, the other items at Ku-Kai Izakaya leaned toward being more homespun, such as the Potato Salad ($11). No doubt it's creamy, well-spiced, and enjoyable but nonetheless, it was frankly quite mundane.
Of the whole assortment of dishes ordered, the Seafood Okonomiyaki ($19) was the biggest disappointment — bland and garishly doughy while punctuated with cumbersomely hefty bites of onion that took over the palate, a problem accentuated by a marked lack of seafood.
Regardless, I would still advocate for a trip to Ku-Kai Izakaya for a breath of fresh (seaside) air. With pretty serviceable food, delightful drinks, and immaculate vibes, it's a spot that wouldn't astonish your palate but will satisfy you with an experience that feels like you were spirited away.
Make your reservations by WhatsApp or SMS to 83043028.
Ku-Kai Izakaya
Address: 43 Admiralty Rd W, SAF Yacht Club, Singapore 759962
Hours: (Tues–Fri) 5:30pm–11:30pm, (Sat–Sun) 11:30am–11:30pm