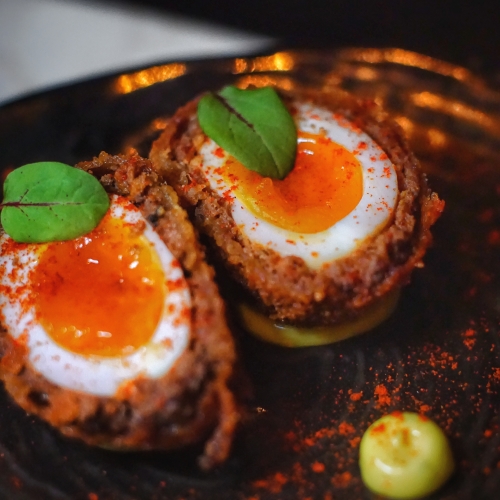 Revolver Polishes up Indian Fusion Tapas at Barood, Its chic Izakaya Date spot upstairs
All I see is red. Up the barely illuminated staircase beside Revolver and past a gilded sign that demarcated the secret entrance of Barood, the seemingly seedy second-storey lounge was covered floor-to-ceiling in an unending swathe of impassioned crimson.
Barood introduces itself at the door with a compact bar counter whereas the rest of the bar was set with coral-veined marble tables and plush upholstery, uniformly dyed in a splash of deep blood-red. Continuing the ambience, its innermost confines were only dimly aglow with warm lights trickled by a scant few light fixtures and lit candles.
A motley of vogueish black-and-white prints encased within vintage frames —glistening in felicitous tones of gold and silver— is held up by its walls to add sharp contrast against the maroons of their background.
This chic hideout is billed as the "Modern Indian Izakaya" extension of the highly lauded Revolver, similarly overseen by Chef Saura Buhdinia, who lists Mod-Indian luminaries such as Indian Accent amongst other impressive names on his resume.
Don't let the Izakaya misnomer deceive you, it's more fitting to classify Barood as a tapas bar — the classily styled, intimately spaced, and sultrily lit hideout is infinitely more conducive for date night than the often rambunctious after-work watering holes.
A Bar most high
There is an apparent synchronicity between the furnishing and culinary styles of Barood. It's bodacious, sexy, and modern while also exuding a tincture of exoticness.
Our night unfolded exultantly — first, with obscenely flavoursome starters as an ensemble of Negitoro ($18) and Morel Truffle ($18) Tostadas were served.
Of the two, the seafood-focused variation was luscious with a sprightly herbaceousness while the marvellous fungi morsel inundated both the gustatory and olfactory senses with a potent burst of fungi muskiness, all in one bite.
More whimsical Mod-Indian fusion ideas then come through lucidly with Barood's inspired re-imagination of a bona fide Italian classic, the Goat Biryani Arancini ($24/3pcs). In this twist, an edifying component of pulled goat biryani modifies the dish's profile significantly.
Each piece was a beastly package stuffed lavishly full of umami richness and mild whispers of goat funk. Even without the usual molten risotto core, the dish's signature blissful creaminess was inescapable while the bar also attained an immaculate crackle on the exterior. Show-stoppingly decadent.
In more traditional Izakaya fashion, skewers also make a cameo on Barood's menu but with a twist — as opposed to hefty smoky proteins, cauliflower is made the protagonist instead.
Carefully worked over the fire, the unassuming Cauliflower Skewers ($14) were slathered in a bright tangerine sauce which imparted sapid spice notes to each tender, juice-gushing bite.
Beyond just overflowing spice richness and sublime texture, the grillwork was pristine, imparting a mesmerisingly smoky perfume too — I daresay, one of the best cauliflower dishes I've had in Singapore.
Finishing Strong
The Izakaya also offers a Smoked Lobster Yakitori ($28) which, despite being the nadir of the night, still performed decently. However, it sported similar spice-work as the other skewer and carried a slight odiousness to it which just makes the cauliflower that much more impressive.
Borrowing from Revolver's adored culinary library, the Wagyu Scotch Egg ($22) also appears as one of the celebrity draws on Barood's menu, which felt extremely compelling as an order, if not just to satiate the curiosity without forking out exorbitant fine-dining dinner prices.
As far as the fusion dishes go, it's a mighty fine elevation of a comfort classic but also nothing elaborate in scope. It's just a strong, earnest feature of quality produce as luxe minced Wagyu clung snuggly around two brilliantly shimmering pools of molten amber yolk. Picture perfect and quite gratifying — just not trailblazing.
Reinterpreting the timeless marriage between saucy chicken and bread is perhaps also one of the most instinctive riffs when it comes to Mod-Indian cuisine and, like Firangi Superstar's Prata Waffle, the Butter Chicken Paratini ($22) was utterly charming in its playfulness.
Served with slightly crispy Parantha, each slice distended with butter chicken stuffing, its flatbread foundation meets a smattering of tomato Espuma —weightless but robust— as its partner-in-crime. It's admittedly not as astounding a concept as Firangi's ingenious hit dish but still a gratifyingly hearty main that will please most.
For the night at Barood, I abstained from excessive alcohol to leave space for all the food but barman Rodolfo Rodriguez lets his flair loose in tipples, aided by a twinge of flavours inspired by his Chilean heritage.
Drawing from his roots, one heavy feature on the menu is Pisco, which Rodolfo shows finesse with. The suave Smoking Gun ($28) combines Mezcal, Pisco, and a Vermouth blend to devastating effect, leaving you charmed by a subtly nuanced concoction that carried its vegetal and mild smoke notes elegantly.
In many ways, this cocktail is an apt microcosm for the establishment's multi-faceted operations — design, ambience, culinary, mixology, and service-wise.
Barood is impossibly warm and hospitable, the food is bold in spice and furtive in complexities without letting any esoteric fusion touches obfuscate the big picture. And more importantly, it's mysterious, smoky, and sexy — the most stellar date spot, especially if red is your lucky colour.
Make your reservations here.
Barood
Website | Facebook | Instagram
Address: 56A Tras St, Singapore 078995
Hours: (Tues–Sun) 5pm–12am