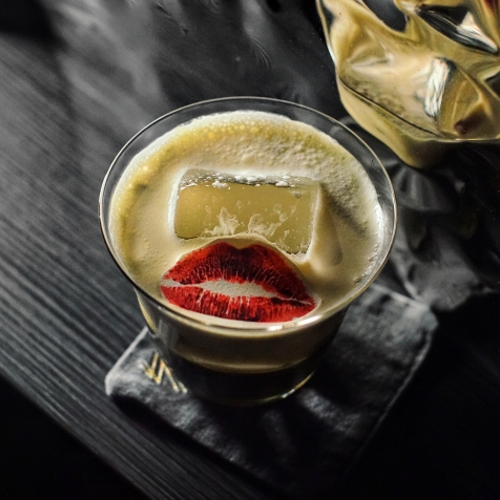 Amoy Street's Golden Boy — Stay Gold Flamingo Overflows with no-holds-barred Rock 'N' Roll CHarm
Unit number 69 — nice. A foray into Stay Gold Flamingo's Amoy Street shopfront may initially feel like a catfishing experience. The amiable cream walls, complimented by a smattering of auburn accents and an array of voguish floral arrangements, barely utter a hint of dive bar irreverence.

But if you follow the trail of audibly dampened guitar riffs, past a draping of modish curtains, you'll be greeted by a host of besuited staff ready to usher you to your seat. A seat most likely bathed in a wave of saccharine violet neon, which I nestled into very comfortably before placing an order.
"Don't stop me now… Yes, I'm having a good time. I don't want to stop at all," the speakers blared before eventually culminating in a blitz of guitar notes, matched by trilling shaker clanks signifying that my commencement drink at Stay Gold Flamingo was being prepared.
Freddie Mercury preaches the truth. While the Telok Ayer vicinage hardly aches for top-notch speciality bars, Stay Gold Flamingo is its golden boy. There's just something that draws in hordes of fun-seeking drunkards to fill its seats, looking to revel in its rock 'n' roll spirit.
It wouldn't be appropriate to classify the bar as a "dive bar" or "fancy speakeasy" — Stay Gold Flamingo is somewhere in between, like a slightly sordid hangout for the bon vivant.
Intrinsically, it's a bar that emphasises craft. Co-founders Jerrold Khoo and Bai Jia Wei hail from illustrious bars Jigger & Pony and Employees Only after all. Albeit, the establishment feels like a canvas to display consummate bartending while also flaunting their bad-boy charm.
From the repurposed denim coasters and Margiela-esque paint splatters on the bartenders' blazers to the coruscant rippled steel walls, on which the purple mood lighting bounces off while imprinting groovy textures — minute details make it an inimitable gem.
Cryptic Diptych
After an eventful year and a half in the business of debauchery, Stay Gold Flamingo has finally decided to refocus its team's ingenuity into a new menu.
This second edition, aptly titled "Alter Ego", pivots around the dichotomous expression of individual ingredients, styles, or concepts. In some ways, it's a spiritual successor to the first, which juxtaposed the bar's own takes on classics against more punctilious recipes.
Immediately, I was already smitten by the Fancy Mary ($25) which can be aptest described as Senior Bartender Amos Kew's Bloody Mary alter ego.
Unlike convention, this distilled tipple tastes significantly more robust and committed to an umami-forward profile, bolstered by the additional dimension of dulcetly sharp caramelised onion. Almost like a good cold soup, adorned with crispy dashi crackers.
Classics are an imperative gauge of the new menu, given the bartending pedigree of Stay Gold Flamingo's team — hence, the Alter Whisky Sour ($25) order. Given Jerrold's roots in Japanese precision, there's no surprise that it's a solid rendition at its base, though lacking pizzazz.
However, I was besotted by how it reimagined acidity through a side of sour granita garnish, carrying with it the potential to imbue a potent but simultaneously refreshing sting, with intensity tweakable to personal tolerance.
What most attracted my attention on the menu though, was Stay Gold Flamingo's bodacious dessert concoction, the Hanamachi ($25).
This sweet macchiato-like tipple came with a layer of foam blanketed over its floral and slightly cloying blend of matcha and goma. Even though there was a kiss of earthiness, it still skewed too sweet for me overall.
But dessert cocktail fiends — go wild.
Swayed Bold Food Menu
One of the most remarkable assets of Stay Gold Flamingo has always been, to me, the creative license afforded to its kitchen team. Thought is poured into the culinary program and boy can you find some goddamn solid bar grub, unlike most other bars.
Most notably, there is a strong Asian focus that invites frequent cameos from flavours originating from countries such as Japan and the Philippines.
Straightforward indulgence means a serving of the Loaded Tots ($18) which is buried under a mound of plant-based "sisig". Unabashedly umami but balanced with a mellow piquancy from Calamansi aioli.
Its polar opposite would be the dainty Scallop Ceviche ($26) — elegant and discreet in profile, mainly confined within dulcet parameters, zinged up by earthy Thai basil oil. Simple, maybe too simple.
For the same price, the Iberico Pork Collar ($26) proved more value for money — you get both slices of luscious and fatty pork, that almost reminded me of bak kwa in profile, and a heap of addictively smoky sansho peppers.
I'd mostly written off Stay Gold Flamingo as an uproarious venue with a guilefully posh ambience after not taking to the first menu. While the sophomore effort has room for refinement, faith for a return visit was definitely earned.
There's nowhere else I'd recommend if you're looking for a no-holds-barred, Rock-and-Rollin' good time with solid tipples to stir your soul.
Make your reservations here.
Stay Gold Flamingo
Website | Facebook | Instagram
Address: 69 Amoy Street, Singapore 069888
Hours: (Mon to Sat) 5pm–12am