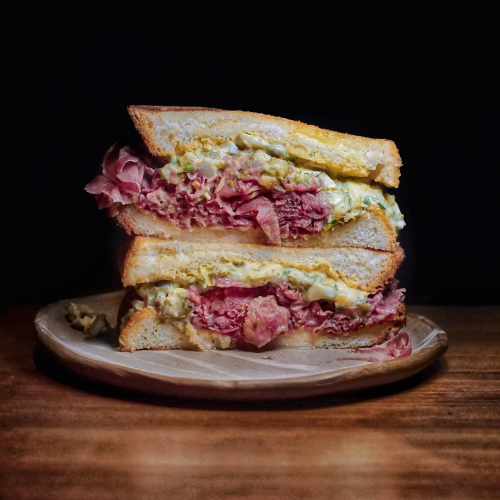 Le Bon Funk is undoubtedly one of the most creative casual restaurants in Singapore
It's the age of the wine bars as casual modern wine bars have taken our scene by storm, with cutting-edge new concepts by decorated chefs such as Rishi Naleendra and Andrew Walsh. But before this new wave was even set in motion, the wine bar scene already had Le Bon Funk perched at the top.
Run by the Lo & Behold group, you can expect some of the best premium restaurant experiences in Singapore as you find yourself surrounded by a full house at the chic Club Street restaurant.
Built as a laidback and unostentatious French restaurant with an interesting wine curation, Le Bon Funk is pretty much the blueprint for many of the newfangled casual wine bars around.
It's one of the few places that effortlessly coaxed a swift revisit from me, not the most frequent occurrence for me. However, it still remains one of my favourite restaurants in Singapore for special occasions, even to this day,
Jaw Ached… from dropping to the Floor
It's easy to dismiss small plates and appetisers as nothing but an opening act. But the extensive slew of sharing plates at Le Bon Funk? They are the headliners.
Unquestionably some of the best introductions to a meal I've had, especially the Foie Gras Toast ($18/2pcs) which was a mind-blowing unfathomable creation that blitzes the palate a perfect storm of flavours as the foie gras shavings melt to release a gratuitous umami explosion amidst a refreshing cedar jelly twang.
At the same time, the jelly and buttered toast delivered textural interplay and warmth to counteract the cold foie gras shavings, elevating the whole ensemble. Le Bon Funk managed to create a layered amalgamation with a mere 3 ingredients — the embodiment of "more than the sum of its parts".
Burrata is such a ubiquitous appetiser nowadays but Le Bon Funk's Burrata and Pumpkin Seed Gremolata ($14) is easily one of the better ones around. You get silky smooth burrata beautifully accentuated the potent earthiness of the gremolata — more interesting than your usual combo of zesty tomatoes for sure.
Tartare is something that is all too commonly seen but never quite nailed but they absolutely nailed the Full Blood Wagyu Tartare ($39) here.
You won't stop shovelling the medley of tartare onto the addictively crispy chips, not when they are this unapologetically rich and brimming with heavy-hitting flavours and a silky egg coating.
But if there's one dish that is synonymous with Le Bon Funk, it's this decadent beauty, the Beef Tongue and Gribiche Sandwich ($26) which is one of the best sandwiches you can find on this island.
This sandwich is legendary for the mound of crazily tender beef tongue, all cloaked in an exceedingly complex and herby gribiche. Once you start stuffing those slivers of the sensually thin beef tongue into your mouth, you'd find yourself helplessly locked in a steamy French Kiss session until you devour the sandwich.
Mains Not As Satisfying
While I'd like to say every sharing plate on the menu was a home run, the Whole Globe Artichoke ($24) was just alright. I've had fresher artichoke at other places but Le Bon Funk's rich and addictive aioli definitely did give it a nice flavour boost.
Ultimately, I'd say you won't leave disappointed with these sharing plates but the mains were a different story. The bliss from the sharing plates was met with abject disappointment once I moved on to the final courses on both occasions.
Le Bon Funk has garnered quite the reputation for their truffle and pumpkin tortellini but it was unfortunately out of season during my second visit. The replacement of Tortellini with Mushroom and Asparagus ($42) fell direly short, especially at that price.
For one, the Tortellini was rolled too thick rendering each bite too chewy and doughy. The flavour profile itself was an interesting mix of wholesome and refreshing but tasted suspiciously like ersatz pho broth. Not a fan.
On my first visit, the tummy-filling choice was the Leg of Lamb with Borlotti Beans ($68), coming in rather steep. Alas, it was rather anticlimactic. While tender and clean tasting, as roast lamb should be, the flavours really paled in comparison to the inspired starters.
Sweet Redemption Arc
Still, they managed to salvage everything by sticking the landing with aplomb. This unique but unassuming Celery Custard and Buckwheat ($9) was intriguingly sweet, earthy, and crisp. Not what you'd expect from "celery custard" but it was quickly finished up.
For their highs, Le Bon Funk perhaps has the greatest highs out of any restaurant in Singapore. But the mains don't quite command the price tags — though I've heard good things about other choices, so maybe I've just been unlucky.
Le Bon Funk
Website | Instagram | Facebook
Address: 29 Club Street Singapore, Singapore 069414
Hours: (Tue–Thur) 5pm–10:30pm, (Fri–Sat) 12pm–10:30pm, (Sun) 12pm–5pm