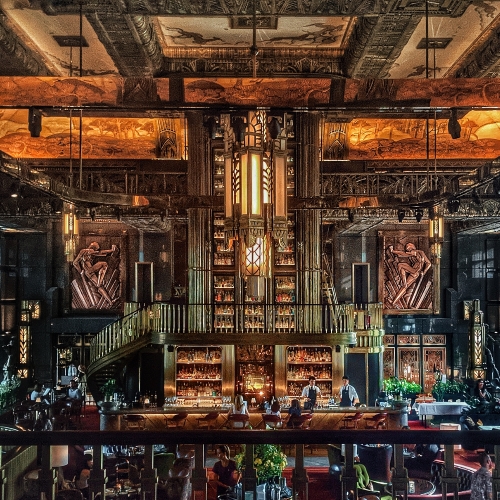 Atlas is a Bar that intoxicates everyone with the most splendorous ambience in Singapore
Not all that glitters is gold. Nonetheless, Atlas' splendour is pure bliss for the senses. It's not an audacious claim to say that no other bar in Singapore is as recognisable as the Parkview Square anchor unit with all its gilded majesty.
At this lustrous compound, sprawling gin library towers extend authoritatively past the wide-exposed second-floor balconies, as though attracted to the magnetic allure of the elaborately chiselled ceiling.
Simultaneously, glistening gold trimmings inundate the entire space with a lavish glow that goes handsomely with the sharp reds that dressed most of its carpets and furniture.
Atlas is a bar made for revelling in its beauty but there's no doubt that its staggeringly extensive liquor reserves grant it that extra mixological edge.
That is exactly what the new Head Bartender Yana has taken advantage of. I admit that Atlas was a bar I'd long designated for the ambience more than the tipples but the new menu, Yana's first, was deserving of a little curiosity.
Clinically Classic
Atlas' newest edition forfeits the loftiest conceptual ambitions that many speciality cocktail bars endeavour towards nowadays. Instead, this menu follows another trend — a heavy involvement with the timeless classics.
Simplicity is king and the new "Simple Pleasures" condenses all their creativity into four classifications of "Martinis", "Sours", "Champagne Cocktails", and "Old Fashioneds". Candidly, the name is unfaithful to the concept. Even amidst the simplicity, plenty of complexity and versatility can be found in all of Atlas' expressions.
For example, the Crimson Pipe ($26), which falls under the Old Fashioned genre, is a wildly different beast from the "Old Fashioned" archetype. For one, it belongs to the rare breed of concoctions that are as magnificently well-balanced as they are spirit-dominant.
Despite a potent base of pink peppercorn-infused bourbon, the overall profile abstained from excessive harshness, rounded out by the nuances of a herbal Aperitif and Rioja — everything just culminated in a spice-kissed finish that elegantly trailed subsequently.
Atlas also takes on another manually demanding task, presenting a Ramos Gin Fizz rejig within the "Sour" curation. Instead of traditional specs with gin-based florals and orange blossom aromatics, the Ode to Odyssey ($22) is loosely focused around a vinous profile.
Borrowing the distinct profile of Four Pillars Shiraz Gin and incorporating it with Sherry, this riff comes with funkier nuance that the usual dainty Ramoses. Although it remains wonderfully creamy, it also sports a sexier, more pronounced twang and a hint of spice.
In case anyone isn't quite sold on the prospect of reinventing the Martini wheel, Atlas' new menu also retains the bar's tried-and-tested with the tradition-adhering "Martini Classics" section that precedes the new creations.
Needless to say, the iconic Atlas Martini (S$26), crafted with Champagne vinegar and Amaretto vermouth, holds its own against the best Japanese creations — potent with bite and sporting a crisp, elegant zest from its luxe ingredients.
Atlas Bar is moving in the right direction. At the end of the day, a bar's mixological ideas are as important as its atmosphere. My visits to the bar have always been beautifully enhanced by its pulchritude, no matter if the drinks are straightforward or inventive.
However, if they can add another feather to their cap with consummate reinterpretations of the classic cocktail library, it'll surely help in reclaiming its stature in the mid-2010s glory days.
Make your reservations here.
Atlas Bar
Website | Facebook | Instagram
Address: 600 North Bridge Rd, Parkview Square Ground Floor, Singapore 188778
Hours: (Tues–Thurs) 12pm–12am, (Fri–Sat) 12am–2am