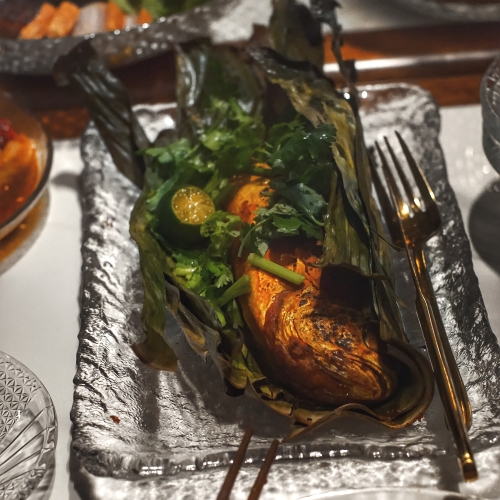 Indulge in the Rich Flavours of Ipoh at Small Tables, the newest Pacific PLAZA Concept
Diversity is always welcomed in every corner of Singapore, especially when it pertains to food. Given how robust the restaurant scene has become, it's a wonder that more eateries peddling elevated regional flavours hadn't popped up. But the newest tenant at Pacific Plaza, Small Tables, is here to change that.
This new establishment is one that focuses on history-rich Ipoh cuisine, transplanting all those homely flavours into a swanky Pacific Plaza shopfront, one that's filled with plush sofas, gold trimmings, and rustic marble tables.
Akin to a glow-up of your typical Malaysian hawker streets that you find in many malls, if you will — instead of a no-frills congregation of concepts, it's given a refining touch and packaged into the holistic restaurant experience that is Small Tables.
While some may scoff at the elevated price points too, the region's proud hawker culture deserves respect. It's heartwarming as we see more establishments such as Violet Oon popping up, espousing the most toothsome facets of our heritage in more sophisticated settings.
In fact, it's quite an astute and meticulously planned concept. Beyond the superficial call-backs to Ipoh, including a quaint coffee stand at the front, Small Table's menu is designed with support from Sandra Sim, a prominent home chef and ex-restaurateur of Sum Yi Tai and Ladyboss Dining Club fame.
Start Small…
A fitting start to an Ipoh culinary journey would begin with one of their most renowned exports, the Ipoh White Coffee ($7.50) which strutted a glorious juxtaposition of sweet milkiness with vibrant acidity.
My preference for artisan filter coffee does seed scepticism of kopi but admittedly, the well-balanced Small Tables brew conceals some subtleties uncommon for its robusta-based ilk. As a nice finishing touch, there's even a delightful Kaya Taiyaki at the side to enhance the whole ensemble.
All street food is made equal but some are more equal than others. The ubiquitous skewer is a pervasive feature throughout different cuisines for its affordability and convenience so it only felt apt that Small Tables started us off with an array of Pork Belly Satay ($16/6pcs).
These juicy, luscious sticks were served with a pool of fragrantly nutty sauce to dip in, which was exactly what the familiar spices of the Satay marinade were calling out for. Sure, the price is on the higher side but good quality pork satay isn't exactly inexpensive in the wild anyways.
A classic Singaporean zichar feast necessitates at least one token Kangkong dish. Instead of the commonplace stir-frys, Small Tables shows some flair and spruces up the greens here in a wondrous combo of Cuttlefish & Water Spinach ($12).
The fact that I went in for seconds was very illuminating since even remotely soggy greens immediately trigger my gag reflex — well-executed greens and bouncy cuttlefish worked immaculately in tandem.
Another hawker icon given its deserved treatment at Small Tables was the Ipoh Chee Cheong Fun ($12), where the inexplicably silky and delicate handmade rice sheets were the focal point.
Its dreamily supple bite is the best argument for artisan rolls over machine-made dross — perfect when married with the wholesome Ipoh Curry spices and bestowed a zesty green chilli kiss to cut through the heft.
Finish Strong
Alas, the mains were what commanded my attention at Small Tables as they arrived with splendour and pomp. The showstopper had to be the Whole Fish Otah ($28) — featuring a wholly deboned Yellow Croaker loaded end-to-end with homemade Otah. Talk about Otah-ception.
I don't think there's much to dissect here because its congenial burst of spice and aroma just hit the spot so thoroughly that I didn't feel a need to sift through the flavour notes. I just knew the flavours were splendid and the texture was sublime but my tireless jaws didn't allow me time to think.
Still, the best embodiment of Ipoh comfort came in the form of the Ipoh Curry Mee Soup ($20). Maybe not my hero dish but I can't deny the stomach-warming charm of the soup as it washes over you.
Curry recipes from Ipoh are generally divorced from coconut milk unlike in Singapore and hence are characterised by less sedate base flavours. The curry here is one that flaunts a satisfying alternation between moderate curry spice, prawn head umami, and fresh mint — the perfect comfort food.
Not to mention the handmade hor fun was sublimely buoyant and glided down the throat so gracefully. Then you cap it off with a smorgasbord of extraneous toppings —including Char Siew, Siew Yoke, and Pig Ears— and you have the ultimate sharing main.
Ultimately though, when it came down to it, I preferred Small Tables' Dry Ipoh Curry Mee ($20) over its soupy counterpart. Every bite just releases a hard-hitting wave of sapidity.
Beyond a similar glass serving receptacle and an adornment of the same toppings, all of its charms came from the riotous Rempah which coated a layer of fierce umami and complexity onto the noodles — the undisputable flavour champion of the meal.
At the end of the meal, it did feel like the tables were rather small as the congestion of big mains started forming. But that's a good problem to have. Admittedly though, some cuisines don't need too much refinement or sophistication since there's a timelessness to them — Ipoh cuisine falls under that umbrella.
Regardless, Small Tables has done a sleek job bringing it to Singapore and translating it into the Orchard Road context, without daunting markups that might make some gatekeepers scoff. I daresay, there's no better place for a fuss-free, unostentatious taste of comfort in town.
Make your reservations here.
Small Tables
Website | Facebook | Instagram
Address: 9 Scotts Rd, #01-09/10/11/12 Pacific Plaza, Singapore 228210
Hours: (Mon–Thurs) 11:30am–10pm, (Fri–Sat) 11:30am–11pm, (Sun) 11am–10pm
*This was an invited tasting.