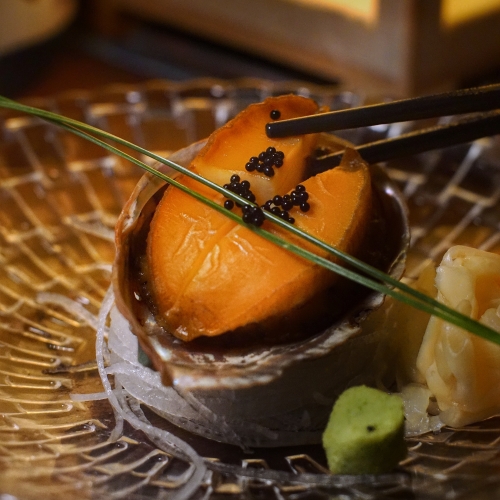 Heavy Heartiness Underscores Tanoshii's Korean-Japanese flavours
As of late, I'd fortuitously been given chances to indulge in a few assiduously curated omakase dinner experiences. Many of these affairs involved traditional minimally embellished wooden countertops but my latest, Tanoshii, bucks that trend with its raucous brand of Korean-Japanese flavours.
Straddling the border between Newton and Orchard Road at the edge of Cairnhill Road, you'd notice a group of shophouses congregated in a somewhat unruly manner and with bright, conspicuous branding affixed to their facade.
On one far side is Tanoshii, where a motley of footwear is scattered right outside of a wooden sliding door, looking like a quaint izakaya that you'd chance upon while exploring one of the suburban neighbourhoods of Tokyo.
Inside, the restaurant looks more snazzy and modern than the exterior suggests, straying from the boring old-school wooden panels and balanced warm lights, nor is it manned by cooks dressed in starched whites or traditional garb.
If anything, the dimmed lights and bolder accoutrements make Tanoshii seem like one of Ginza's dapper basement bars transplanted in Singapore.
Fast and Strong
We were served a modified version of Tanoshii's Wagyu Sukiyaki Course Meal ($158), which started off fast and strong. A very accurate approximation of how the rest of the meal will progress — relentlessly hearty and filled with vigour.
That fixation on simple but massive flavours is evident right out the door when we were pampered with Chawan Mushi, but the silky egg custard was improved with luxe touches of either Ikura ($18) or Truffle and Caviar ($18).
In hot pursuit of that was another dose of potency, as the Osaka Chicken Naban ($28/4pcs) took centre stage with gargantuan blocks of boneless chicken thigh. Basically a supersized version of your regular izakaya classic but somehow kept juicy throughout despite its size. Simple but effective starter.
The other option, a decently tender Hokkaido Taco Steak ($38), was conversely more restrained in its profile as its rich romesco sauce added some piquancy amidst heavier earthy notes hidden beneath the twang.
Then came Tanoshii's crowning jewel, a sublime rendition of Steamed Jeju Abalone ($29) that was splendidly succulent while also retaining some of that delightful bounce in the chew.
As the mollusc usually comes, the abalone was characteristically clean with a mild natural sweetness but a bed of liver sauce endowed it with an immensely savoury touch of salinity and funk, elevating it magnificently.
Though not quite like the conventional edomae sushi commonly found in many of Singapore's omakase restaurants, Tanoshii actually took the opportunity to include a sushi course in the dinner.
Given the endearingly straightforward name of Big Wagyu Sushi ($22) on Tanoshii's menu, it is just as advertised — a simple, hearty wedge of Wagyu beef collapsed over some rice, flavourful and tender as hell.
Can you smell What's Cooking?
After arranging for such a blitz of huge flavours on our palates, Tanoshii does add in a short respite as the pre-climax, serving a set of Escargot ($38/7-8pcs) neatly left on the skillet.
Well executed but not particularly memorable — just uncomplicated, enjoyably garlic-forward, and, more importantly, lacking the fetid "snail odour" as some like to attribute to the dish.
After a quick purge of all of the blemished crockery on our table, the chef thumped down two bowls of egg yolk, while also clearing the sake bottles in front of us to set up a tableside view of the Wagyu Sukiyaki ($98/pax),
Then a gamut of plates was neatly arranged while the pan warmed up, including an assortment of Korean banchan and fresh ingredients that were waiting in line for a warm bath inside Tanoshii's sukiyaki sauce.
The belle of the ensemble was undoubtedly the broad pink sheets of A4 Wagyu Beef, embossed with majestic veins of fat deposits that make it look more like a coral-coloured marble than beef.
The cooking process gives a snapshot of the sauce's intensity at different stages of browning as the beef is put in at different times. At its simplest, it's just unalloyed beefy succulence, toothsomely luscious and lush with fats.
Though the beauty of it really came as the sauce was fed more flavours from the myriad of ingredients thrown in. It gains a bit more caramelisation, more depth, and more presence as it became more pronounced.
But honestly, it's unfair to compare everything else in the lineup to Tanoshii's showstopping beef. Beef aside, the most outstanding components were the Mushrooms, inexplicably engorged with sweet juices, and the pillowy Tofu that disintegrated so gently.
Admittedly, there was a continuation as udon was stir-fried in the remnants of the sauce but we already reached our breaking point. That's why the finisher of Yuzu Sorbet ($8) and Black Sesame Ice Cream ($8) was such a welcoming sight.
Black Sesame fans would be pleased with the latter but I personally found the bright sprightly depth of Yuzu Sorbet the best curtain closer for the supremely hearty night of Tanoshii's Omakase offerings.
It's tricky to compare Tanoshii with any other omakase joint in Singapore, being less like a sushi-ya or kaiseki and more akin to a luxe Izakaya in terms of scope and heft, with the focus scattered amongst more culinary styles.
While improvements could be made to tweak the intensity in between each course for more fluidity, there's no doubt that the heart and earnest flavours will win over many looking for more edge in their food.
Make your reservations here.
Tanoshii Restaurant
Website | Facebook | Instagram
Address: 56 Cairnhill Rd, Singapore 229667
Hours: (Mon–Sat) 6pm–11:30pm, (Sun) 6pm–11pm
*This was an invited tasting.