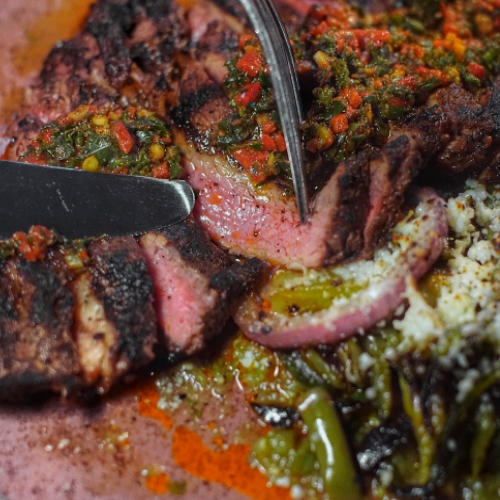 New Super Loco Menu at Robertson Quay has no right being this good
The subject of "Mexican food" in Singapore often leads to one very puissant establishment that's been a steady force in the scene's growth and blossoming popularity — Super Loco, a beloved brand with outlets at Collyer Quay and Robertson Quay.
Even if lacking in the ubiquity of fast chains —like the one represented by two figureheads and a striking yellow colour scheme— it's hard to find another Mexican brand in Singapore that has endured as long, and spectacular, as they have.
The modus operandi is one of Mexican-style conviviality, solid and consistent food, and just the cosiest environs that will help you forget your dreary days. While at Customs House, you're treated to a spectacular Marina view, Super Loco sets a much more laidback tone in its capacious Robertson Quay outlet.
Decked in vibrant colours, neon lights, and eye-catching posters, the restaurant space itself is probably the most conducive for after-work Margarita-fuelled shenanigans.
If you want more privacy though, they also have a strip of low sofas arranged neatly under the awnings that pampers you with more breeze, glimpses of the Singapore river, and roving pups often seen sauntering by.
This recent visit was marked by an update in the menu at Robertson Quay and honestly, it's one of the most rewarding Super Loco menus I'd feasted on. To put it in cliche — it has no right being this good.
Inconsistency… in A Good Way
Of course, there are places you'd patronise for being beacons of consistency that dish out comfort food that doesn't ever disappoint but doesn't ever impress either. That for me is what the group embodies — a mighty good time without any pizzazz.
Suffice it to say, the new offerings Super Loco put out at Robertson Quay really took me aback with a few moments of absolute brilliance instead of merely a consistent output of solid flavours.
But first, the customary opener — tortilla chips. We had our crispy tortillas paired with a gamut of cheeses mixed in with pico de gallo and beef brisket for the Queso Flameado ($16). Just a simple pleasure, though the brisket came with dry spots.
We're then greeted with Super Loco's different permutations of ingredient-loaded tortillas on the Robertson Quay menu, the first being the Pumpkin & Habanero Tostadas ($14).
Unlike tacos, tostadas feature a glut of ingredients encased within a crispy shell. Here, crispy tortillas are stuffed with tender blocks of butternut squash, really making an impression with their lusciousness. So indulgent.
Moving onto their regular tacos, the Prawn Tacos ($13) were well in-line with Super Loco MO — solid, fuss-free bites that really complemented the lively Robertson Quay ambience.
At the heart was a scramble of fresh shrimp that was tastefully complemented by acidity. My only real gripe was with the prawn-to-taco ratio, which could be slightly boosted for more balanced mouthfuls.
Super Lovable
As for the aforementioned moments of absolute brilliance, they started with the stupidly flavourful Angus Ribeye Steak ($44). There are layers to unpack but succinctly said, Super Loco Robertson Quay trumps the steak at even some restaurants.
It's not hyperbole — even if not the most luxurious or stellar beef, it's a pretty good cut nonetheless. This was the showstopper on that new menu and one of my all-time favourites at Super Loco, Robertson Quay or otherwise.
The magic comes when the succulent meat is given a push by its partners-in-crime, a rambunctiously spice-forward chimichurri and ambrosial rub, which results in a bewitching chemical reaction loaded with richness.
Another hero dish was the Super Churros ($14) which, despite looking rather homespun, was one of my favourite renditions of the classic Spanish dessert.
All the credit has to go to the coconut dulce du leche dip for this. As earnestly rich and silky as the chocolate dip was, it was its partner that accentuated it with soft, contrasting floral sweetness that didn't leave it too heavy, a risk that dipped churros usually run.
Super Loco shows that they're not all about tacos — that steak is ample reason for a reservation at Robertson Quay. And they continue to show their consistency since not many other places can guarantee an enjoyable Mexican experience routinely, as they do.
Make your reservations here.
Super Loco (Robertson Quay)
Website | Facebook | Instagram
Address:60 Robertson Quay, #01-13 The Quayside, Singapore 238252
Hours: (Mon–Thurs) 11:30am–11pm, (Fri) 11:30am–11:30pm, (Sat) 10am–11:30pm, (Sun) 10am–11pm
*This was an invited tasting.