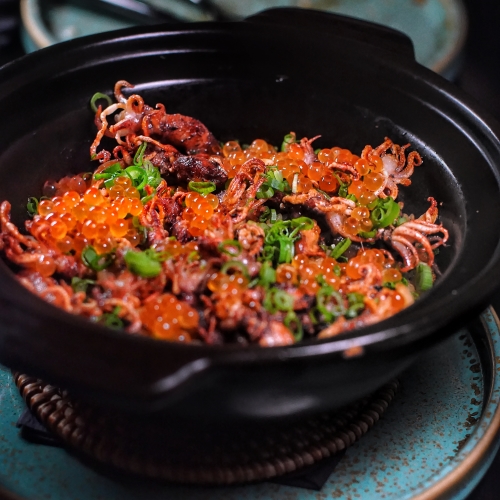 JU95 boldly showcases Japanese Fusion cooking on the edge
Japanese cuisine has long been affixed with archetypes of raw fish, ramen joints and izakayas. There's no shortage of high-end omakase and casual Japanese-Fusion concepts in Singapore, after all — but none are as charmingly audacious and congruent in interpretation as JU95.
Resting on the banks of the Singapore River, JU95's alfresco experience is spectacular. The panoramic view from its Boat Quay vantage extends from the effulgent CBD skyline to the distinct cluster of silhouettes of the museums and the discus-shaped Supreme Court of the opposite bank.
At the heart of its operations though, is the far more exhilarating main dining room area — a space very boldly articulating its core ethos. A suite of raunchy traditional Japanese ink paintings set a spunky tone befitting the lawless attitude of executing Japanese cuisine.
Facets of traditional Japanese decor are tastefully weaved into the modern stylings but it avoids the contrived and tacky fate of similar bistros. Mostly thanks to an unapologetic lean into their irreverent approach to Japanese food.
For the same reasons some might find it childish or crude, I find JU95 so refreshingly youthful. And ultimately, that non-conformism was also flawlessly translated into their menu.
Brave, bold, Bodacious
Don't be mistaken, JU95 isn't a collective of iconoclastic geniuses that are redefining Japanese cuisine as we know it.
What the team does abnormally well though, is the ability to accentuate all these quirky fusion ideas with astounding finesse and coherence.
Right out of the gate, we're graced by the phenomenally saporific Parfait Ju ($16/2pc). As petite as these parfait crackers were, they brought with them a whole universe of flavours.
It's like the big bang. Resounding umami and salinity set the base before a deluge of intoxicating funk started to expansively populate the palate space, then consequently combining together to finish with aplomb.
Following the extravagance was yet another rousing riot of flavours — an unadulterated decadence stemming from cured and parmesan being layered over sticks of Seaweed Potato Pave ($15).
JU95's really conjured up quite the enchanting potato base, one that was robust and violently crunchy while simultaneously fluffy when broken apart.
Unsurprisingly, their take on Grilled Cauliflower ($14) was yet another masterclass — tender, juicy, with delicate kisses of char on the extremities, and a further emboldening furikake pop.
More importantly, JU95's amalgamation of garlic miso and furikake unlocked one of the most gratifying blends of umami I've savoured on any cauliflower thus far.
Looking for some liquid reprise from the blockbuster flavours, I chanced upon the Caramel Toe ($23) on JU95's cocktail menu and was pleasantly surprised.
The aptest description? A chic refurbishment of the all-too-familiar Caramel Frappucino from Starbucks — essentially an espresso martini with the acerbic undercurrents softened through spirited caramel notes.
The Main Men
As often as I am left more besotted with appetisers over the mains, JU95 actually delivered stunningly for heavier plates.
Rather peculiarly seasoned, the Wagyu Tartare ($28) was a unique showcase of luscious beef slicked in sharp acidic zip ofYuzu Kosho which worked in a way that's wonderfully reminiscent of heavy-handed Chinese seasoning.
Then, a decidedly different fashion of umami came through with the mound of dainty Cold Angel Hair ($24) — one that's slightly mellower and with slowly intensifying brackish undertones.
Given the heftier persuasion of JU95 earlier dishes, the impeccable balance of seafood sweetness and kombu salinity was quite bewitching, especially in the context of the delicate threads of thin, crunchy pasta.
The main spectacle, however, came in the form of the Baby Squid Donabe ($46) which requires some time-bidding as the cauldron of rice was getting manhandled by raging charcoal flames.
While 'm not intimately familiar with Japanese Donabe, my heart was instantly captured by JU95's rendition — it wasn't merely a great Donabe but also a spellbindingly charming rice dish.
What it brings to the table is the heartiest tsunami of seafood flavours and furikake richness, sublimely edified by an assertive smokey oomph. A little pricey but brought a ton of gratification.
More importantly, the ingredients were all beautifully cooked by JU95 — the rice was fluffy and moist while debris of claypot crust and the lightly crunchy squid piled on for a most rewarding tag team of textures.
That said, the social media phenom of Ice Cream Sandwich ($12) was eye candy but didn't quite live up to the benchmark of JU95's other offerings. Still a pleasant zesty dessert nonetheless, I just wished the textures were a bit more fine-tuned.
Alas that, and generally steeper price tags, were but small flaws. Albeit there were no massive risks taken, gambles aren't necessary. If you have the finesse, even the smallest sparks of creativity will advance into a vivid flame — and I left carrying only the deepest adulation for JU95's skill and creativity.
Make your reservations here.
JU95
Website | Facebook | Instagram
Address:

41 Boat Quay, Singapore 049830

Hours: (Tues–Wed, Sat) 6pm–12am, (Thurs–Fri) 11:30am–11:30pm, 6pm–12am, (Sun) 5pm–10pm