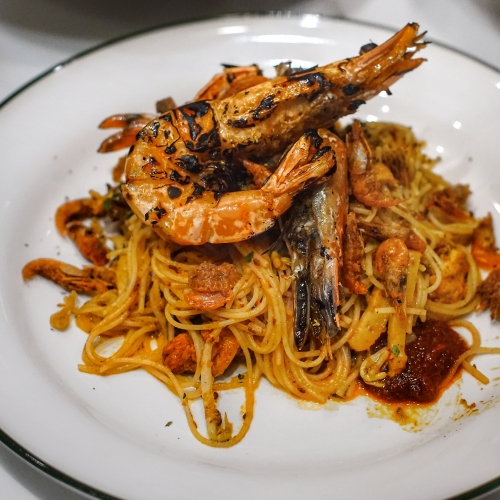 Another charming side of Asian Flavours at Jelebu Dry Laksa
Laska, a dish that's arguably one of Singapore's national icons. While people are still arguing about where to find the best laksa in Singapore, a unique new contender has joined the fray — Jelebu Dry Laksa at VivoCity.
Born as a COVID passion project delivering dry laksa out of Chef Renee Tang's Jelebu Road abode, it finally found a physical location after a mostly featuring as a pop-up.
Unlike the familiar Katong Laksa archetype, Chef Renee's speciality is one where, instead of being served in broth, the stock's sapid flavours are infused into the noodles themselves.
Of course, there's a more fleshed-out menu designed with Tipsy Collective, since merely selling one dish would make Jelebu Dry Laksa a rather odd fit amongst the VivoCity tenants.
While "Mod-Sin" is a label everyone might be too quick to throw out, the flavours bring you through Asia with spunky ideas from more places than those close to home. Similar to but somewhat different from the signature style of rebellious fusion that Chef Willin Low is known for.
Some Hits & Misses
Fusion in cuisine is a finicky mistress. Go too far and you'd have a discombobulated mess and stay too safe and it'll feel like it under-delivered. For Jelebu Dry Laksa though, that balancing act is interesting to see.
It started off strongly with Thai-influenced flavours in the Larb Moo ($18/3pc), where the mix of crackling and minced texture worked wonderfully when wrapped inside the fibrous Perilla leaf.
Then came the Scallop & Otah Pillow ($18/3pcs) which, while pleasant, didn't leave a strong impression despite Jelebu Dry Laksa's elevation through Japanese elements including Nori crackers and Hokkaido scallop mousse.
Regretfully, it was the Assam Fish that had the most potential but didn't live up to it since, at its base, the Assam spice was nuanced and tangy just as you'd want it to be.
Alas, the handling of the barramundi itself was not up to par. Granted, the skin had a decent crackle on it but the flesh was dry and did detract from the overall dish cohesion.
Similarly, the Butter Chicken Mac & Cheese ($26) had its downfalls. For one, the butter chicken spice didn't carry enough oomph and complexity, while feeling slightly thin.
That said, the overarching and execution were commendable since Jelebu Dry Laksa included a peculiar choice of smoked Scamorza to cut through the heaviness, while the toned-down richness contributes to balance. A dish like this can get surfeit, quick.
Charming Rework of CLassics
That said, even if there were hits and misses, the headliner did not disappoint as the namesake Jelebu Grilled Tiger Prawn Dry Laksa ($18) delivered on its promise.
Bouncy squiggles of noodles danced about, coated and infused with umami seafood notes from its Rempah base — it was fragrant but not overwhelming and complemented by both natural sweetness and surreptitious heat.
Another enthralling rework of a classic dish by Jelebu Dry Laksa was the Duck Confit Braised Teochew Risotto ($26) which had that comforting flavour of home, perfectly adapting the integral parts of duck rice.
The risotto itself was brimming herbaceous depth and gentle sweetness, alas the texture was perhaps more like dry porridge than risotto.
Perhaps not a stellar risotto but definitely a pretty solid dish in essence, especially with a surprisingly well-rendered duck confit that beats out some cafe competitors.
I think there is a certain charm to Jelebu Dry Laksa. It's not perfect but they deliver on their signature and still manage to churn out some conceptually vivid dishes.
Ultimately, the food here is solid and built on fun ideas — if you need an elevated take on Asian flavours, particularly local ones, then this new Tipsy Collective collab might be worth a look-in.
Jelebu Dry Laksa
Website | Facebook | Instagram
Address: 1 HarbourFront Walk, #02-48, Singapore 098585
Hours: (Mon–Sun) 11:30am–10pm
*This was an invited tasting.