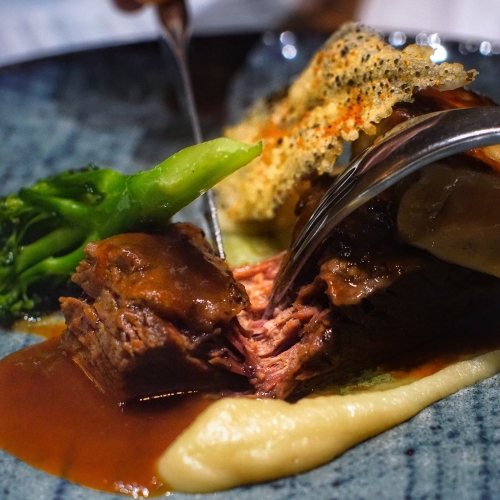 Nest @ One Farrer lets you have Affordable Private Dining in A Cosy Hotel Room
It's quite an experience sauntering up to the reception of a fancy hotel and telling them you're here for private dining. That's just what I did during my sojourn at Nest @ One Farrer, where prices start from as low as $58++.
The staff guide you towards the lifts where the glossy sheen of the lobby is exchanged for the elevator's metallic confines, before you are promptly catapulted up to the twentieth storey of One Farrer Hotel.
A welcoming sight greets you upon getting out of the lift — a plush lounge-like area that's preceded by a dainty table where a concierge stood, with a sleek placard broadcasting the message, "Welcome to Nest at One Farrer."
As swiftly as the process was from the lobby to the twentieth, your congenial chaperone aces that by briskly ushering you to your private dining room without missing a beat.
There's nothing out of place within the hotel room itself, which is the same carpeted floor and warm tones you'd be treated to anywhere else.
Instead of a comfy bed waiting for you at the edge of the room, the Nest @ One Farrer experience features demure two seats perched in the centre of the room, ready to cushion your tushies.
And the view —while not stupendous— was a sight for sore eyes, revealing bits and pieces of the CBD skyline, including the striking illuminated sky-reaching strips of South Beach.
Warm STart, Good Start
An impressive start is always the way to go and with Nest @ One Farrer's roots as a hotel, the staff were sharp and precise but also comfortingly personable.
An eloquent explanation of their concept and a run-down of the special Nest Roku Gin Pairing Menu ($168/pax) later, she slipped out without notice, then back in with a basket of bread.
Bread courses are something I've always put emphasis on. As stripped-down as a humble bread roll is, it's the most perfect litmus test of a restaurant's attention to minutiae.
The two almond-shaped parcels of butter were what truly reflected Nest @ One Farrer's sincerity in every modicum of the meal. They were sublime —with the truffle butter in particular— and were paired with their destined soulmates of fluffy brioche and savoury olive roll.
Expectations were undoubtedly high and the Crab Timbale arrived as the first showing of Nest @ One Farrer's kitchen. While looking like an innocuous bowl of crab meat and pudding, there was so much more dimension to it.
For one, the Yuzu jelly base and the crab meat sweetness were stellar complements in both flavour and taste — it's both refreshing while also rich. A good first course.
But perhaps, the follow-up was even better. While minimalistic, the Chicken Gyoza dish bathed in chicken consomme reminded me of the moreish Tortellini in Brodo from Forma.
While the Asian influencers are obvious on the gyoza, the addition of truffle aroma slightly elevated it, while the deluge of light, crisp chicken consomme posited a spunky fusion of flavours by Nest @ One Farrer.
Mains Stage
Still, I would say the main stage of Nest @ One Farrer is reserved for two rather deftly executed mains. While I'm rather lukewarm towards most fish dishes, the Crumble Black Cod was distinctive enough to pique my interest, even though the fish was slightly overdone.
What sets this apart from most other dishes was a craggy carpet of Sansho Pepper crumble that was both a mix of floral aroma and a slight pepper acidity. Combined with cod's mellow profile and a zippy pool of Capers Butter Sauce.
A palate cleanser then came to wash off all that pepper-rich complexity before the final hot dish of Nest @ One Farrer's private dining spectacle.
Even though I enjoyed the flavour combination, I found the combination of watermelon, Roku Gin sorbet and gyokuro jelly too heavy-handed. I felt more of a layer of astringency than freshness after this.
Alas, all was forgiven when the showstopper made its entrance. Despite initial doubts about the Angus Beef Short Ribs, the meat turned out to be agonisingly tender. It's so tender I'm gonna die.
Fibres split apart effortlessly and rested on the palate delicately. It's as if the textures shouted at us — "do not judge a book by its cover."
Nest @ One Farrer then amped up the decadence with a creamy slab of foie gras that's meticulously seared and bestowed melt-in-mouth fatty bliss to the overall textural party.
All the accoutrements were done splendidly, from the bone marrow jus, the sakura leaf tempura, to even the broccolini. That said, this was an unctuous indulgence and While umami overload can be charming, it teetered on the edge of being surfeit without a balancing aspect.
ENding Could Be Sweeter
I generally give restaurants allowance for their dessert courses since desserts are a tricky component to conceptualise even with the most trained dessert chefs.
Alas, Nest @ One Farrer outdid all my low expectations. It was a limp and soggy Cronut, marred further by a mishmash of astringent matcha cream and stale red beans.
But I give credit where credit is due — Nest @ One Farrer is overall a stellar private dining experience. Good execution, a playful touch of innovation, and convivial hospitality are all one could ask for.
Especially when a four-course set dinner can run you for only $68, there aren't many better private dining propositions for value.
Make your reservations here.
Nest @ One Farrer
Website | Facebook | Instagram
Address: Level 20, One Farrer Hotel, 1 Farrer Park Station Rd, 217562
Hours: 12pm–10pm
*This was an invited tasting.