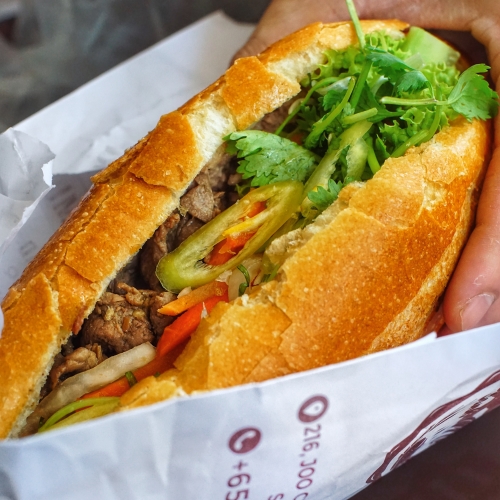 233 Banh Mi — does Katong's OG Banh Mi Hotspot Live up to the hype?
The Joo Chiat stretch is probably one of the most prolific neighbourhoods for Vietnamese food. The street is littered with numerous authentic eateries including one of the most classic spots for Vietnamese sandwiches in Singapore, 233 Banh Mi.
233 Banh Mi is a humble operation and there isn't much to the store except its main display counter. It's more of a takeaway spot than a dine-in unless you luck out on one of the scant few tables available.
Fresh baguettes, fresh ingredients, and no unnecessary gimmicks — the very rustic, homespun charm of this deli is evident, which explains its loyal cult following.
it's All About Heart
Banh Mi isn't an inherently complex dish, sure, it features layering and textural interplay but it's all about the heart in essence.
I think in that department, 233 Banh Mi shows how they are easily one of the better options in Singapore with the Traditional Vietnamese Bread ($6), with fresh and hearty fillings clasped tightly between the decently crispy bifurcated halves of a baguette.
There's nothing exceedingly memorable about the sandwich but also nothing inherently mediocre — it's a pretty damn fine classic Banh Mi, filled with snappy cold cuts and fresh, crunchy vegetables. Maybe it's an off-day but I think the ratio of fillings could be tweaked.
In contrast, I perhaps enjoyed the other option of Vietnamese BBQ Beef Bread ($6) a tad better even if it had most of the same shortfalls as 233's classic Banh Mi.
While the cold cuts were more reserved in profile, the bovine was undoubtedly loaded with more punch and that lusciousness helped tie together the different textures in the ensemble pretty well.
While I admit 233 Banh Mi might not be one of the top dogs in Singapore, it ain't too shabby either. Served at a decent price, it's probably one of the better options in the Katong vicinity, beating out the likes of Sandwich Saigon.
233 Banh Mi
Address: 216 Joo Chiat Rd, #01-07, Singapore 427483
Hours: (Mon–Sat) 10am–7pm