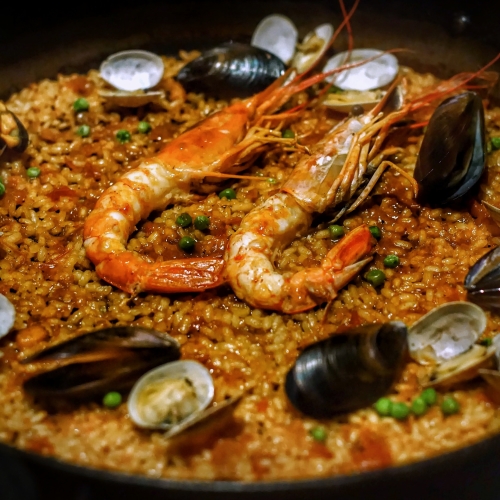 Is Kulto the Best Spanish Restaurant in Singapore For Paella?
Spanish food is having its moment in Singapore, as an increasing number of Spanish restaurants started earning dazzling plaudits and ended up on the Michelin radar. There are quite a slew of places for date nights but if you're looking for piping-hot Paella, no place comes as recommended by other food lovers as Kulto.
Of course, there are only so many Spanish restaurants in Singapore worth your time and, more importantly, money. While Tapas and Paella could be found much more affordably in Spain, the same doesn't apply locally.
Found on the sleepless enclave of Amoy Street, Kulto is as you'd expect it to be — a rustic but dressed-up outfit characterised with ample Spanish touches but not flamboyantly so. The archetype of the best casual Spanish restaurants in Singapore, really.
Unlike many of the swanky establishments that make up Amoy Street, it feels positively homely and as sincere as any top-tier restaurant could be, in this city of glitzy open kitchen counters and impressive high arched ceilings.
You're greeted with the warmest welcomes and embraced by the cosiest vibes while retaining a level of refinement that notches it above homelier family-run businesses.
Good Highs and Mid Lows
It's only customary for a Spanish meal to start off with Tapas and Kulto's sizeable selection made it an arduous decision, but we eventually decided to start off with the Homemade Cheese Terrine with Truffle and Honey Olive Oil ($24).
A riotous mix of cracklingly toasted bread and parcels of dreamily creamy cheese which were already quite a fetching pairing without embellishment. However, a mellow truffle perfume and delicate honey florals helped push the combo further with an elegant touch of complexity.
The Iberico Chorizo, Confit Potatoes & Soft Eggs ($24) was one dish that I didn't expect to take to but its hearty almost breakfast-like charm was undeniable as the silky yolk was slathered over soft potatoes, chewy Chorizo, and luscious caramelised onions. Bold and comforting with a good measure of sweetness to cut through the heaviness.
Croquettes are perhaps the most renowned Tapas and not something we'll miss on the first visit to a Spanish restaurant but while Kulto's Croquettes were decent with a good crunch but the fillings were hit or miss.
For creamy bites, the Jamon Iberico ($16/pcs) was wholesome and silky while the Special 'Chilli Crab Sauce' ($16/4pcs) came loaded with a pleasantly tangy sauce but was ultimately unmemorable.
As spectacularly as the Spaniards conduct themselves while cooking seafood, Kulto's Octopus "Galician Style" ($32) elicited a mix of emotions. On the one hand, it was indelibly soft and tender, without a single trace of chewiness.
On the other hand, it was lacking a bit of richness and felt timorous without that extra smoky oomph that normally comes from well-charred edges and, while delightful, the mashed potatoes underneath didn't accentuate the octopus in any impactful manner too.
A Hole in the Ensemble
Hankering for a good lamb dish, the Charcoal Lamb Racks ($38) were what called out to us from Kulto's meat section. While handled well in texture, maybe a tad too much gamey aroma was left on the lamb — I enjoyed it, but many didn't.
That's when you need to cover it with some of the herbaceous sauce to balance out the funk but still wasn't the most impressive lamb dish. It was, however, a great caramelised baby onions dish though, since the sides were stupendously sumptuous.
While it has been a story of "good highs and mid-lows" at Kulto so far, the tragedy of their signature Seafood Paella ($44/68) was actually what astounded us, excited for its arrival.
Forgetting the lack of crusty goodness interspersed throughout the Paella, the base texture itself was regrettably undercooked and firm. Aside from the texture, the flavour itself was also nothing to write home about, a far cry from the deep oceanic richness we expected.
Even when it came to the finishing dessert touches, the Whisky Cake with Almonds ($16) also felt slightly lacklustre being a simple slice of cake with almonds embedded into its top.
The whisky aspect came from a puzzling method of free pouring Nikka Whiskey over the cake, honestly just making it soggy since Kulto didn't attempt any theatrics to burn it off and it was left acerbic and unbalanced.
Fortunately, the iconic Kulto Cheesecake ($14) might be the saving grace, as it peacocks the most glamorously molten centre. Taste-wise, it wasn't as rich or complex as other heavyweights but a scoop of tangy raspberry sorbet did imbue some contrast.
True to their promise of "Spanish Culinary Elevation", Kulto does provide quite a refined take on your regular Tapas with some interesting tweaks. It's simple, earnest, and unostentatious but the fervour over its food and Paella, in particular, might be somewhat exaggerated. We might have visited an off-day but the baseline for a restaurant like this ought to be much, much higher.
Make your reservations here.
Kulto
Website | Facebook | Instagram
Address: 87 Amoy St, Singapore 069906
Hours: (Mon–Sat) 12pm–2:30pm, 5:30pm–10:30pm