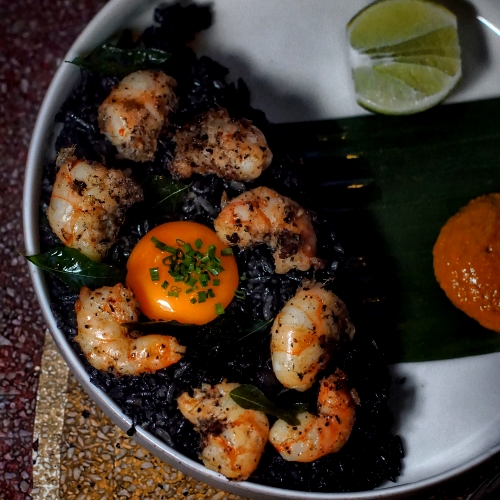 Robust Fusion Flavours Enjoyed with Raw Kitchen Bar's Placid Bali Vibes
As the dreary storm clouds cleared up, frail wisps of golden hour sunlight threaded through the lush green foliage before bouncing onto a clutter of tables sprawled out along the viridescent ground-floor perimeter of a lone Kallang building, where Raw Kitchen Bar operates.
Passing through the rustic metal gate, Raw Kitchen Bar greets all guests with a spacey front yard styled with rustic patio furnishings, set against the backdrop of a wooden veranda. Atop the elevated platform, tables are arranged around a modish vintage brick wall, notched with a small window that allows a peek into the kitchen.
Past the welcoming frontage and venturing farther inward, you'll arrive at the main dining area, serenely resting under a stretched-out row of awnings almost like a side alley congregation.
This little alley leads to a plush dead-end garden where walls are wrapped with splashes of vivid hues that complement the bucolic ambience. A touch of Bohemian chicness and lines of festooned fairy lights supplemented the evening lustre with their own lucid glow.
Raw Kitchen Bar feels positively foreign — the pleasant verdure and placid vibes are reminiscent of sitting in the snazzy coffeehouses in Ubud or other trendier neighbourhoods in Bali. It's an idyllic, laidback little pocket of space that no one would expect to find on this side of Singapore.
Bali-ng out of control
Many of the appetisers on the menu caught our voracious attention but after a moment of deliberation, we went first for Raw Kitchen Bar's Prawn Toasties ($10), bite-sized parcels adorned with a glut of prawn paste.
Straightforward but efficacious flavours. These toasties were crammed full of tobiko and prawn richness then given the Midas touch of sinfully airy and almost melt-in-mouth toast.
The follow-up of Herbal Tuna Tartare ($19) was Raw Kitchen Bar's bolder reinterpretation of a Western classic, where many of our regional idiosyncrasies are infused, mainly in its use of spices.
Puffed up with Thai herbal sauce and perilla leaves, it is engulfed with this sharp, distinct vegetal musk that cut through the tuna's iron-rich flavours, tasting remarkably novel and refreshing. Above all, the base tuna chunks were carefully chopped, feeling as luscious as what you'd get at a Japanese restaurant.
Alas, fusion pasta was a department that Raw Kitchen Bar might not be most adept in, with the Ragu Rigatoni ($28) being rather pedestrian compared to the rest of the lineup.
Even with heftily crackling chicharron bolstering the overall texture and flavour, the white ragu itself felt meek and the overall flatness was calling out for some je ne sais quoi to give it a little push.
It Hits Different
However, Raw Kitchen Bar swiftly redeems itself with a stunning squid ink fried rice, the Black Mamba ($28). As its name suggests, this wild beast just hits differently — this showstopper is so absurdly, potently umami.
Waves upon waves of robust smoke and depth, best indulged with an attenuating citrus squeeze and the silky yolk slicked all over the moist rice, along with smatterings of delightfully complex sambal chilli paste.
A cornerstone of Balinese food for most tourists probably involves pork ribs, and Raw Kitchen Bar's Warung Pork Ribs ($27) was a pretty exemplary specimen.
On execution alone, the dreamily tender and fall-off-the-bone flesh rivals many of the popular Western smokehouses in Singapore. The seasoning is what sets it apart though as they bewitchingly layered the a heavy dose of coconut funk over the BBQ twang on its sauce — a gratifying combination of flavours that violently tugged at the heartstrings.
There's no denying that this Kallang Riverside gastrobar isn't a bastion of fusion ingenuity but it is a quaint little hideout with heart in spades — I find it hard not to fall madly in love when almost every dish was a thoughtful homerun.
Few mid-range restaurants provide the complete package of bodacious flavours, sublime atmosphere, and genial service — for my money, Raw Kitchen Bar is easily perched atop the podium with some of the best casual-but-bougie dining experiences in Singapore.
Make your reservations here.
Raw Kitchen Bar
Website | Facebook | Instagram
Address: 66 Kampong Bugis, #01-01, Singapore 338987
Hours: (Thurs–Fri) 5:30pm–10:30pm, (Sat–Sun) 11:30am–10:30pm