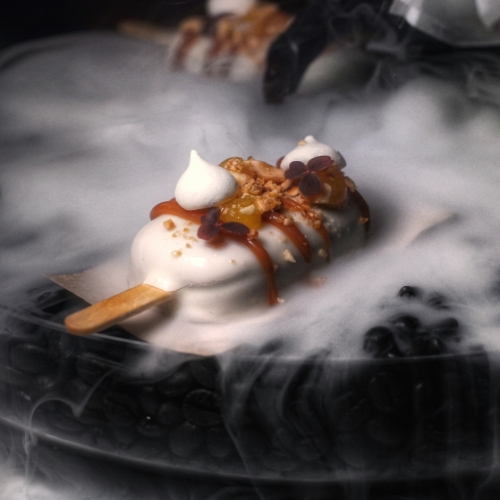 Oche's newest Singapore branch is a dart Bar Experience like no other
The dart flew true, whistles of wind brushing its feather before its nose dug its way into the embrace of the red central ring. Bullseye. A second flew, less centralised, but somehow squeezing its way into the thin demarcation between the two ends of number twelve. That's how our night at Oche started.
Sometimes, hyperboles are thrown around blindly and cheaply. Is every new opening really the best and like no other? Most likely not. But in Oche's case, its Singapore debut might redefine the dart bars archetype — its thriving locations in cities such as London and Oslo are good indications of what to expect.
In the bulk of local situations, darts are generally perceived as something you'd find in less-refined dive bars housed in the seedy and unglamorous compounds of Singapore.
The global brand's first outpost in Southeast Asia however, withstands prejudice — Oche's capacious, sleekly furnished bar is located in buzzing Clarke Quay, right in the beating heart of Singapore.
Hanging bushels of greens, vapour-simulated flames, and blindingly bright neon lights set the mood in the rangy bar where an entire army of bleeding-edge dart machines are left at the beck and call of their patrons.
Double the Enjoyment
Plastic darts and boards are native to many dart bars around Singapore, but the apparatus Oche uses is the real cork and steel. Just enhanced experiences with the aid of technology in automating between switching players and tabulating scores.
You can enter into a game at S$15 per player from 12pm to 5pm and $20 per player from 5pm to 1am, where you are at liberty to choose between different game modes that range from the Classic 501 to High Striker, an elimination bout where you have to fight for the highest score.
Darts is a sport that is beyond my regular programming as a motor-skill-impaired human. But occasionally, the darts fly into unexpectedly promising positions. That's a very apt analogy for Oche — despite generally low expectations pegged to a darts bar, the food is actually pretty damn sumptuous.
At $59, the 8-course Chef's Menu is a good option to enrich your game experience with bites curated by the global Executive chef Michael Lunga, who happens to have a Michelin Star accolade in his portfolio.
The diversity and quality for $59 are frankly quite astounding, starting off with the indecent crackles of the Crispy Pork Crisps & Italian Truffle ($15 ala carte). Bar food is generally seen as overpriced and lacking in complexity but this was a great preview for the rest of the dishes, all tremendously endowed with flavours.
However, my favourite of the Oche Chef's Menu might be a rather unexpected Lebanese Flat Bread ($15) that, despite its straightforwardness, stunned with a burst of hearty garlic in the dip and an immaculate mix of crunch and suppleness in its textures.
Flavours are successively amped up as the next feature is a heaping of Tuna Ceviche ($15) atop some crispy tortilla skins. First impressions were marked by its distinct blend of heavy spices with a lick of heat before the textural interplay between the chunky tuna and crispy base really kicked in.
The theatrics then started rolling in as a glass closh was snuggly covering Oche's signature Spicy Salmon Cone ($15) holding back a tempestuous cloud of smoke, slowly imbuing a sharp aromatic punch to the cone.
Smoky and rich, tender and crispy — not exceedingly demanding requirements but Oche hit the mark as proficiently as most restaurants in Singapore, perhaps even comparable to heavyweights like Spago.
The High Strikers
Subsisting with the seafood focus, Oche compacts a mound of luscious crustacean flesh into the King Crab Roll ($20) for a spectacularly picturesque little parcel, embellished with flecks of herbs and chicharron.
As with all good seafood rolls, the buns were buttery with a faint crunch and clasped onto a creamy deluge of chopped-up seafood and herbs for the most efficacious little mouthfuls of umami.
Alas, not everything was a good throw since the Chicken Lollipop ($16) was a bit of a mishit with its sordidly dried-out flesh, though the flavour profile was still rather enthralling, especially with the fruity inflexions of the passionfruit sauce.
On the other hand, the other meat-focused dish of Korean Pork San Choy Bow ($17) was indubitably one of the best dishes featured on Oche's Chef's Menu. For such a diminutive canape, there was a surprising wealth of complexity as both the scandalously juicy pork and the distinct earth depth of the endives proved immensely satisfying.
Finishing with aplomb, the Tanariva & Passion marked the end of the Chef's Menu show with another resplendent smoke show. These whimsical popsicles tasted just as they looked — jazzed-up salted caramel bites with the most luxurious burst of flavours.
If the night calls for a lighter order, one must-order is the Oche Slider ($24), which doesn't appear on the Chef's Menu. No need for fancy words, these stars were simply the most luscious, juice-filled sliders that left me in a pigging frenzy.
We retrieved our final round of darts from the dartboard wearing broad smirks — the night at Oche actually surpassed expectations by a fair amount. The highlight of darts was inexplicably fun even with my ungainly throwing attempts and the food was one of the best, rivalling even some acclaimed cocktail bars.
It's like a game of darts. There might be no Bullseye hits but there's a long string of doubles and triples that keep it exciting — it might be deceptively chaotic but everything falls into place. Who knew a darts gastro bar could be such a joy?
Make your reservations here.
Oche Singapore (Riverside Point)
Website | Facebook | Instagram
Address: 30 Merchant Rd, #01-05/06 Riverside Point, Singapore 058282
Hours: (Mon) 4pm–12am, (Tues) 2pm–12am, (Wed) 2pm–1am, (Fri–Sat) 12pm–1am, (Sun) 12am–12am
*This was an invited tasting.